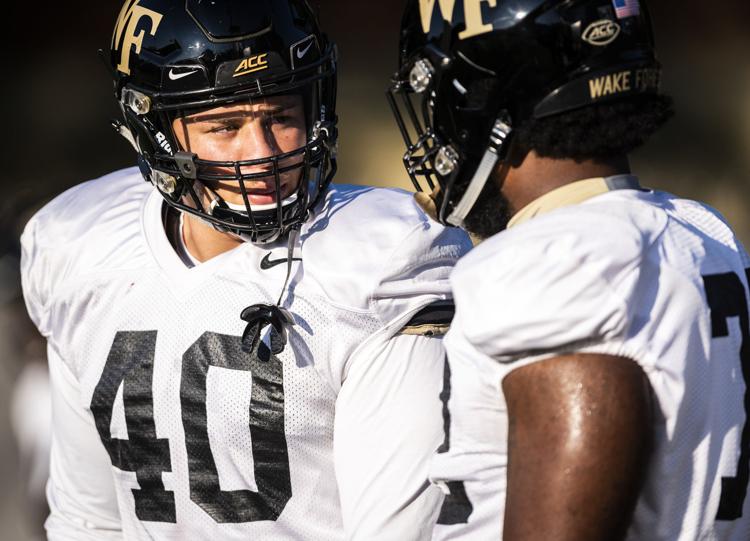 Wake Forest's defensive line has played "very well" in the first three games, according to Coach Dave Clawson.
And now the Deacons' defensive line figures to be at full strength for the first time.
Defensive tackle Tyler Williams returned to practice this week and is expected to play Saturday against Elon. He sustained a knee injury about one week into fall camp, after drawing early praise as one of the top pass-rushers on the team.
Now Williams, a 6-1, 290-pound redshirt sophomore, enters the fold for a defensive line that's racked up seven sacks and seven quarterback hurries in three games.
"So, as the year goes on, you get nicked up in some positions and some positions you get guys back," Clawson said. "Getting Tyler back will be big for us."
Williams' absence has coincided with the emergence of redshirt freshman Rondell Bothroyd — though Bothroyd would've been in the defensive tackle rotation regardless of Williams' availability, Clawson said. The glass-half-full side of Williams' injury has meant that Mike Allen and Adam Winter have gained experience. Adding Williams is an infusion of further depth.
"Now you put Tyler Williams into that mix. … I think that position is becoming a strength of our football team," Clawson said. "It's a position you like to have numbers because it's a position you like to keep guys fresh."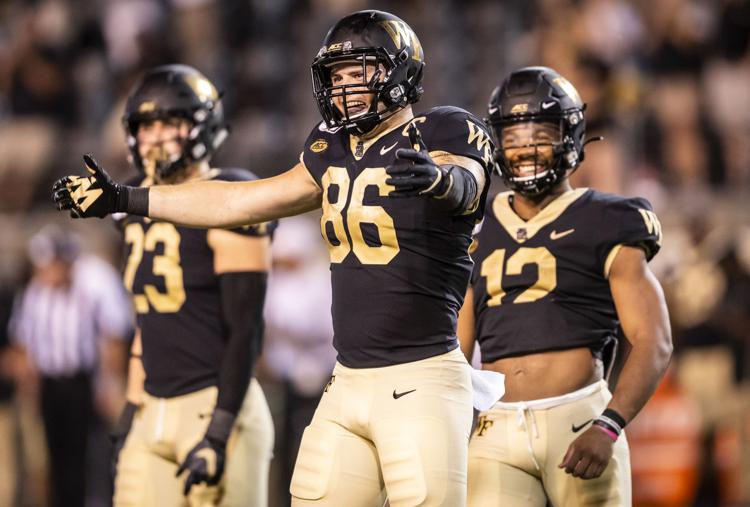 Freudenthal Bowl
Jack Freudenthal wants to make it clear that he could "still get" his brother, Luke Freudenthal, in a fight.
Not that the Freudenthal brothers will be wrestling around Saturday with Elon's visit to BB&T Field.
Jack is a redshirt senior tight end at Wake Forest, while Luke is a freshman center at Elon after joining the team as a preferred walk-on. In the hypothetical fight, Jack, 22, would be giving up about 55 pounds to his younger brother of three years, with Luke listed at 290 on Elon's roster.
That Jack weighs in as a 6-3, 235-pound tight end is more impressive, though, considering he was a 190-pound walk-on receiver when he arrived in Winston-Salem.
"His build, his frame is a little bit different than mine. He's always been a little bit bigger, but he's athletic as heck. He can move," Jack said of his brother. "I'd still get him in a fight. He might say different right now."
Maggio's toughest critic
Punter Dom Maggio has twice as many touchbacks in three games this season as he had in 13 games last year.
He doesn't need to be told, and he probably doesn't need additional criticism of himself — he's taken care of that himself.
"I mean, six touchbacks on the year already, that's a number that's way too high," Maggio said. "I like to pride myself on how I can directionally punt and hang the ball up high and limit returns and pin them inside the 10."
Wake Forest's senior punter is averaging the most yards per punt for his career this season, at 45.5 yards. With his final punt against North Carolina, he crossed the 10,000-yard mark for his career.
But a few of those punts this season have led to Maggio exiting the field with frustration, as he heaps blame on himself when opponents break lengthy returns (as Rice's Austin Trammel did) and when his punts reach the end zone (as happened three times against North Carolina).
"I take what I do really seriously and I work really hard at it, so I'm definitely hard on myself," Maggio said. "High expectations, but again, I'm working on that too, not getting too high or too low.
"It's a huge part of the game, the mental side, just staying cool, and then just doing your thing, staying consistent."
Only two more free Saturdays
It's not a leap to guess that Wake Forest's football players have watched more college football than any of their peers at other schools.
That's a byproduct of the Deacons opening with games on three straight Friday nights — and having Saturdays mostly free to be like the rest of us and watch football.
"I don't know what the coaches like more, but I loved it, it was fun because you get Saturdays off," Freudenthal said. "That was our off day … I get to watch football the whole day. It was awesome."
Wake Forest will have two more Saturdays free of games thanks to a strange break in the calendar that creates two off weeks for every team this year.
See you in two years
Make note now of what North Carolina freshman quarterback Sam Howell looked like last week and file those notes away.
Be sure you can access them two years from now, though.
Wake Forest and North Carolina will play another nonconference game in 2021 — the date is tentatively set for Sept. 25. Howell will be a junior by then and it seems likely he'll be one of the top quarterbacks in the ACC at that point.
Clawson said after Friday night's win that Howell is "going to be one of the best quarterbacks in the ACC here very quickly."
Defensive coordinator Lyle Hemphill had more of the same to say of the Tar Heels' young quarterback.
"There's probably some open guys here and there, but he just missed them. When we play them again in (two) years, he's not going to do that. He's just — that kid, he's just a freshman," Hemphill said. "He has gotten better every game and he will continue to get better every game.