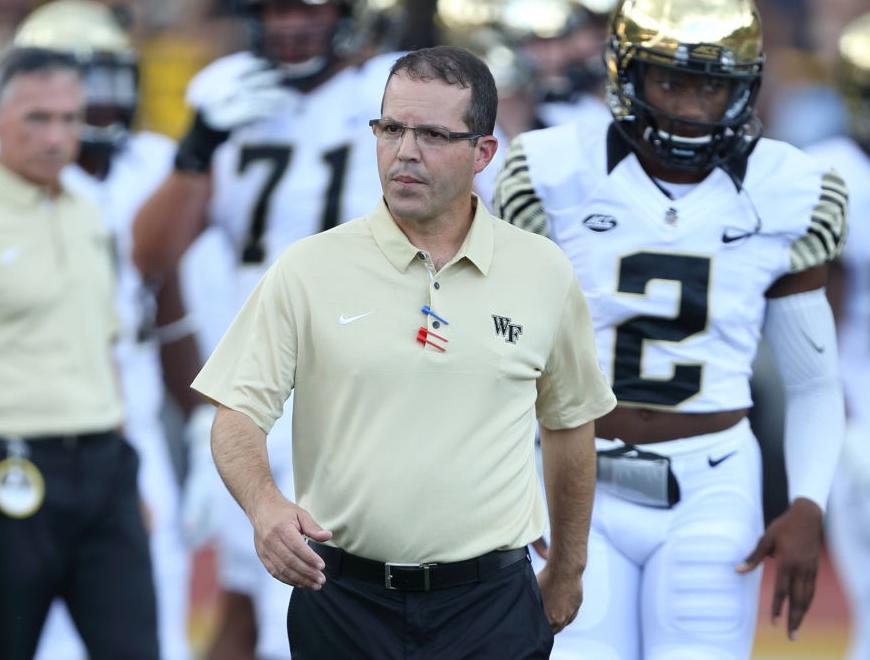 Warren Ruggiero doesn't have a booming voice, but his offensive players at Wake Forest know he's there.
Ruggiero, the mastermind of the second-highest-scoring football team in the country at nearly 45 points per game, might not be loud, but his offense is reaching a crescendo. The Demon Deacons are on pace to shatter their all-time scoring record in a season and are in position to win their first ACC title since 2006.
Coach Dave Clawson doesn't mince words when asked why Ruggiero is so good at his job as offensive coordinator. It's the preparation, knowing where to put his players to achieve success, and he has a sixth sense on what plays to call.
"He's brilliant," Clawson said about the play-calling. "He's just got a really good knack for calling plays. It's just one of those things that some people have it. There are other people who are good coaches that just don't have that sense of what to call and when to call it. Warren has it."
Ruggiero, 55, and Clawson have worked together for 13 years, and in their early years together they would take turns getting to the office first. But a few years ago Clawson gave up that fight, and it's Ruggiero who is nearly always the first one on campus.
"His work ethic is incredible," Clawson said. "The amount of study he does in the offseason, you know, watching film of other schools and he just might tweak one play in one way but that's how he does it. He is so thorough with his research. A lot of people can research stuff, but his ability to then place our players in the right spot at the right time is unbelievable."
Clawson said it's no secret Ruggiero has had chances to leave but didn't.
"I appreciate his loyalty," Clawson said. "He's had many opportunities to leave. And, you know, he is very happy here and he does a great, great job."
After a practice this week, Ruggiero fielded nine questions about these nine-win Demon Deacons and more.
What impresses you the most about your offense this season?
"Our guys are all staying locked in and focused, and they are all have accountable toward each other so they are all working hard and being responsible for their own job. That's worked out to our success."
What is different with Sam Hartman?
"I don't think there's any difference. He's got another year in our system and another year of taking reps in practice in what we do and he just continues to get better. When you stack years of continued improvement and when you stack guys around him who know our system it makes your job easier."
You've watched film of the Clemson defense. Will this be the best defense you will see Saturday?
"Everybody has good players and Clemson has good players and statistically they are playing great, and there's no question about that. More so than any year we stack up well, and if we do our job we should be OK."
What is it like to hear that the Deacons are the lone team in the country to have scored 35 points or more in every game?
"It's just all those guys being consistent and an example every week of doing their jobs. We've played some games better than others, but overall we've been better than worse."
How many coaches or even ex-coaches have reached out to you trying to pick your brain about your offense?
"We've had guys reach out each year but we've really been private of what we do and we don't share a ton of information. I think people realize that, and we get some requests each year but we pretty much keep it to ourselves."
You and your family, wife Jen and daughter Emma, love Winston-Salem and have established roots here, but is there a desire to be a head coach?
"I have no desire to be a head coach. I did it once (at Glenville State for two seasons) and I enjoyed it but I don't think being a head coach would play to my strengths, if that makes sense. I was young and ambitious back then (at Glenville State). When you are younger, you are a little dumber, but now I guess I'm older and smarter."
Your offensive line is probably one of the most experienced that you've coached. How much has that made a difference this season?
"In 2017 we had a very experienced line and they were great. But obviously the continuity up front is big because those five guys have to work together. There's a lot of moving parts to our offense, and certainly when guys play next to each other for that long it creates more consistency."
What is the short answer on what makes your offense so effective?
"Everybody has got a system and does their thing, and there are a lot of ways to skin a cat. But we do what do and don't change things week-to-week very much or year-to-year. It's a matter of developing our guys in the same system and know the reaction that has to happen."
What's the one thing that Dave Clawson has done in his eight seasons that has made the biggest difference in your guys' success?
"I don't think there is one answer to that question. I wouldn't know where to start other than to say it's a combination of everything that he does and it's about being consistent. We have a plan and we follow that same plan every year and we believe in it."