This time last year, East Tennessee State celebrated.
The Buccaneers men's basketball team, coached at the time by Steve Forbes, had won 12 straight games, that final victory coming in the Southern Conference championship game. They hadn't lost in nearly two months and, at that point, made their upcoming opponents the next installment of a seek-and-destroy mission. If proof of that's needed, take it from Joe Hugley. Then a senior leader at ETSU, he's now Wake Forest's director of player relations.
"We were beating everybody's butt in the tournament, and we were like, 'Man, we feel invincible,'" Hugley said. "So going into the (NCAA) tournament, we felt good that we could at least get to the Sweet Sixteen.
"Whoever drew us would not be happy."
That story didn't receive its finish, like so many others of which we're painfully aware during the pandemic. ETSU never got its chance to become the national darlings that former members of that program thought they could be with the NCAA Tournament's cancellation. When Forbes leads his Wake Forest team in the opening round of the ACC Tournament on Tuesday, it'll be exactly a year since that SoCon title.
"I think about it a lot because I love those kids as much as I love the team that I have now," Forbes said. "I've never had a more empty feeling in my life maybe other than when my dad passed away, when I had to tell the team we weren't going to play in the NCAA Tournament. I had to tell six seniors they were done.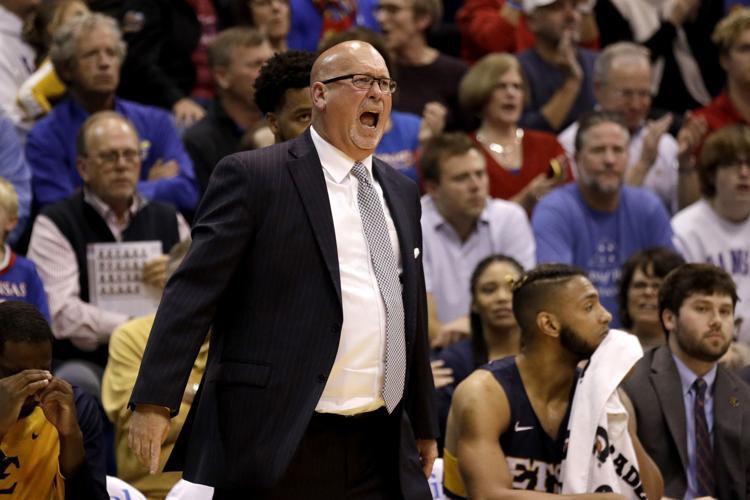 "And that was the last day I ever saw them. You know I couldn't even say goodbye to them face-to-face when I took this job. Some of them I haven't seen to this day. Now I talk to them all the time, but I think about it a lot. It was a fun team, a great team, a team that had won 12 in a row and was poised to win in the NCAA Tournament."
When Hugley took his official visit to ETSU's campus as a transfer from Central Connecticut State, Forbes had traveled away after his father's death. At that point, though, Hugley didn't really need any more convincing. He wanted to get his master's degree, and he wanted a chance to win a championship. Hugley didn't need to be the double-digits scorer of the past, and he didn't want to. He knew he could go to Johnson City and help fill the gaps.
Coming off a 24-win season, Hugley said, the team was poised for a chance to challenge in a conference top-heavy with the likes of UNCG, Wofford and Furman. That team really established its connection among players and staff, said Hugley and former ETSU guard Isaiah Tisdale, on a summer trip overseas. The program visited the Czech Republic, Austria, Hungary and Serbia, touring the capital cities and playing scrimmages during the trip.
That was where cliques within the team became one, Hugley and Tisdale both said.
"Bo Hodges and Joe, we'd always go out to eat and whatever," Tisdale said. "… Joe was always like, 'This is the team. This is the team.' The coaches always said it, too. I think it started kind of early."
That team rolled through most of its schedule, rallying after a home loss to Mercer on Jan. 29 and never losing again. That included a come-from-behind performance in the season finale against Western Carolina, where Patrick Good hit five three-pointers in the final 4½ minutes. That included a game-winner with 7.5 seconds remaining, which clinched the No. 1 seed in the SoCon tournament, through which the Buccaneers ultimately cruised.
Hugley said if you asked almost anyone on the team — a notion Tisdale confirmed — that'd likely be their top memory.
Forbes brought up that game during a recent ACC coaches teleconference, after seeing Good post on Twitter.
"Those are the things I remember most, more than the scores or the championship," Forbes said. "Is just the relationship and the camaraderie that I have, have had with my former players, especially that group."
COVID-19 ended everything for the Buccaneers. The team went from winning the SoCon tournament on a Monday, taking Tuesday and Wednesday off, to having a team meeting on Thursday to talk about the relatively new virus while also trying to plan Selection Sunday celebrations. A couple of hours after that, news broke that the tournament was canceled. Friday featured another team meeting, this one difficult. An abrupt ending prompted sadness and tears. Then a quick departure.
"I went from preparing for the tournament to 'I'm packing up my whole entire apartment up to go home,'" Hugley said.
Chances to play overseas for Hugley and Tisdale broke down with travel bans. Hugley had previous conversations about trying to join Forbes' staff at ETSU when his playing career ended. That translated to Wake Forest when Forbes was hired last August.
Tisdale, meanwhile, is in Lexington, Ky., working for Hoop Dreams, an AAU program. Both Tisdale and his brother played for the program, he said, and he'll get his chance to start coaching some this summer. He hopes he'll get to see Forbes, Hugley and the other former ETSU staffers now at Wake Forest when recruiting normalizes again.
"Time repairs wounds, but I think about it here and there," said Tisdale, who regularly tunes into Deacons' games. "That team was very special. Everybody's aftermath of March Madness, and if everything was normal, would be totally different.
"But I tried to move on. And life moves on. That's the main thing. Just trying to focus on the next move and the next step of my life."