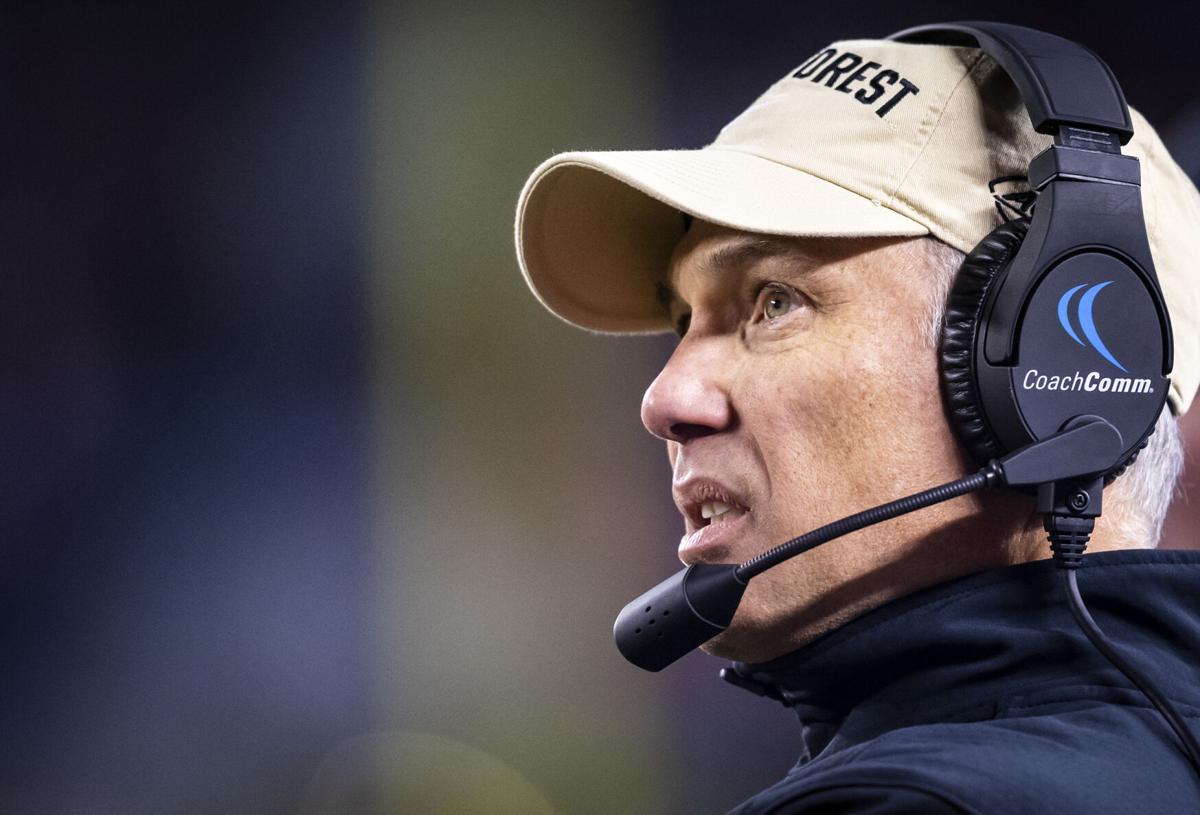 Coach Dave Clawson has told his Wake Forest football team that he's not "100% sure we're going to play" because, well, that's the way things are in the COVID-19 pandemic.
But he's also told the Deacons that based on their sacrifices and discipline, it's worth giving it a shot.
"I don't think anybody is (100% sure)," Clawson said in a video news conference Friday. "But based on what they've done, how they've handled themselves, the sacrifices they've made, I think it's worth still trying to play."
Declining to go into specifics of Wake Forest's testing frequency and results in deference to the university's medical staff, Clawson did elaborate on how things have looked in about a week of practices.
"What we've done is we've split our football team in half," Clawson said, noting that the Deacons have about 120 players on the roster and that 110 of them are able to practice. "That way we've never had more than 50 to (55) people on the field at once.
"We have kept the groups separate, so for the coaches everything has been in duplicate. We run two practices, we have two team meetings."
Wake Forest started preseason camp Aug. 6, though it's closed to journalists and the public, per the university's restrictions on visitors to campus.
To hear Clawson tell it, the Deacons have had only a resumption of spring practices. Wake Forest has been practicing every other day with "a ton of stretching and a ton of recovery," he said.
"We're requiring our players to wear masks under their helmets during any competitive rep that contact or a collision can occur," Clawson said. "So a lot of our safeguards – we're following the CDC guidelines, we're following our doctors and our medical people's advice to try to keep people out of contact tracing."
Clawson also noted that with Wake Forest's first game moved back from Sept. 4 to Sept. 12, the past week has been something of a bonus.
Saturday's practice is slated to be the first full-team practice, and the Deacons are now inside one month until the reworked opener against Clemson at renamed Truist Field.
The Deacons also haven't practiced with full pads yet — the closest they've come is practicing in "uppers," which means helmets and shoulder pads but also in shorts.
"I don't know 100% sure if we're going to play," Clawson said. "And so we're going out of our way to keep our players up and keep them healthy, not just from a COVID standpoint, but from — we don't want to have a player suffer an injury in a scrimmage or a live drill, and then there's a chance a week from now or two weeks from now we're not playing."
Wake Forest hasn't been immune to players opting out of the season for health concerns, though Clawson declined to give names of players who have opted out. He disclosed that three players have opted out — one scholarship player and two walk-ons.
At the end of what's been a tumultuous week for college athletics, Clawson called attention to next week and an obstacle that comes with it.
"If we can manage this next segment of getting the students back and trying to stay, relatively speaking, COVID-free, we'll have an opportunity to play games," he continued. "If that doesn't happen, it's going to be challenging and difficult."
New students at Wake Forest will begin arriving Monday; returning students start arriving Thursday.
"We're dealing with a pandemic, we're dealing with COVID. It is certainly unique. But we enjoy the challenge of it. If we could ever pull this off, how rewarding would that be?" Clawson said. "But we want to pull it off with minimal risk. And again, if at any point the medical people say you shouldn't play because the risk level is too great, we'll certainly accept that decision.
"Right now we're being told by our medical experts and the ACC that it is safe to continue to try to play."
Concerned about COVID-19?
Sign up now to get the most recent coronavirus headlines and other important local and national news sent to your email inbox daily.