It's one of the best HBCU rivalries around.
The Winston-Salem State and N.C. Central football programs evoke a lot of memories because each school used to compete at a high level in the CIAA. Those CIAA battles are long gone, but that doesn't mean the rivalry is dead.
"There's no question it's one of the best rivalries," said WSSU defensive coordinator Marvin Bohannon Jr., who as a hard-hitting safety played for the Rams against the Eagles the last time the schools met in 2010.
The Rams won that game, 34-27, in Connell Maynor's first season as head coach in Winston-Salem. Kameron Smith, now WSSU's quarterbacks coach, made his first career start as a transfer from Navy and would become the all-time leading passer in school history over the next three seasons, guiding the the Rams to the Division II championship game as a senior in 2012.
The teams' meeting at 6 p.m. Saturday in Durham will come in a long overdue game.
Thanks in part to the friendship of WSSU athletics director Etienne Thomas and N.C. Central AD Ingrid Wicker McCree, this game is taking place. The Rams, who lost their opener at Catawba on Saturday night, will get $60,000 for making the short trip to Durham, where they'll also play next season.
"This game has to be played," said Thomas, an N.C. Central graduate like WSSU chancellor Elwood Robinson and interim head football coach Robert Massey. "People have asked me to put our team in a bubble and not let them out because we so want to play that game at Central. But we're doing the right thing with the magnitude of this game and getting to go and play in O'Kelly-Riddick Stadium and to go to a Division I stadium and get the check and the win is a great thing."
Thomas can afford to talk a little trash because of her friendship with McCree. Thomas calls McCree, who is leaving N.C. Central at the end of this academic year, one of her mentors.
"I mean, it's my alma mater, but I've made it clear to people that I love y'all before and after but during the game the chancellor and I are all in on Winston-Salem State getting that win," Thomas said.
WSSU has sold its allotment of 500 tickets, but Thomas said another 500 tickets would go on sale this week. The game is expected to be a near sellout in the 10,000-seat stadium.
Massey, a former All-America at N.C. Central who played for six seasons in the NFL, says the rivalry is one of the best that he's ever been a part of. The teams played annually during his days in the CIAA. N.C. Central left the CIAA in 2007 and has been a part of the MEAC since.
Massey, a 1989 NCCU graduate, is more concerned about his Rams improving after the 28-6 loss at Catawba.
"Anytime you go home to your alma mater it's a big game," said Massey, who is a member of the N.C. Central Hall of Fame. "At the end of the day you prepare the same but it's a big game, make no mistake about it."
Eagles coach Trei Oliver was an All-CIAA punter and defensive back for Central in the late 1990s, and his teams went 3-1 against the Rams.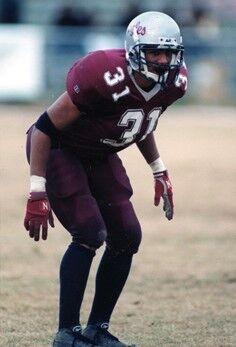 Oliver and the Eagles will be playing their first home game.
"It's going to be a dog fight," Oliver said. "We are going to have to bring our 'A' game, because they are a good football team…. The nest is going to be rocking and rolling. ...
"When I played here from '94 to '97 it was a big rivalry," Oliver said. "It was always big crowds and always a very physical game. Back then we talked a lot of trash but not so much now. I think it's great for the community and two HBCUs and both are historic programs.
"It's a love-hate relationship because we've got a lot of WSSU grads that work here, and I've got a lot of Winston-Salem State friends, so I expect to see another epic battle."
Bohannon said he doesn't talk too much to his players about his playing days at WSSU. But he will say a lot this week about the rivalry and what it means to him.
"It's one of the best rivalries with that one and the one with (N.C.) A&T, so I'll mention that to them," Bohannon said. "The atmosphere they are going to see is one of the best they will ever be a part of."
Rams cornerback Deiontae Jones, a senior transfer from A&T, is familiar with the rivalry.
"When I was at A&T it was N.C. Central that beat us my freshman season," Jones said. "We know they have some good running backs, and we'll have to be ready."