When Chris Paul left Wake Forest for the NBA after two seasons in spring 2005, he said he would still like to earn his college degree.
Fifteen years later, he's still working toward it, although he has been busy carving out a Hall of Fame career in the NBA.
This week the Oklahoma City Thunder star has been in Winston-Salem using his visibility to get WSSU students to the polls to vote. Paul is also now a WSSU student, taking two classes trying to complete a communications degree.
After spending nearly three hours at WSSU, even going through dormitories before marching to the early voting site at the Anderson Center, he sat down Tuesday night with WSSU chancellor Dr. Elwood Robinson.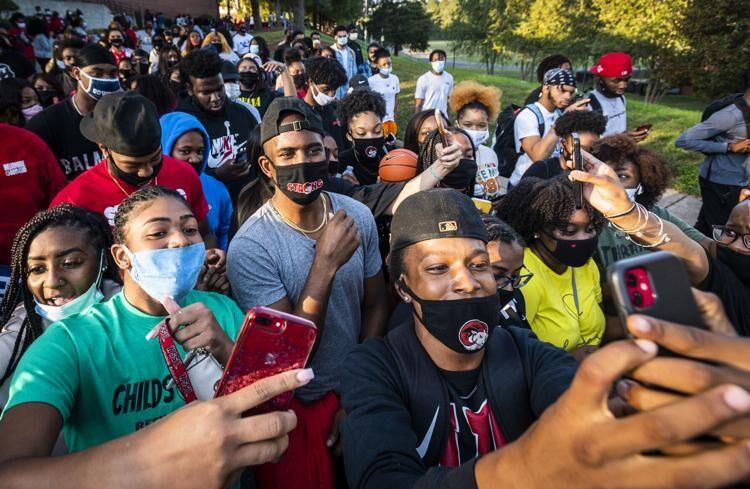 Robinson hosts a "Future Focus" show on Facebook Live and conducted an in-depth interview with Paul from his parents' house in Lewisville.
Paul was adamant about his goals of helping HBCUs and graduating.
"I'm going to walk across that stage," Paul, 35, told Robinson.
Paul, a West Forsyth graduate, said one of his heroes growing up was Winston-Salem native Josh Howard, who also starred for the Deacons and played in the NBA. Howard is five years older than Paul.
"I just remember seeing Josh Howard do his thing and I was like, 'He's from here and he's a first-round draft pick,'" Paul told Robinson. "That was big for me, so I don't know if Josh realizes what an inspiration he was for me when I was coming up."
During the conclusion of the NBA season in the COVID-19 bubble in Orlando, Paul promoted about 15 HBCUs by wearing their school names on his Nike shoes during games.
"That was fun, but it was kind of crazy because one guy that was working one of the cameras for us down there pulled me aside one day," Paul said. "And he said, you know I'm a Virginia Union graduate. So that's just how small a world it is, but my point is folks shouldn't be shy to voice that they graduated from an HBCU."
Paul said his memories of WSSU started early at football games. He also said his AAU team would practice at the Gaines Center.
The only time he felt old during his time on WSSU's campus, he said, was when he asked students whether they knew who C.E. Gaines was.
"The one student said, 'We just call it the Gaines Center,'" Paul said. "So they didn't really know."
Paul said he then gave the students a history lesson about Clarence "Big House" Gaines and his impact.
"Coach Gaines was a celebrity to me when I was growing up, and he knew my grandfather (the late Nathaniel Jones)," Paul said. "I've got so many memories because this is Winston-Salem and this is where my heart is."
Paul's parents, Robin and Charles, both attended WSSU, but they first met at a local church. Their two sons, C.J. and Chris, grew up in Lewisville playing in basketball leagues and in AAU. They both also played football. C.J. played basketball at Hampton before finishing his college career at USC Upstate.
"My dad went to WSSU for a semester, but he doesn't want to talk much about it," Paul said with a laugh.
Paul, president of the NBA's players union, has been adamant about awareness of Black Lives Matters and says it was a focal point when the players were deciding whether they would have games during the summer.
"We ultimately decided that our platform could be used to bring that to light," Paul said. "We are all just tired that these things kept happening."
As Paul talked to Robinson about life after Wake Forest, he couldn't help but become nostalgic.
"I don't get home here to Winston as much as I would like," Paul said. "But I love it when I do get back here because it helped shape who I am."