Claudette Weston accepted her award from the National Sports Media Association on Thursday night with the same grace, humor, humility and compassion she has shown as a community icon.
Weston, who is 80-something years old, won the 2020 "Annie" from NSMA but because of the pandemic she was never given her award. On Thursday night it was her turn to share stories and see friends and other community leaders who have known her for years.
"I don't know of anybody in Winston-Salem who has done more for race relations than Claudette," Mayor Allen Joines said in his address to about 250 people who were on hand for the dinner at Forsyth Country Club.
Earl "The Pearl" Monroe and Ernie Brown, who were part of that incredible 1066-67 Winston-Salem State team that won the Division II national championship, came from New York City to help Weston celebrate.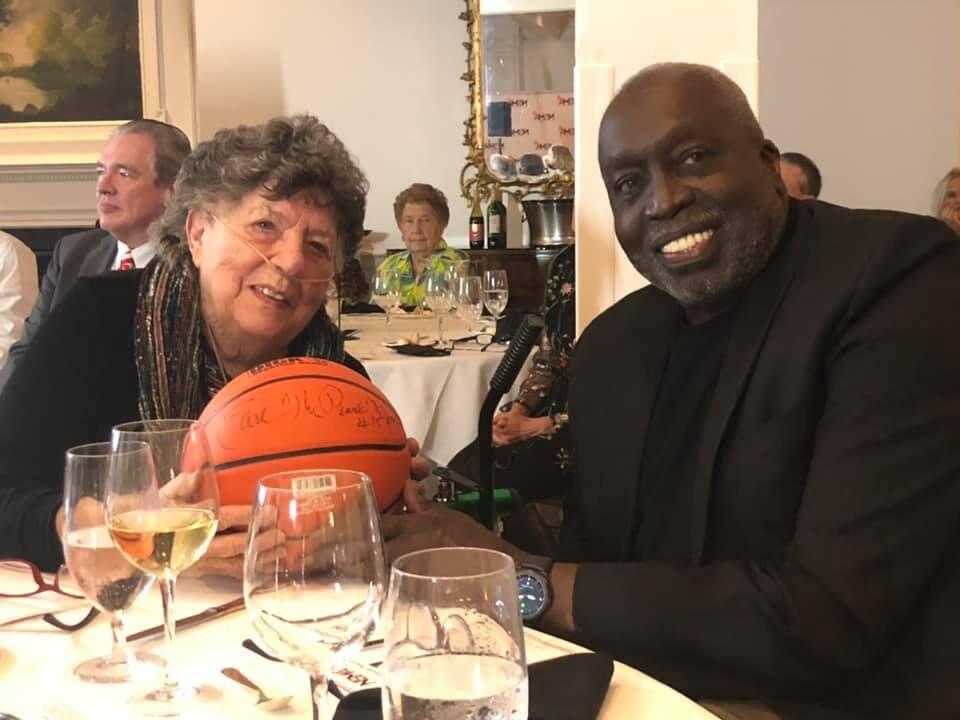 "She's been a part of both of our lives since we were both skinny freshmen playing for Big House Gaines," Brown said. "Earl and I are honored to be here."
Monroe, who is one of the greatest NBA players of all time, said Weston has always been there for him whenever he's needed her.
"I have a lot of stories but let me just say she's one of those people in the world that we could use more of," said Monroe, who was the winner of "The Annie" in 2019.
The late Dr. Harold Pollard was the first winner of the award in 2018.
"The Annie" is given every year to someone who connects the community together through sports. The award is named for the late Ann Spencer, a former CEO of Goody's Headache Powders which was a longtime NASCAR sponsor.
Besides being on more than 50 community board organizations Weston has always strived for bringing people together no matter their race or economic background.
In the late 1960s when Big House Gaines and his basketball program was gaining national attention it was Weston who helped get the games moved from tiny Whitaker Gym on campus to the bigger coliseum on the other side of town.
This was done so more fans could watch and it didn't matter their race.
Because Weston and Gaines were friends it was Weston who  pushed city leaders to help move the games. Several years ago Gaines, who died in April of 2005, said the move to the coliseum helped with race relations in Winston-Salem.
"Whites and Blacks sat together watching basketball," Gaines said. "It was a simple as that."
One of the speakers for the event was Harvest Leroy Smith, Jr., who is best known as the player that made the varsity basketball team as a sophomore at Wilmington Laney High School. Smith, who was 6-foot-8 at the time and is still 6-foot-8, was given the lone sophomore spot on that team while Michael Jordan was relegated to the jayvee team.
Smith went on to play basketball at UNC Charlotte and overseas for several years and now owns his own company, and is a motivational speaker who also teaches children the game of basketball.
"I sense that everybody in this room is family, and it starts with Claudette Weston," Smith said.
Weston also had a hand in bringing a national AAU tournament to Winston-Salem several years ago. It should be noted that during those days when the tournament was here young players such as Allen Iverson, Joe Smith, Ray Allen, Jerry Stackhouse and others played at the Annex and Joel Coliseum before they became college and NBA stars.
Weston has had her hand in a lot as she's made Winston-Salem a better place to live.
"I want to thank my family and friends for their love and support," Weston said. "And I'm including everybody together because I always leave a child out. So if I say include all family and friends so then I don't leave anybody out."