To this aging sportswriter the details aren't as clear as they should be. But when I heard that former Georgetown basketball coach John Thompson had died, I immediately thought of Big House Gaines.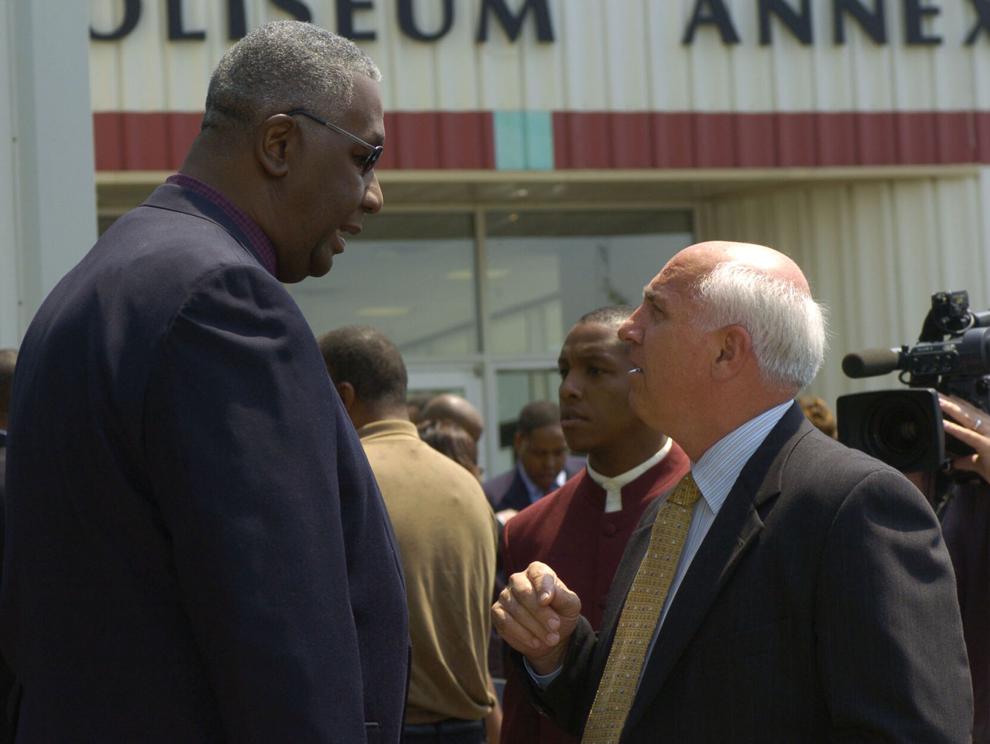 In April 2005, I stood outside the Joel Coliseum Annex (now the Winston-Salem Fairgrounds Annex) before Big House's memorial service trying to gather quotes about Gaines, the legendary basketball coach and athletics director at Winston-Salem State. Gaines had died that week at 81.
Searching for those "famous" people who knew Big House wasn't that hard because they turned out in droves to honor a coach whose teams had won 828 games, a Division II national championship and who always had time for the up-and-comers no matter their color of their skin.
Not having met Thompson, I was a tad nervous. It struck me as I approached him that he was every bit of 6 feet 10, and with that raspy voice he could be intimidating.
He couldn't have been nicer to me. He talked about Gaines for so long I think my battery in my tiny tape recorder had died.
Thompson wasn't the only coach who went to Big House's memorial service. Dave Odom, John Chaney, Tubby Smith (who is now at High Point), Skip Prosser, Mike Bernard, Dave Robbins, George Raveling and Jerry Steele were all there, just to name a few.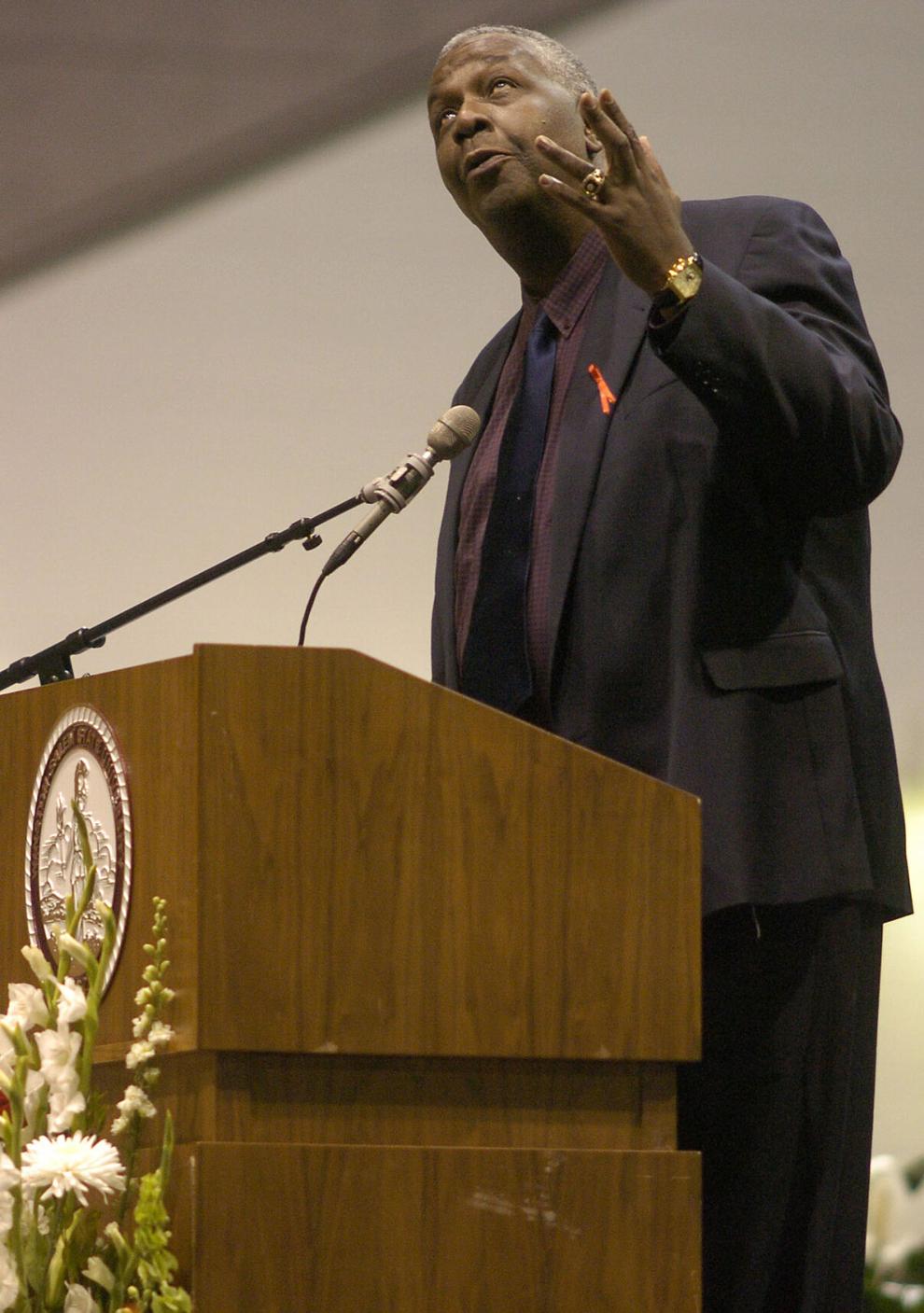 But Thompson, who won an NCAA title with Georgetown and Patrick Ewing in 1984, stood out to me with his comments about Gaines.
"I've got too many fond memories of Big House," Thompson said. "He was just a special person."
Thompson also did a great job as one of the speakers at the service that was held inside the Annex.
One of the stories that didn't make it into the newspaper account was what Thompson told me about advice he once received from Gaines. Or rather, more validation than advice.
"I had this reputation that I was tough on my players and that maybe I should go a little softer," Thompson said. "And I got to talking with House about this and House waited a few seconds and then said something I'll never forget. He said, 'Don't change a damn thing.'"
Here's the entirety of the story written at Big House's memorial that was in the Winston-Salem Journal on April 23, 2005.
FAMILY, FRIENDS SHARE THEIR MEMORIES OF A BIG MAN WHO GUIDED MANY LIVES
By JOHN DELL, Winston-Salem Journal
The scope of what Clarence "Big House" Gaines meant to so many was evident yesterday afternoon in a heartfelt memorial service at Joel Coliseum Annex.
With more than 2,000 people attending the service, there were laughter, a few tears, and a lot of stories that tried to place the man in the proper light. The service lasted nearly three hours, but the stories and memories of Gaines will last forever.
From his former players who spoke about Gaines' toughness and loyalty, to his roommate at Morgan State, to his son, Clarence Jr. - they all shared their stories.
From paving the way for other black basketball coaches, to making sure that his players graduated, Gaines was ahead of his time.
As Gaines' wife, Clara, and their two children, Lisa McDonald and Clarence Jr., as well as the extended family looked on, the various speakers tried to convey how much Gaines had accomplished in his 81 years.
Clarence Gaines Jr. hit it on the head when he said: "My dad meant a little something different to everybody he came in contact with."
Sure, the elder Gaines had Hall of Fame numbers (828 wins, eight CIAA titles and a national championship in 47 years on the bench), but it was those life lessons that former players and two grandsons - Loran and Ryan McDonald - were more interested in sharing.
Earl "The Pearl" Monroe, perhaps Gaines' most famous player, said he used to come back to Winston-Salem and talk with Gaines. Coming back this time produced an empty feeling because his mentor was no longer around.
"He's so responsible for so many of us," Monroe said. "And it's our lives after school. He always said nobody was more important than the other, and he gave us the opportunity to make it in this world. And it wasn't all about sports or basketball."
Tim Grant, another former player who was Gaines' last assistant coach, wasn't a star for the Rams. He joked that his grade-point average was higher than his points-per-game average. "My GPA was also higher than my minutes per game, too," he said.
Grant probably summed it up best when talking about what it meant to come into contact with Gaines. "I'd hate to think where my life would have gone if I hadn't come to Winston-Salem State," he said through tears.
Teddy Blount, like many of the players whom Gaines recruited from out of state, arrived by train as a freshman. Blount remembered his first days in Winston-Salem.
"I came here with no suit, one pair of shoes, a shirt, a jar of water, a piece of pound cake and a chicken sandwich," Blount said. "And I met Coach Gaines at the train station. And thanks to Leon Whitley, I was afforded the opportunity to play for Coach Gaines."
Whitley, one of Gaines' first recruits out of the Philadelphia area, helped direct several players to Winston-Salem State.
Blount said that it was obvious that Gaines was more than just a basketball coach, and related a story about how Gaines would give him little bits and pieces of advice. But for some reason, Blount listened and oftentimes followed that advice.
"He said to find a job that's going to be around for a while and I did," Blount said. "He said 'Don't complain about something that's wrong, get up and do something about it.'"
Paying their respects to Gaines were some of the top basketball coaches in the county, including John Chaney, Tubby Smith, Skip Prosser, Dave Odom, Mike Bernard, Dave Robbins and retired coaches John Thompson, George Raveling and Jerry Steele. Mayor Allen Joines of Winston-Salem and U.S. Rep. Mel Watt, D-12th, also paid their respects with short speeches.
Also in attendance were Pete Richardson and Bill Hayes, former WSSU football coaches who worked under Gaines when Gaines was the basketball coach and athletics director. Billy Packer, a former Wake Forest player who used to come across town to watch Cleo Hill and the Rams, as well as Stephen A. Smith, an NBA analyst for ESPN and a former player for Gaines, were in attendance.
Coach Philip Stitt, the men's basketball coach at WSSU and John Williams, the women's coach, brought their teams to the service.
Packer made a point about what type of person Gaines was.
"If he didn't coach basketball or win one game, we'd still be honoring him for what he did off the court," Packer said.
Rick Duckett, a former head basketball coach at WSSU who is an assistant at South Carolina under Odom, is a Winston-Salem native.
"He was bigger than life when I was a little kid," Duckett said. "He had those great teams and I'd go and watch. And once I came to Winston-Salem State as a coach I got to spend more time with him and the guy was just so genuine and so caring. It was amazing that you are sitting there coaching and you have one of the greatest legends of all time in the stands watching you play.
"He was always so complementary. But I would tell him 'Coach, you can tell me the bad stuff, too.'"
Thompson, the former coach at Georgetown who won a national championship in 1984, was the first black coach to win the Division I title.
"I've got too many fond memories of Big House," Thompson said before the service. "He was just a special person."
Raveling said that all the black coaches owe Gaines and the late John McLendon a large thank you.
"He was a role model before we fully understood what role models were," Raveling said. "He understood before a lot of us it was more important to build winners in the game of life than it was to build them on the basketball court. And he was stressing education before the NCAA was telling coaches that it's important.
"Big House was doing that well before there were SAT or ACT or whatever. He was graduating kids because he knew all about the importance of having that diploma."
One of the more interesting stories came from Dr. Alvin "Boo" Brown, who was Gaines' roommate at Morgan State.
After Gaines graduated from Morgan State, Brown said that Branch Rickey, who paved the way for Jackie Robinson to break the color barrier in Major League Baseball, wanted to form a black professional football league.
"Branch Rickey sent some of his folks down from New York to talk with Big House about being a part of that league, but it never got off the ground," Brown said. "And then he wound up at Winston-Salem State."
There were many folks at yesterday's service who are thankful Gaines wound up at Winston-Salem State.