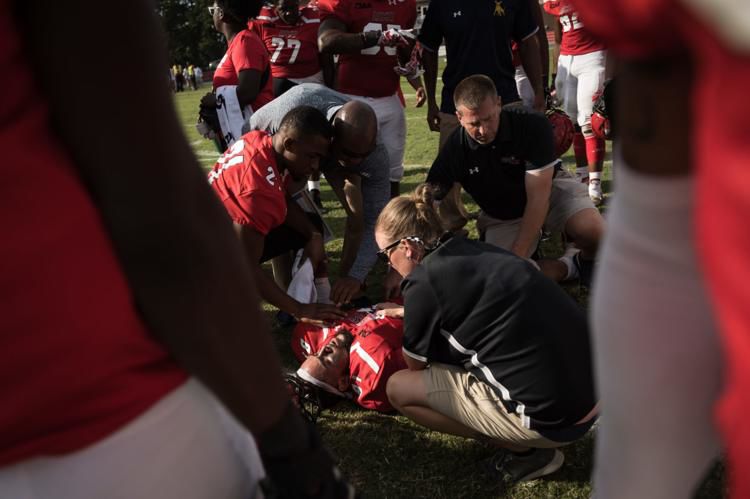 Maybe it's time to ban the handshake line after football games in the CIAA.
There's just too many bad things that can happen. You don't have to look too far to see that when a hard-fought game is played, it just might be too much to ask to calmly shake hands with opponents.
I realize in this era sportsmanship isn't what it used to be, but that's not the point.
My point is somebody is going to get seriously injured with a helmet that can be used as a weapon swinging it around.
In the last three seasons I've seen the fights after games at least four times, including once at Virginia Union in 2017 where my cell phone was slapped out of my hand as I was trying to do my job.
This doesn't just happen in CIAA games, it has happened at other places around the country as well. The Texas-LSU game last year had plenty of action during the handshake line so this isn't directed just at CIAA schools.
On Saturday, after WSSU had one of its best moments of the season, a 22-7 win over Johnson C. Smith, none of it mattered because of the post-game handshake meltdown by both teams. I wanted to write about how the Rams finally played a pretty solid game and got that first home win of the season, but the tone of the story had to change for obvious reasons.
What was really sad to see was Trae Jackson, a defensive lineman for WSSU, being attended to by trainers and medical staff on the 50-yard line on the J.C. Smith sideline after the brawl was over. Jackson took some serious hits during the game, but might have suffered a season-ending injury to his right leg during the brawl.
Nobody at WSSU is saying what happened to Jackson because the school does not release injury information to the media.
When order was finally restored running back Farrell Murchison of the Rams could only shake his head. Murchison, who sat out all last season while recovering from testicular cancer, is somebody who doesn't take one day for granted. He's got a good grasp of reality because he's beat cancer.
"Man, this (stuff) doesn't need to happen," he said while walking to the locker room.
When there are close to 130 players combined and maybe 14 coaches and a few police officers there to handle crowd control, the math doesn't add up if players decided to start fighting each other.
I realize that teammates are supposed to stick up for each other no matter what, but that's how something gets out of hand in a hurry during the handshake line.
Let the two head coaches come together at the end of the game and shake hands. That will cover the sportsmanship angle of it.
It's a good bet the CIAA will dole out suspensions for both teams, but if the league was smart it would ban the post-game handshake. Let the players cool off and let the bands play.
That has to be the best solution.
(336) 727-4081
@johndellWSJ
Be the first to know
Get local news delivered to your inbox!