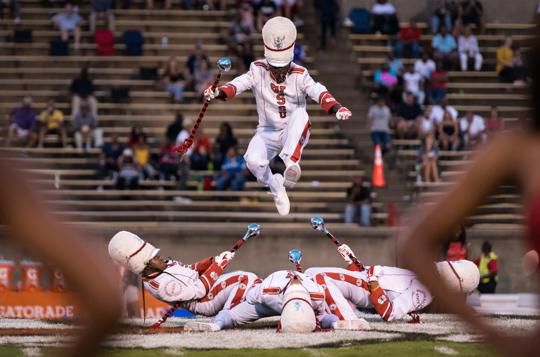 The Red Sea of Sound, the award-winning Winston-Salem State band, is headed to an appearance on ESPN.
The school sent out a release detailing the appearance on Stephen A. Smith's Show "First Take" which will air on Friday.
The Red Sea of Sound recently was given the top ranking by an ESPN poll for college bands.
Here's the school's release:
WINSTON-SALEM, N.C. (Sept. 16, 2019) – Winston-Salem State University's (WSSU) Red Sea of Sound marching band will appear on ESPN's popular morning show "First Take" on Friday, Sept. 20.
The show, in celebration of HBCU Week, will air live from 10 a.m.-noon on ESPN from 76ers Fieldhouse in Wilmington, Delaware. During the show, WSSU alumnus Stephen A. Smith will be honored as ambassador of the week-long HBCU Week.
WSSU's Red Sea of Sound also will perform on Saturday, Sept. 21, at the HBCU Battle of the Bands Showcase along with bands from Lincoln University, Hampton University and North Carolina A&T State University.
This will be the Red Sea's second appearance on "First Take." In November 2017, the band performed an original take of the show's theme song in a video that aired during the show.
About The Red Sea of Sound
WSSU's marching band has had a big start to the year. For the second consecutive year, WSSU ranks as the no. 1 Division II HBCU band in ESPN The Undefeated's opening poll, which was released on Sept. 12. The Red Sea also performed for the first time with Wake Forest University's marching band during the Demon Deacon's home opener on Aug. 30.
The band also, for the first time this year, was a finalist for the Band of the Year award at HBCU Digest's 2019 HBCU Awards.
The Red Sea of Sound has performed at the Honda Battle of the Bands, the Super Bowl of HBCU bands, six times.
Proud Ram Stephen A. Smith
TV and radio personality Smith – who played for legendary Coach Clarence "Big House" Gaines and earned his degree from the university in 1991 – often reminisces on the show about his time at WSSU and the importance of historically Black colleges and universities. In 2016, he pledged $250,000 to WSSU athletics and to the Department of Communications and Media Studies. In 2017, he was inducted into the CIAA Hall of Fame. Earlier this year, Smith donated an additional $25,000 to WSSU athletics as part of the Team 250 fundraiser.
(336) 727-4081
@johndellWSJ