There was no basketball game to be played at the Gaines Center, but that hardly mattered Wednesday morning at Winston-Salem State.
The Red Sea of Sound's rhythmic beat pulsated throughout the building, the band's 85 strong doing their best with the cheerleaders, dance team and about 100 spectators to make the building as loud as possible. Several athletes were on hand, but only to compete for attention for their university, holding handmade signs saluting Stephen A. Smith, who played for Coach Big House Gaines in the late 1980s.
"Winston-Salem State is in the house!" Smith bellowed, welcoming viewers to "First Take" on ESPN, airing live from the Gaines Center.
"It definitely feels like a game," said Amaya Tucker, a Reagan graduate and sophomore guard on the women's basketball team. "With us not playing, it's a weird feeling. But to be here, and Steven A. Smith took the time out to celebrate Black History Month here at WSSU means a lot to me. We are the most alive HBCU in the country."
Smith, a 1991 WSSU graduate, is arguably one of the most recognized figures in sports television. He honored his university during this first week of Black History Month, airing several live segments during the two-hour show from the Gaines Center though he worked from his studio in Bristol, Conn.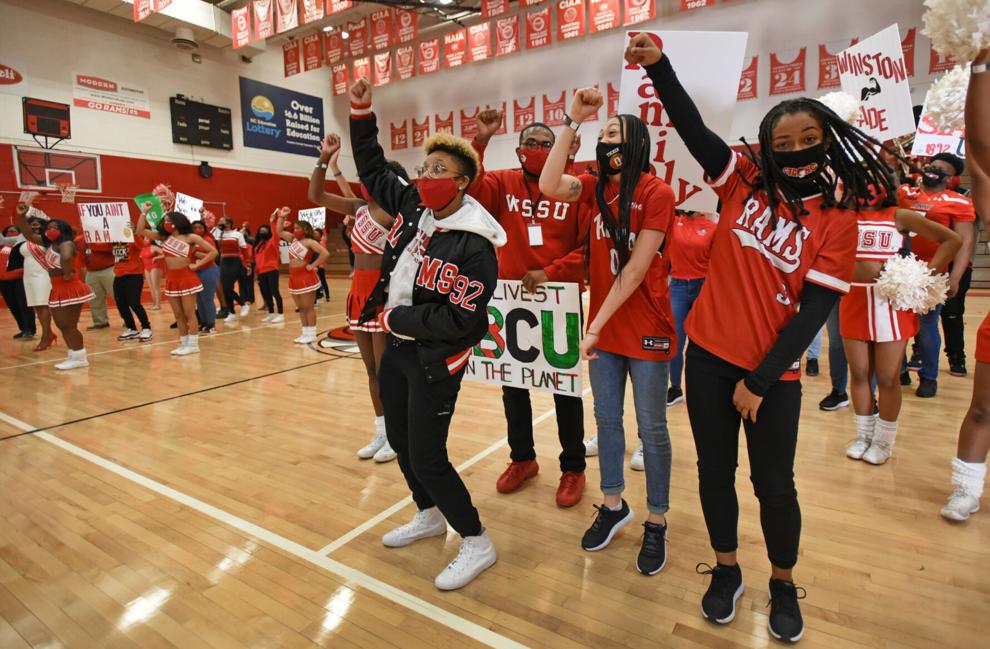 Perhaps louder than the band and the students, though, is the exposure for the university, touting itself as one of the premier historically Black colleges and universities in the country.
"This means everything," WSSU Chancellor Elwood Robinson said. "To be here in Black History Month and to have ESPN here and kind of seeing what the COVID world looks like inside of the Gaines Center – I think the country saw a great spirit here."
One sign pictured Smith in his senior season, calling him Saul, which many don't know was his nickname.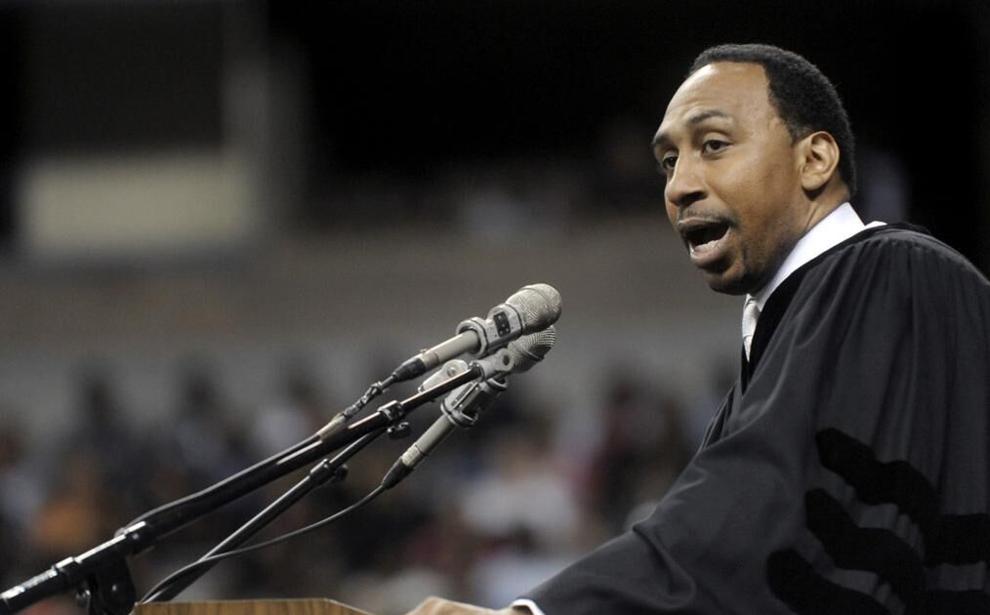 Smith, who has endowed a scholarship in his name, has consistently given back to his alma mater. A few years ago he donated $250,000 over five years to both the athletics department and the communications department. He has said he gives back as much as he can because that's what Gaines wanted and demanded of his players.
"I try to watch his show between classes, but this means a lot to me because he's an alum," said junior Ariel Paul, a member of the Red Sea of Sound. "HBCUs don't get a lot of love some times, but Stephen A. is a voice for all of us and we appreciate him giving us this exposure."
Kendyl Graves, a junior center on the football team, and several athletes helped make it a festive atmosphere. Graves' twin brother, Dominique, the starting quarterback, had a speaking part early in the show as he introduced WSSU.
"It's nice to have this exposure and there are so many great HBCUs out there, so this makes a difference," Kendyl said.
One of the big surprises for Smith was a recorded message from Marilyn Roseboro, a former WSSU professor who taught Smith.
"I'm so proud of what you've become and as a student I looked at you and I thought 'he's going places,' but some days I wasn't sure where," Roseboro said. "You were very challenging. You challenged me as a professor and you challenged my knowledge. Some days you challenged my patience, but that's what good students do."
Etienne Thomas, the athletics director, said assistant athletics director James DuBose, along with Vicki Grant and April Reid, worked with the ESPN crew to make sure the live segments worked well.
"The biggest benefit is exposure so people can see what we have to offer and to see our motto first hand: 'Enter to learn, depart to serve,'" Thomas said.
Tucker was asked what question she might have for Smith. Instead, she offered a suggestion.
"Honestly, I don't know what I'd say," she said, "other than next year he needs to come catch a game here at the Gaines Center."