Trevor Willard is savoring every practice, every play and every chance he gets to chase opposing quarterbacks for Winston-Salem State.
Willard, a freshman on the field but a sophomore in the classroom, has waited a long time to make an impact at the college level. The Reagan graduate, who is a sturdy 6-foot-5 and 225 pounds, has used his speed to his advantage and is coming into his own on the defensive line.
"I'm having so much fun out there," said Willard, who originally committed to Army and then ended up at App State last season, where he practiced but never got into a game.
Coming out of Reagan, Willard was all set to go to Army and was told he would be there to play for five seasons, and then serve in the Army for four years. But when he ended up receiving the paperwork he said the commitment to serve was for eight years.
"I didn't want to do those extra four years so there was some miscommunication there," Willard said.
He ended up going to App State last year and practiced with the Mountaineers but never got into a game.
"I liked it up there at App State, but then with the Super Seniors a lot of guys were staying for that extra year so I entered the transfer portal to see what was out there," said Willard, who was in on a career-high 10 tackles on Saturday in the Rams 21-0 win over Livingstone.
Marvin Bohannon Jr., who is the Rams' defensive coordinator, keeps an eye on the transfer portal at all times and decided to give Willard a call.
"I didn't know him at all but just wanted to see if we had a chance and our conversation went well," Bohannon said. "And I know (Coach Josh McGee, the Reagan football coach and a former WSSU quarterback) pretty well so I reached out to him also."
Despite a slight back injury early in the season that slowed Willard he's healthy now and continues to improve. The Rams are on a three-game win streak and have had back-to-back shutouts over Livingstone and St. Aug's as they head to Raleigh to play Shaw on Saturday.
"When I was in the portal it was Winston-Salem State that popped up on my radar," said Willard, who has 25 tackles this season and has also forced a fumble from his defensive end position.
The lure of playing close to home and the chance to play right away were factors in his decision to come to WSSU.
"This just feels like home and it's in my backyard and the students, my teammates and the staff have all been great, so I love it," Willard said.
The Rams have two games left in their season, and with three senior starters on the defensive line, Willard's future looks promising. Instead of living at home with his parents, he's living with his older brother in Winston-Salem.
Willard said if there's a lesson he's learned about college football is that the levels don't mean that much.
"D-1, D-II or even D-III it's all still football," Willard said. "And I get to play every week and right now we are winning and that's something I've thought about a lot. I'm happy I decided to come here."
Robert Massey, the interim head coach, said seeing a local player such as Willard do well is something he and his coaches love to see.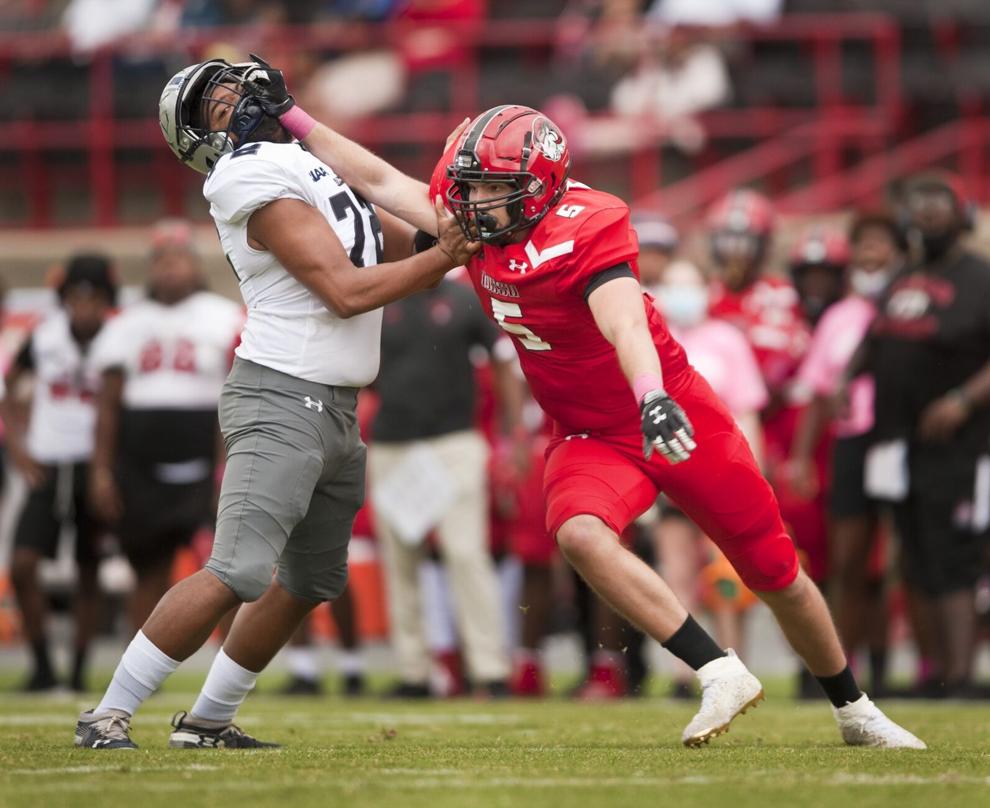 "We have to recruit our area and there's a lot of talent in this city," Massey said. "And I think if we can do more of that and get more of the local kids to stay home and play here we will have more fan support. We do a lot in the community already, but getting kids to come here and play for us and play well will do a world of good."
Willard said being on the field and playing at a high level is satisfying, and the benefit of being close to home is obvious.
"I've got three dogs at home," he said, "so I get to see them and my family and my brother a lot, so it's been good."