Winston-Salem State's season most likely came to an end on Friday night with a 71-59 loss to Virginia Union in the CIAA Tournament semifinals.
The reality was that the bigger Panthers dominated in rebounding, and their suffocating zone didn't allow many open shots.
Maybe the biggest factor was the Rams, one of the best transition teams in the CIAA, failed to get out and run like they did all season long.
Coach Cleo Hill Jr., who just finished his third season, was practical in his assessment of the loss.
"It was like (the 2019-20 season) when we beat Fayetteville State three times, and Virginia Union just had our number," Hill said of losing three times to the Panthers.
The Panthers grabbed 24 offensive rebounds, which was an issue hurt the Rams in their seven losses. Hill said he'll address that in the off-season.
"It's not necessarily a height thing, but it's effort and fundamentally boxing out, so we'll talk about all of that with my coaches this off-season," Hill said.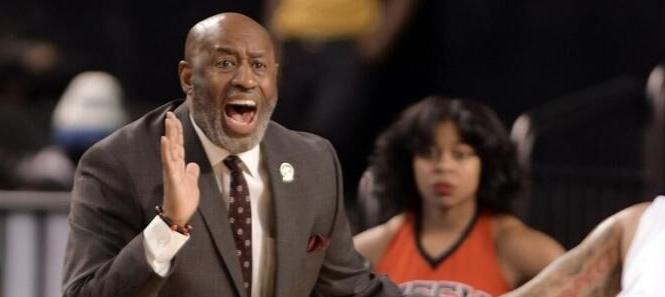 Hill signed a four-year contract at around $90,000 a year in May 2018, and he quietly had his contract extended before this season. During his three seasons on the sideline, the Rams have won two Southern Division titles and a CIAA Tournament title while compiling a 50-32 record. They have turned into one of the most consistent programs in the CIAA, winning 19 games in each of the last two seasons.
The Rams (19-7) have an outside shot at earning a Division II NCAA Tournament berth, but it's likely they will turn their attention to next season.
What Hill and his assistant coaches (Lance Beckwith and Ricky Wilson) built for this season was rather remarkable, as they plucked transfers Javonte Cooke (Mars Hill) and Cameron Campbell (Lincoln, Pa.) out of the deep transfer portal.
Blending those two, along with several other transfers, into a team that also has some talented youth (Samage Teel and Isaac Parson) means they should contend again next season.
"We've got two guys here (Campbell and Cooke) who came into this season with a group of 13 others and to come in and win the Southern Division in one year, we like that we did that," Hill said. "And replacing these two guys will be something we'll look at."
The Rams also will lose Alexander Reed to exhausted eligibility and could lose seniors Xavier Fennell, their best defender, and small forward Jon Hicklin. Both were part of the CIAA championship team two years ago. Hill said Fennell and Hicklin could come back next season, but that's something to be decided during the off-season.
In terms of recruiting, the Rams are making a big effort toward the eastern part of the state. Teel and Parson are from eastern North Carolina, and Jeremy Dixon, a talented senior at Kinston High School, has committed.
Dixon, who is so talented he sang the national anthem before his final home game at Kinston this past season, is a 6-foot-6 forward who sports a 3.7 grade-point average. He's just the sixth player in the storied history of Kinston High School to start on the team in all four years of his career.
Parson, who was on the All-CIAA freshman team this past season, Teel and Dixon all played together on the same AAU team.
(tncms-inline)1496346180774727681[0](/tncms-inline)
"It's early," Hill said about the Division II recruiting season. "We are talking with a couple of guys who I can't mention (since they haven't signed), and we are looking at a couple of junior college guys and some high-school guys. But we'll address that in the summer. And we'll talk with our underclassmen to see what they thought about their seasons and we'll go on from there."
Cooke, who was All-CIAA and the Rams' leading scorer, and Campbell gave the Rams so much in terms of experience. Both of them loved their only season at WSSU.
"I just want to thank Coach Hill for giving me this opportunity, and this is the furthest I've ever been in my college career. And the (CIAA) championship would have been nice but just winning the Southern Division is really not any more than I can ask for," Campbell said.
Campbell and Cooke have good shots at playing professionally, and they have their college degrees already. One of them will be selected to play in an HBCU All-Star game at The Final Four in New Orleans in April.
"This loss hurts, but looking back I'm blessed and we're blessed and I just thank God and I thank the coaches and my family and everybody who believed in me," Cooke said. "I'm not supposed to be here, so I cherish every moment."
Hill was asked about the long shot of getting into the NCAA Tournament.
"We're still digesting the loss, but if that happens, we'll have a new sign of life," Hill said. "But I just want to thank all the seniors. We're not sure on the NCAA Tournament, and I think those pairings will be announced next Sunday so we'll wait and see."