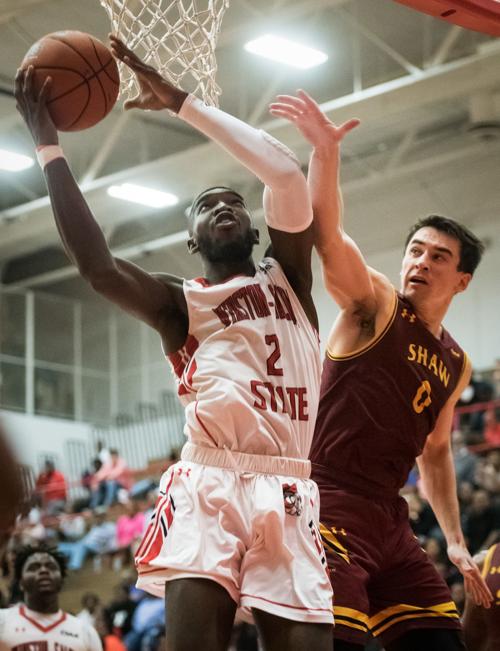 The Gaines Center, the old, non-air-conditioned bandbox of a basketball arena, was alive on Saturday and bursting at the seams as Winston-Salem State women's and men's teams swept Livingstone.
The regular-season ended with students swarming the court and swinging their car keys in front of the Livingstone bench. The trick for both of the Rams' teams now is to translate that energy they had on the court to Charlotte for this week's CIAA tournaments.
"Of course we wish we could bring all these fans to Charlotte," said senior Julius Barnes of the Rams. "But that's not how it works. We just need to bring this same focus and determination to the tournament."
For the first time in a long time the Rams, the No. 2 seed out of the Southern Division, have a legitimate shot at winning the school's 12th CIAA title. They have balance, they play a tough-as-nails brand of defense, and that chip on their shoulder is rather large.
"Nobody picked us to do anything this season," senior Rob Colon said earlier this season. "Our goal is the same, let's win this CIAA title and show people what kind of team we have."
If the Rams are going to win the CIAA title they will have to do it late night. They play the 9 p.m. game on Thursday at the Spectrum Center in Charlotte against the Bowie State-Livingstone winner. If they win Thursday, they play the 9 p.m. semifinal game on Friday.
Coach Cleo Hill Jr., who is in his second season, knows what it takes to win the title. He coached the Shaw Bears to the CIAA title in 2011, and says to have a successful run in the tournament it comes down to execution.
"Now that we know we are the two seed we have to come back with a plan, look at the brackets, and then figure out what that plan will be," Hill said. "We need to take that grittiness that we showed (Saturday) and play with more of it in the tournament. We have to pay attention to detail and we'll talk about those details here over the next few days."
Over the last four seasons, the Rams have bowed out in their first CIAA Tournament game in Charlotte. But with a balanced scoring attack led by Colon and Jaylen Alston, there's definitely a different feeling around this team.
Mason Harrell, a senior center, missed last year's tournament with a broken foot so he's looking forward to playing on Thursday. Last season, the Rams lost 62-61 in overtime to Elizabeth City State in the first round.
"I've never played in the tournament, so it's going to be great," said Harrell, who had 10 rebounds and two blocks and two steals in the 82-76 overtime win on Saturday. "I feel like if we go into the tournament with the energy we showed in this second half and in overtime, we can win the tournament. That's our mindset, to win the tournament."
The WSSU women led the CIAA in crutches, walking boots and casts this season. Coach L'Tona Lamonte has had as many as seven players injured throughout the season, but none of that matters now.
"I've never seen anything like it in my 20 years of coaching," Lamonte said about the rash of injuries that included Amaya Tucker, one of the top players in the CIAA, who was lost for the season with a foot injury. "I know that I'm going to have to change some things so it's just hard right now."
The Rams have had an up-and-down season but pulled out a win on Saturday over Livingstone to grab the third seed in the Southern Division. They will take on seventh-seeded Claflin on Tuesday at 4:30 p.m. at Bojangles Coliseum in Charlotte in a first-round game.
"Claflin is scrappy and their point guard (Dionna Long) is from Thomasville, so she'll be ready to play against us," Lamonte said.
Despite the rash of injuries, Lamonte has seen players such as O'Shea Hatley and Aja Stevens pick up their games.
"Our attitude has to be going into the tournament with nothing to lose," said senior Jahlia Williams, a point guard who has been playing extended minutes all season. "We are ready for the tournament, and now that we have a third seed, that gives us a better seeding for the tournament."
(336) 727-4081
@johndellWSJ
Be the first to know
Get local news delivered to your inbox!