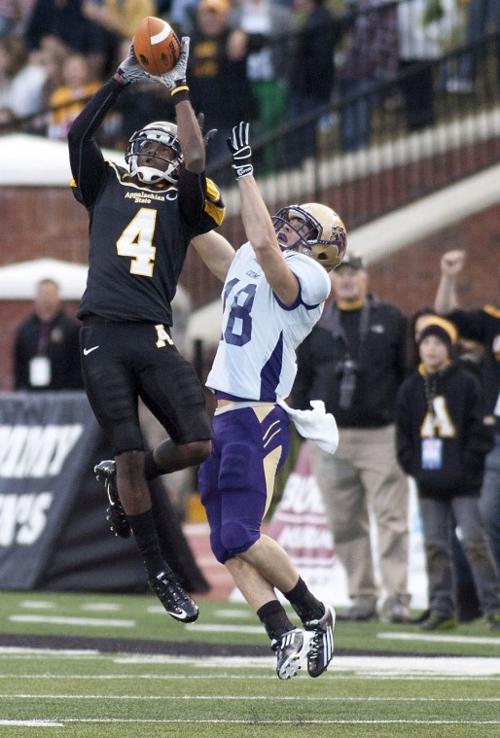 Probably no one is looking forward to cooler weather more than Rodger Walker.
Walker, an Appalachian State cornerback who has been sidelined for much of the season with a disorder that can be triggered by heat, hopes that he will be back in the lineup as the autumn progresses.
Walker, a junior from Thomasville, Ga., who ranked second in the Southern Conference in interceptions last season with four, has been able to play in only three games this season. He said he has endured a case of Rhabdomyolysis, a condition in which muscle fibers break down and cause an elevated level of creatine phosphokinase (CPK) in the bloodstream.
"The doctor said that it's a rare thing, that it doesn't happen very often," Walker said. "The main cause of this seems to be heat."
He said the worst of it happened before the season began, the first day of preseason camp when he had an issue with dehydration and cramping; it was discovered that his CPK level had risen to a high number.
"My muscles were just real tired, and I didn't have any energy," Walker said. "What happens is the tissue in muscles break down … and my blood level peaks too high. If they get too high, it could cause kidneys to shut down."
This time last year Walker had few problems, and in fact was having one of the most productive seasons by any defensive back in the Southern Conference. He started nine games for the Mountaineers at cornerback, after moving from wide receiver, where he played as a redshirt freshman.
He missed all but a few days of preseason camp because of the elevated CPK level, and remained sidelined when the season began.
"At first it was kind of hard, because of all the work you put in to get ready for the season, but when the doctors explained to me what was going on, it became clear that I need to focus on getting better before I get back on the field," Walker said.
He has practiced off and on since, and has played sparingly.
"Being out and coming back, then being out and coming back, did make it difficult to keep up, plus not being able to do conditioning," Walker said.
Jerry Moore, ASU's coach, said: "It's been such an up-and-down situation, and, of course, the first thing you ever do is put the health of a player first. Right now he's free to practice and play, but it's been a yo-yo effect for him and the defensive coaches. The cooler weather seems to be advantageous to him, where he doesn't get that hot."
Walker was cleared to play last Friday, and has practiced this week in preparation for Saturday's game at Western Carolina.
He said that he has to pay attention to not working too hard for a long period and not to become overheated — both of which are challenges for a football player
"When it's 80 or 90 degrees, that triggers dehydration — and that leads to the cramping and my issue with my muscles and energy," Walker said. "I'm glad we're in the cooler part of the year now. I'm hoping it doesn't happen again."