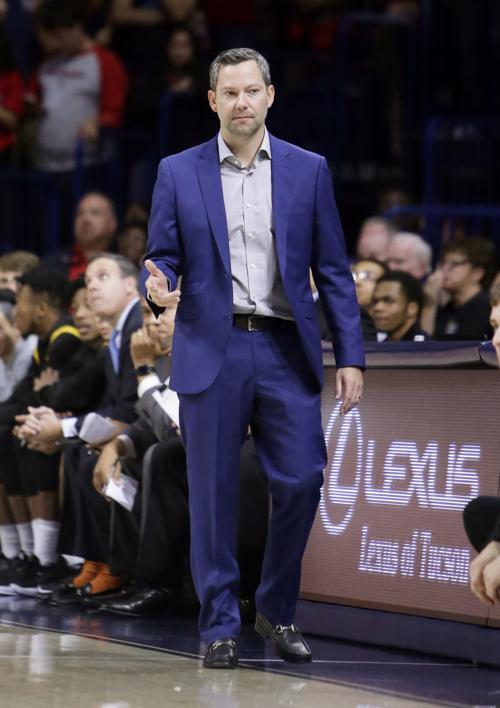 CHARLOTTE — The surprise last weekend came in the result, when University of Maryland, Baltimore County won the America East Conference championship on Vermont's home court.
But it was no surprise that Coach Ryan Odom of UMBC, the son of ex-Wake Forest Coach Dave Odom, didn't call a timeout to set up a last-second play. No surprise that graduate student Jairus Lyles drained the shot to send the Retrievers to the NCAA Tournament. No trace of surprise in the UMBC players on the court, on the bench or in the proud father watching from the NIT selection committee meeting in Indianapolis.
"I would have called two timeouts on the way up the court, given them two different plays, none of which would have worked and the guy still would have made the basket in spite of me," said Dave Odom, who coached the Deacons for 12 seasons. "Ryan gave Jairus Lyles permission to make a decision and the confidence that he would make a good one, and he did.
"That's Ryan, that's his mother."
Ryan Odom, in his first two seasons at UMBC, has already made it clear that he's going to let his players determine their fate. And for a coach who has won 21 and now 24 games in his only two seasons as a Division I head coach, it's hard to argue with his methods.
His players appreciate that.
"Giving us the confidence to play the way we play and be ourselves out on the court is probably the best thing that he could do for us," senior guard Jourdan Grant said. "A lot of our offense is based on reads and he just says, 'Go out there and make the right play.' We've won 24 games, so we've made a lot of the right reads this year."
If UMBC wins its 25th game, all the history its made this season will amount to little more than a footnote. The Retrievers are the No. 16 seed staring up at the tournament's No. 1 overall seed, Virginia. And the wins keep piling up for No. 1 seeds in this tournament's history — without a No. 16 ever winning.
Odom has his school in the NCAA Tournament for the first time in 10 years, and he's facing the school where his dad was an assistant coach for seven seasons before taking over at Wake Forest in 1989.
Basketball has meant a lot for the entire Odom family, and Ryan derives his passion from his father, he said.
"I was crazy watching his games," Ryan said. "I'll be dead honest with you. I used to throw stuff watching his teams play when I was watching it on TV. … I remember last year watching Chris Collins (of Northwestern) and his father (Doug Collins) and his reactions and that just struck a chord with me because I used to do it as a kid watching Dad, and now he's definitely doing it watching me, and Mom (Lynn Odom) just has to sit there and, of course, calm him down or get away from him."
Dave Odom was in an NIT selection committee meeting last weekend when Ryan's Retrievers were trying to beat Vermont. The TVs were behind him, though, and he kept trying to steal glances.
"Finally with about 10 minutes to go, the chairman of the committee said, 'Look, we're getting nothing out of David, take a break here and everybody get in behind UMBC and see how it ends,'" Dave Odom said. "So we all got up there, stood up, nobody sat, and we watched the last 10 minutes prettymuch together. And they listened to me react to every pass, every catch, every shot, every rebound, every turnover. Didn't mean to, but I did."
Ryan Odom can guess what was happening as his father watched the end of the game, as Lyles rose and fired from the top of the key to deliver a 65-62 win.
"He was probably crying. He probably had plenty of tears there, when you're able to watch your son," Ryan Odom said.
"I admit that my tear bank emptied within seconds. Within seconds I had no more to share. It was gone. I was dry," Dave Odom said.