The start of football practice can't come soon enough in Chapel Hill, as North Carolina looks to move past a dreadful 3-9 season that saw the perfect (or imperfect) storm of circumstances come together in keeping a young Tar Heels team from ever getting off the ground.
A look back at what went wrong for Carolina in 2017, and how it can be fixed in 2018.
1. The injury bug
This one doesn't require much analysis.
Week after week, the injury report grew longer with a total of 37 players — 34 scholarship — missing games due to injury.
Before the end of September, the Tar Heels were without veterans Andre Smith, Austin Proehl, Tyler Powell, Thomas Jackson. By the end of the season, gone too were Tommy Hatton, Donnie Miles and Carl Tucker.
In all, Carolina lost 77 starts and 232 games to injury according to data gathered by Inside Carolina's Greg Barnes.
It was obvious what the Tar Heels lost on gameday, but not having veteran playmakers on the practice field carries just as large of an effect for a team of youngsters looking to build an identity.
The fix: There's just no way injuries continue to pile up like that in Chapel Hill. No way. The law of averages says Carolina is due for better luck this season. The silver lining, of course, is that the number of injuries last season gave a number of players game experience ahead of schedule.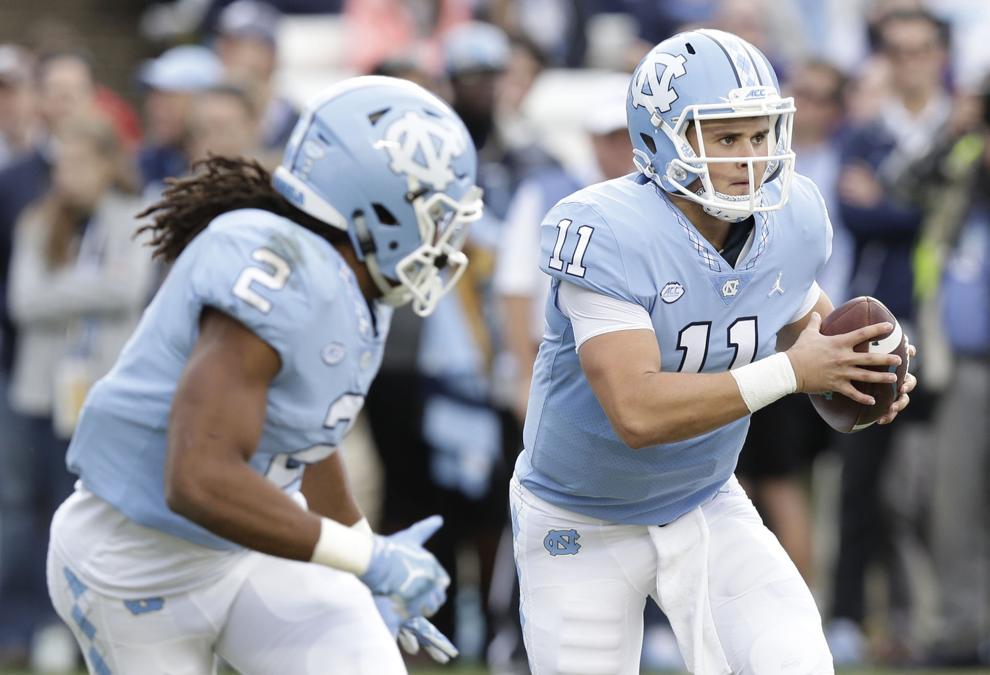 2. Starting fast
On the surface, Carolina's offensive average of 5.51 yards on first downs looks pretty good. A closer look, however, reveals that the Tar Heels never found consistency in starting drives effectively, with 123 of 283 plays (43 percent) going for one yard or fewer against Power Five peers.
Often the chains after one play, the Tar Heels didn't put themselves in position to convert third downs and it showed, as they ranked 119th nationally, converting just 30.9 percent.
True; there was some success with 52 first-down plays going for 10 or more yards, but sustained drives were tough to come by, as just 108 first-down plays went for between 2-9 yards.
That's reflected in an average time of possession that ranked 123rd nationally at 26 minutes, 32 seconds.
The fix: Sustained drives have never been Carolina's thing under Coach Larry Fedora, so that likely won't change, as they've ranked Nos. 123, 127, 127, 128 and 108 over the past five seasons in time of possession.
These Tar Heels, however, could be a strong running team with Jordon Brown and Michael Carter teaming in the backfield, while quarterbacks Nathan Elliott and Chazz Surratt have both shown some wheels while receivers Anthony Ratliff-Williams and Dazz Newsome are also dangerous runners.
Believe it or not, Carolina's average of 35 carries per game last season — 32 in ACC play — were five more than 2016. It has certainly never been Fedora's style to go all-in on the run, but this team would certainly benefit from leaning that way.
3. The big play
The Tar Heels' defense was put into some tough spots by a struggling offense last season, but it often did itself few favors, ranking 99th nationally in total defense with an average of 436 yards.
Take away a handful of plays, and those numbers could be much better, as Carolina often saw a solid defensive series blown up by a massive play.
The Tar Heels actually performed admirably in terms of the traditional "big play" metrics, allowing 172 gains of 10 or more yards (60th) and 55 of 20 or more yards (51st).
But when things went bad, they went really bad, as Carolina ranked 116th nationally with 13 plays of 50 or more yards allowed, including six of 70 or more.
The fix: So, what's to blame for the big gains?
First-year defensive coordinator John Papuchis came in with a more aggressive scheme, which could account for more boom-or-bust opportunities, but he was also forced to work with several newcomers and players who weren't expected to play major roles.
An aggressive defense will certainly give up a few big plays, but Carolina didn't have much to show for it with 23 sacks (79th), 72 tackles for loss (76th) and 16 takeaways (90th).
A second season as the Tar Heels' defensive coordinator should lead to finding a better balance and understanding of how to fit his personnel and scheme.
The Tar Heels definitely have the depth and talent up front, thanks to the likes of Malik Carney, Aaron Crawford, Jalen Dalton and Tomon Fox and to play more conservatively behind them.
Aside from that, it certainly wouldn't hurt if the offense is able to keep the defense off the field a little more.