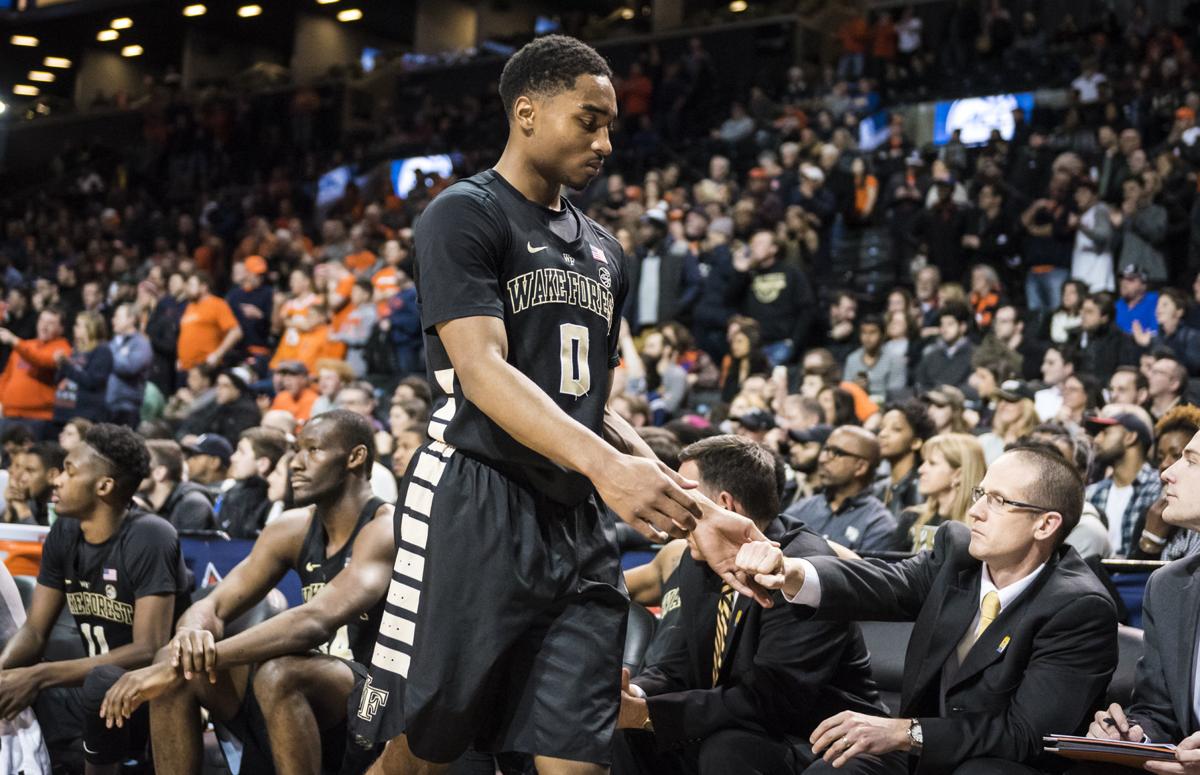 A recap of Wake Forest's 2017-18 basketball season:
Wake Forest had a six-game winning streak in late November-early December, when it seemed the Deacons were rescuing themselves from a 1-4 start. The first of those was a win against Southern Conference champion UNC-Greensboro. Doral Moore went from seldom-used backup to dominant presence in the post. And even in the misery of a 4-14 ACC trek, two of Wake Forest's league wins came against teams that played in the Sweet Sixteen (Syracuse and Florida State, which further advanced to the Elite Eight).
Everything else. Coach Danny Manning's plan to rely heavily on a four-guard lineup featuring Bryant Crawford, Keyshawn Woods, Mitchell Wilbekin and Brandon Childress imploded early. Graduate transfer Terrence Thompson started all 31 games but made little impact in his 16.3 minutes per game, while sophomore Donovan Mitchell showed promise and never supplanted him usage (11.3 minutes). Crawford's assist-to-turnover ratio dropped from 2.39 to 1.50 from his sophomore year to this one. Woods suffered a knee injury in early January, one for which he was mostly able to play through but probably hindered him more than he cared to disclose. Wilbekin was serviceable. Childress could heat up as quickly as he could become a non-factor. Freshman Chaundee Brown, the highest-rated recruit at Wake Forest since Al-Farouq Aminu, saw his playing time and points yo-yo across a wide scale. Fellow freshman Olivier Sarr also showed promise but was inconsistent and spent too much time in foul trouble. And for the fourth straight season – all of Manning's tenure – the Deacons struggled to sustain any kind of defensive identity for more than a few possessions at a time.
Likely losses for 2018-19
G Woods (11.9 points), G Wilbekin (8.6 points), F Thompson (3.5 points, 3.9 rebounds), F Mitchell (2.9 points, 2.2 rebounds), C Sam Japhet-Mathias (1 points), G Rich Washington (didn't play this season).
F Jaylen Hoard (247Sports No. 28), F Isaiah Mucius (No. 85), G Jamie Lewis (No. 216), G Sharone Wright Jr. (No. 271), F Christian Lorng (No. 339).
G Crawford (16.9 points, 4.9 assists), C Moore (11.1 points, 9.4 rebounds, 1.9 blocks), G Childress (9.1 points), G Brown (7.6 points), F Sarr (3.2 points, 3.0 rebounds).
If Crawford can revert to his sophomore form, it would go a long way in blending a top-20 recruiting class into what's left of the Deacons' roster. Hoard and Mucius seem as if they can be immediate contributors – though Manning has leaned heavily on only one freshman in his first four years at Wake Forest. Ironically, that was Crawford in the 2015-16 season.
Wake Forest will try to right itself after a wayward season. If the No. 19 ranking holds, it's a better recruiting class than 2003, when a skinny kid from West Forsyth named Chris Paul took over, and it's better than the 2008 class that featured Aminu. Hoard and Mucius should give Wake Forest attacking wing players who can complement a projected backcourt of Crawford and Childress. Brown showed flashes that he can be a reliable, double-digits scoring option, and if he becomes a consistent option, the Deacons will be more dangerous. Defense will have to come at some point, and perhaps with this many athletes, Wake Forest will finally be able to stop straight-line drives and run opponents off the three-point line. If it isn't a make-or-break year for Manning, another sub-.500 performance would seem to guarantee the 2019-20 season as one.
Wake Forest is in the mix for at least a couple of graduate transfers, and the Deacons have had one in three of Manning's four seasons. Crawford and Moore could declare for the NBA Draft without hiring agents and, depending on feedback, could stay in the process. More roster attrition is always possible, best evidenced by Dinos Mitoglou's decision to sign with a Greek professional team in late June 2017 and to forgo his senior season. And the Deacons could still add a recruit or two – Lorng didn't commit until last week.