Craig Engels loves people.
And the people love him back.
But on an excessively hot night in Oregon, when a dream of making a U.S. Olympic track and field team was denied, one of the sport's most popular athletes wanted to get away.
"He just wanted to escape," said his father, Todd, "escape the limelight, just kind of think things over. ...
"Craig wanted to be Craig, not 'Craig the runner,' and that's what we tried to provide him after the fact."
Craig Engels finished fourth in the 1,500 meters final on the last night of the trials at Hayward Field in Eugene, Ore. Though he is the defending U.S. champion at the distance, though he entered the team selection competition with the season's best time among American runners, his effort of three minutes and 36.69 seconds in a strategic final left him in fourth place, one position out of the running for one of the three spots on the team that will go to the Tokyo Games in July.
"He's gutted," Todd Engels said. " I've never seen him in shock like that."
Todd Engels, a computer analyst for Delhaize in Salisbury, and his wife and Craig's mom, Dawn, a nurse at Cone Health in Greensboro, joined two grandmothers and friends from Reagan High School and from beyond, some sporting versions of their own mullets or mustaches to mimic the runner's eye-catching look. The 50 of them formed the base of his cheering section at Hayward, but in the end, it was his family, and not the other spectators nor the 85,000 people who follow Engels on Instagram, who tried to help him deal with disappointment.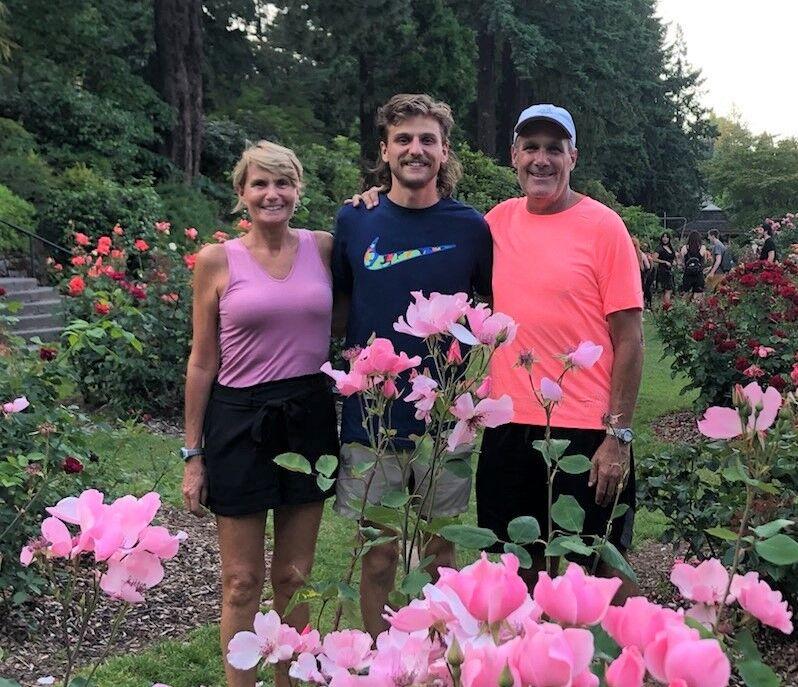 "The connection to people is as important as anything in life," Todd Engels said. "If it wasn't track, it would be karaoke, singing or acting, or whatever it is that he could connect with people. It could be selling Chick-fil-A sandwiches. But as long as he's connecting with people, that's kind of what drives him.
"In this, it's just a great opportunity for him to kind of encourage the kids that are not the most popular kids in school. If they see a guy with a mullet and a mustache, they think, 'I could do that, too.' That's a big base of his following.
"He kept apologizing to us. Those 80,000 people, he feels like he let 'em all down. So I said, 'You need to stop saying "I'm sorry." We are so proud of you.'"
Engels has been close to an Olympics berth, but he was a 22-year-old running for the University of Mississippi at those 2016 trials. Engels finished fourth in that 800 final, missing the Rio de Janeiro Olympics by one position, and he was fifth in the 1,500 meters. But this time, now 27 years old, Engels ran as a professional, representing Nike.
Engels found himself boxed in the pack, in seventh place, when runners heard the bell signaling the final lap and 400 meters. By the time they reached the final curve, Engels was forced to try to gain ground in the second lane, and he couldn't overtake third-place finisher Yared Nuguse, who edged away in the race's final few strides.
"They just took off when he was in a bad spot," Todd Engels said, referring to winner Cole Hocker (3:35.28) and runner-up and 2016 gold medalist Matthew Centrowitz (3:35.34).
So his parents and his grandmothers, after the race, gathered around the son "and clucked and made all those those mothering and fathering hen noises that you do," Todd Engels said.
What's next in track and field for Craig Engels isn't clear. He's likely to pack his recreational vehicle at his current quarters in Beaverton, Ore., his father said, and drive back to Oxford, Miss., where he is enrolled to work on an MBA at Ole Miss. He'll resurface to speak with journalists and to show up on social media, and just maybe we'll see him return to roots he hasn't forgotten and race again next winter at Winston-Salem's JDL Fast Track, where he posed for pictures and signed autographs for adoring Reagan students and fans for a half-hour after his last race there in February 2020.
"He has a tough time saying 'no,' because he wants to please everybody," his father said.
And that wasn't more evident than in one final scene as Engels and his family left Hayward Field, the first steps to trying to leave disappointment behind but also to receive encouragement from his people.
"One little kid got through our defenses and said, 'Good job, Craig,'" his father said. "And Craig gave him his last shirt."