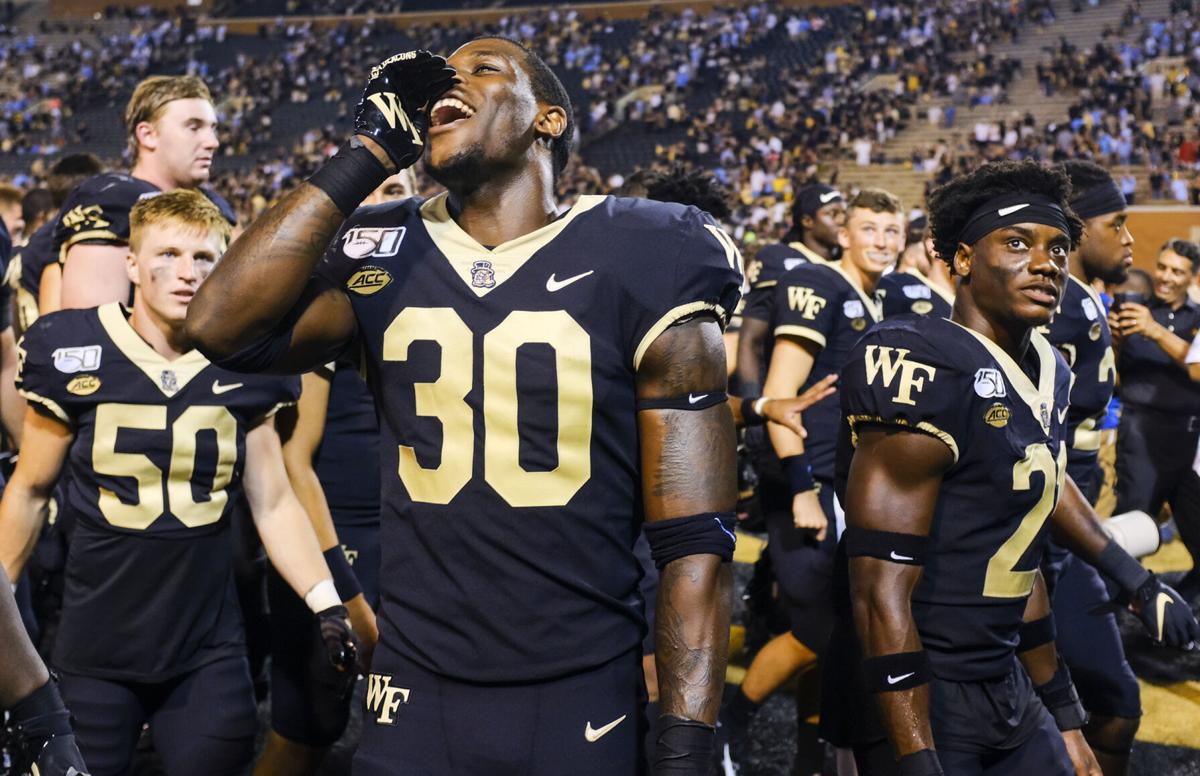 In early June, Ja'Cquez Williams knew he needed to leave Atlanta.
Wake Forest's fifth-year linebacker wanted to get out of an area where protests were intensifying in the wake of George Floyd's death at the knee of a police officer in Minneapolis. Williams was due to return to Winston-Salem as part of the team's Phase 2 of players who had off-campus housing for voluntary workouts.
He knew where he needed to be. He also knew what could happen if he were caught in the wrong place at the wrong time.
"I actually called my dad, and that's the first time I've ever told him in my life, I actually told him that I was scared," Williams says. "I was scared to go back to Winston because I didn't know, one that I can get out of the city, and two, if I did try to get out … if I got stopped, with tensions being so high, I'm what they classify, what they look for.
"I'm a big, Black male, muscular, with tattoos. And I didn't want to become a statistic."
Williams took his dad's advice — "I just need to get gas and get out of Atlanta" — and came to Winston-Salem.
Returning to Wake Forest, though, isn't without its own set of problems that need to be addressed.
It's a university that has been forced to confront its own issues of racial inequality, both from its past and recent events. In a summer that began with the killings of Breonna Taylor and Floyd and is now engulfed again in the wake of the Jacob Blake shooting, Wake Forest is working to address shortcomings.  
"Having talked to a few football players and a few athletes in general, I do know that there are things that they like about Wake Forest and then there are things that are also challenging," says José Villalba, chief diversity officer at Wake Forest. "I value their feedback. We've been in communication and working with student-athletes for a long time, particularly African American and Black student-athletes.
"We know full well how they feel about Wake, both positively and then from a more critical perspective as well."
To listen to Black student-athletes such as Williams, senior Ja'Sir Taylor and junior Ryan Smenda Jr. is to hear of a strong bond within the football program and of a separation between student-athletes and students outside of the program.
"I think they feel that football and the locker room is a refuge," Coach Dave Clawson says. "Not that it's perfect, but I believe our program and locker room is filled with brotherhood and equality."
That's not the case when the question shifts to: What needs to change at Wake Forest University?
"Just the vibe between, I guess, Black student-athletes and the regular students on campus," Taylor says. "The way they view us or not allowing us into parties and using the excuse saying, 'No athletes are allowed,' while we're at the door and we see our white athletes in there.
"Things like that, the clear racial divide between the student body and some of the athletes on campus, it's just, I guess on the football team speaking, we're one, we're connected."
Player outreach
As national outrage surged in the days after Floyd's murder, Clawson wanted to extend and open lines of communication for the Deacons.
Clawson's directive to his staff was that every player on the roster was to be contacted. Coordinators, position coaches, strength coaches and others made sure every player was contacted — and then the staff members reported back to Clawson which players needed further discussion.
"We needed to ask them, 'How are you feeling? Share with us your thoughts, your opinions. What can I do to make your life better in our football program and better at Wake Forest University?'" Clawson says of those conversations.
Clawson says there were about six players that assistant coaches told him were "really bothered," to whom he reached out.
The program also has a leadership group that Clawson meets with throughout the year. It consists of 10 players, with each class represented by at least one player — and in this case, can serve as something of a captain's meeting, since spring practices were canceled before captains were elected.
"Every player got to speak their feelings and voice their perspective," Clawson says of the leadership group. "… I addressed it to the team and said, 'This is something that we need to continue to have dialogue and we can't let it drop just because we get busy with the football season.'
"I took a lot of the lead from our leadership committee."
Quarterback Sam Hartman and defensive back Luke Masterson, both white, were two of seven players to appear in a video that hit social media platforms on June 9. The message for 1 minute and 41 seconds was that Wake Forest's Black football players are more than that.
"I'm more than just an athlete. I'm more than just entertainment," redshirt sophomore JaCorey Johns says on the video. "I'm not a thug. I'm not a criminal. I'm an intelligent young Black man and I'll do everything in my power to stand and fight alongside my people against the social injustices against people of color."
Smenda was also on the video and says while it was good to see Hartman and Masterson speaking with them, it wasn't new information that the Black players on the team have the support of their teammates.
"They get it, I'm just glad that now they're able to say, 'Hey, I see it, I acknowledge it and I'm willing to understand and help the cause,'" Smenda says.
For Hartman, he's made an effort to "put out stuff that's authentic to me and what I believe in."
"All lives don't matter until Black lives matter, and matter is the minimum," Hartman says. "It's definitely a challenging time for our players and I feel for every single one of them.
"I know for our football team … we're rock solid. And I reached out to as many guys as I possibly can and as I've been seeing more and more, I just re-emphasize the whole fact of just being there for them."
Not enough action
Last spring, a post on Instagram suggested a candidate for student body president would build a wall to separate the university from Winston-Salem State University, the city's historically black college. It was later confirmed that the student wasn't running and did not participate in the post.
Wake Forest officials condemned the post, and four members of the team met with President Nathan Hatch.
Hope for change in light of that incident faded into resignation that significant changes weren't coming.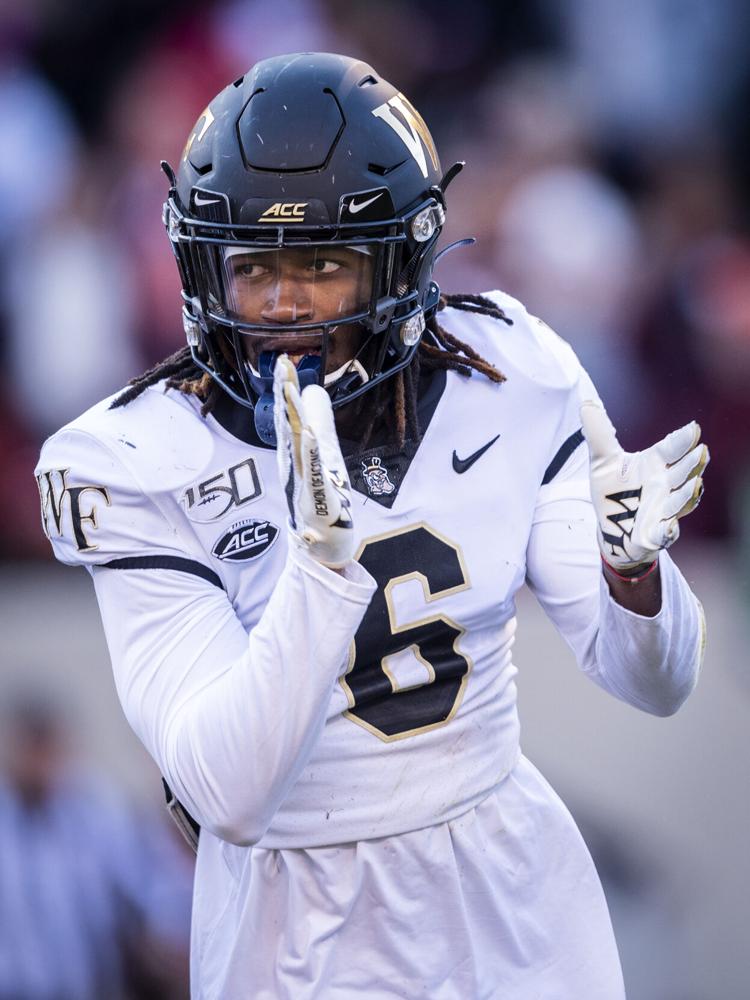 "And then like, it was … something that was being worked on. But a year later, it all went back to normal like it never happened," Taylor says. "Nothing changed."
It was an eye-opening experience for some.
"It definitely took a lot of the guys aback, a lot of guys had to sit back and say like, 'Wow, this is actually the school that I attend,'" Williams says.
One of the things that came from last spring was a community discussion in which Black people at Wake Forest could voice their grievances with how they were treated at the school.
A speaker at the end of the discussion left the biggest impression on Williams.
"At the end of the conversation, after all of the Black people had spoken, there was a white male … (who) had got up and he basically dismissed all of the stories, saying that enough, Wake Forest is fine, all of you guys are overreacting," Williams says.
"And for me being in that space and seeing his utter disregard for our story and having that lack of empathy, it just made me realize that the place that I'm at is a place that's a reflection of the world."
There's new action that suggests change might be coming for the university.
In June, the school issued an 84-page document, including 20 recommendations intended to improve the institution. The report is a result of Hatch's Commission on Race, Equity and Community, and Hatch's office referred a reporter to the document rather than making the university president available for comment.
"The recent and ongoing perfect storm of a global pandemic, an economic recession and civil unrest have brought to the forefront, with renewed vigor, the injustices and inequity that plague our society," Hatch wrote. "Black lives matter, and this truth has brought us into a much larger conversation about the impact of racism, white supremacy and inequity.
"At Wake Forest, we are working to address, however imperfectly, some of our own issues regarding race, marginalization and barriers to the full educational experience."
The dinner with football players and other athletes helped foster the commission, but it was years in the making, Villalba says. 
"We had met with other student leaders as well, and we also knew that Wake had to really confront a lot of its history," Villalba says. 
Along with Hatch's commission, the university published its Slavery, Race and Memory Project, which is meant to investigate and acknowledge "how our institution's roots are entwined in the abhorrent practices of the Southern slave economy," Hatch wrote in a June 9 letter to the Wake Forest community. 
Wake Forest also hired Dr. Corey D.B. Walker as the inaugural chair of the African American Studies program and created a new Center for Research, Engagement and Collaboration in African American Life (RECAAL), led by Derek S. Hicks. 
Equal in the classroom
It's in the educational experience in which Wake Forest student-athletes feel marginalized, and it's as simple as segregation of seating arrangements in classrooms, Smenda says.
In his physics class of about 30 students, the five Black students all sat in one grouping. Smenda made note of how everybody else in the class "shifted all the way over," away from his group.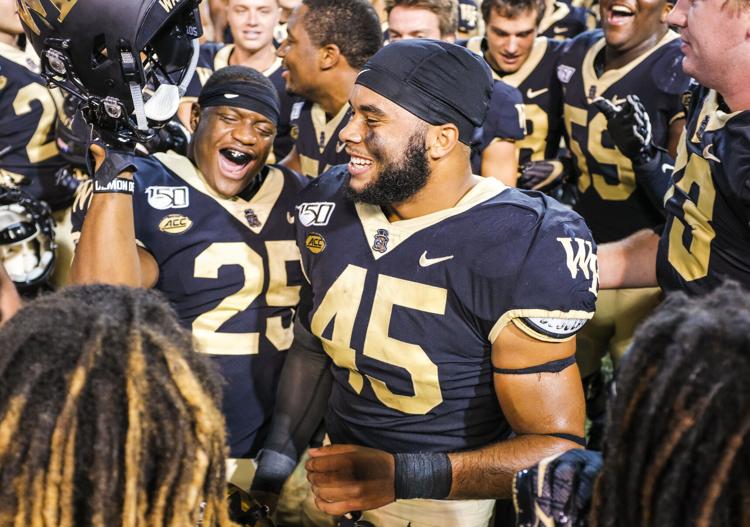 "The kids in our class, we talked about it," Smenda says. "But I mean, it didn't really bother us because we're not really there to quote-unquote make friends.
"However, it'd be nice to have normal communication."
It's division and segregation that isn't unique to Wake Forest, but it's also something that took Williams some time to get used to.
Williams is from Hinesville, Ga., about 43 miles south of Savannah. His parents exposed him at an early age, he says, to the "limitations that are placed on your skin tone," and he felt like he grew up with a knowledge of it.
That still didn't prepare him for his experience at Wake Forest.
"I've already kind of learned how to maneuver, but with Wake Forest, the culture shock that I had when I first attended there, it was definitely a shift," Williams says.
Williams grew to accept it and moved forward with his college experience, making the best of the situation.
"You can always see with the naked eye, (but) you have to actually dig in deeper and actually understand what was happening," Williams says. "It took me a while to come to grips with that and, you know, try to go about having my college experience the best way that I could with that being present."
It's something Taylor has seen for three years.
"We leave the locker room and it's like going into the world now, we're looked at differently," Taylor says. "A lot of people see us as just dumb jocks, we only got in because of sports and if we're walking around campus, the first question is, 'Do you play a sport or anything?'
"They were just pre-judging us thinking that there was no way we could get into Wake Forest without a sport."
Power of voices
As seen at Florida State and Oklahoma State in June, tweets from single players such as Marvin Wilson and Chuba Hubbard, respectively, can threaten to upend entire programs. This week, practices at Appalachian State, Boston College, South Florida, Kentucky and Mississippi State were called off in favor of furthering discussion on racial injustices. 
It speaks to a shifting dynamic in college football, perhaps all of college sports, that student-athletes have never had this much power in their voices and actions.
"I just feel like student-athletes, especially us football players, we have to stand for something or fall for anything," Williams says. "It's not necessarily to say that we need to be against anybody. I'm a firm believer in not necessarily the physical aspects as far as like rioting and looting, stuff like that.
"I just believe that we need to create that because without dialogue, without people aware of this, they can't hold themselves accountable."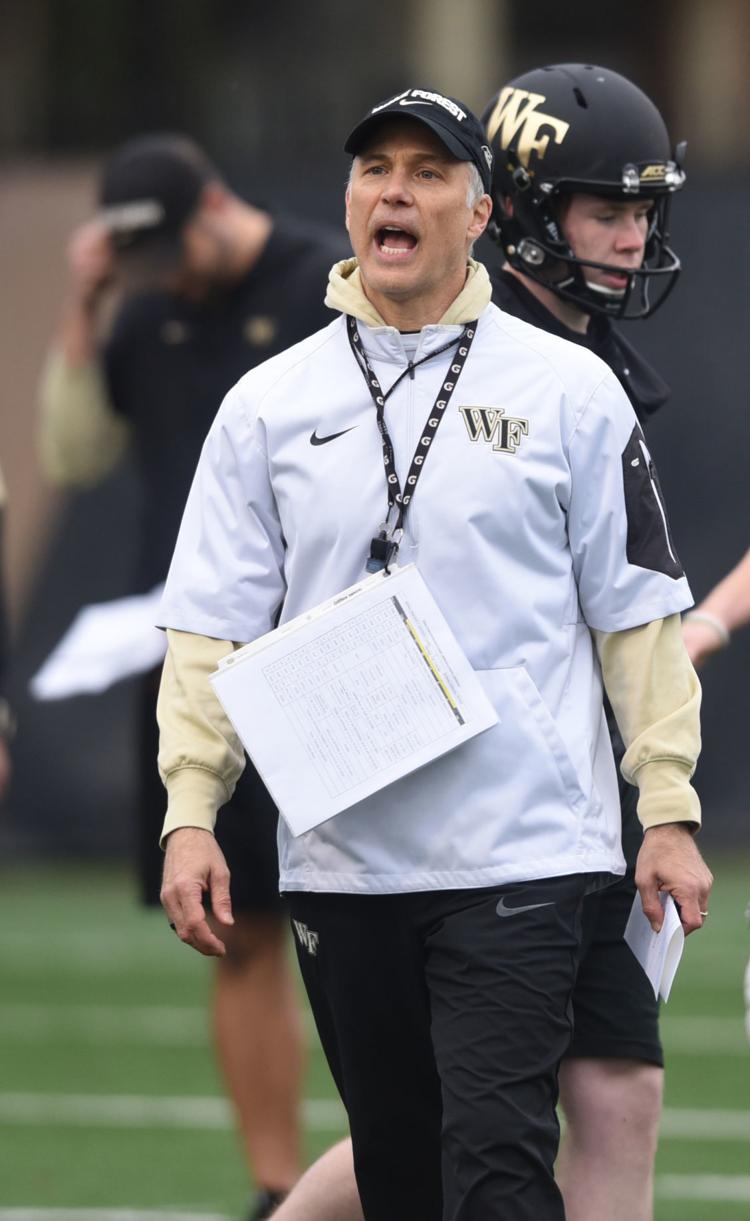 Wake Forest's football players have not been limited in what they can say on social media.
"Our players are finding their voice," Clawson says. "And I told them, 'I don't think that you guys have ever had a bigger voice. Don't lose this opportunity.'"
Words come easier for some than others.
"Speaking about things like that is always hard, and I just couldn't find the words to say," Taylor says.
That didn't prevent the 21-year-old cornerback from putting his thoughts on Twitter, though — even if he was still searching for what to say.
"I tweeted that I was lost, confused and angry," Taylor says. "It's just hard to wrap my head around the things that are going on in the world, how things have been playing out lately."
That leads to more dialogue, with the design of sparking permanent changes at Wake Forest.
"I want to be a good listener. … I think I was educated, but not as much as I needed to be," Clawson says. "We need to make sure that when life gets back to normal, whatever that normal is or however that happens, that we just can't move past this issue and let it get forgotten and pretend it didn't happen or that these conversations didn't happen.
"That if we really want to create positive and proactive change, there's gotta be some aspect of this that becomes a permanent part of our program."
The evidence, though, will have to be seen.
"I believe I'm being heard," Taylor says. "But I guess time will tell when things start … going back to normal and these things aren't on the timeline as much and people seem to go back to their normal lives."
"We also knew that Wake had to really confront a lot of its history."

José Villalba, chief diversity officer at Wake Forest
Be the first to know
Get local news delivered to your inbox!