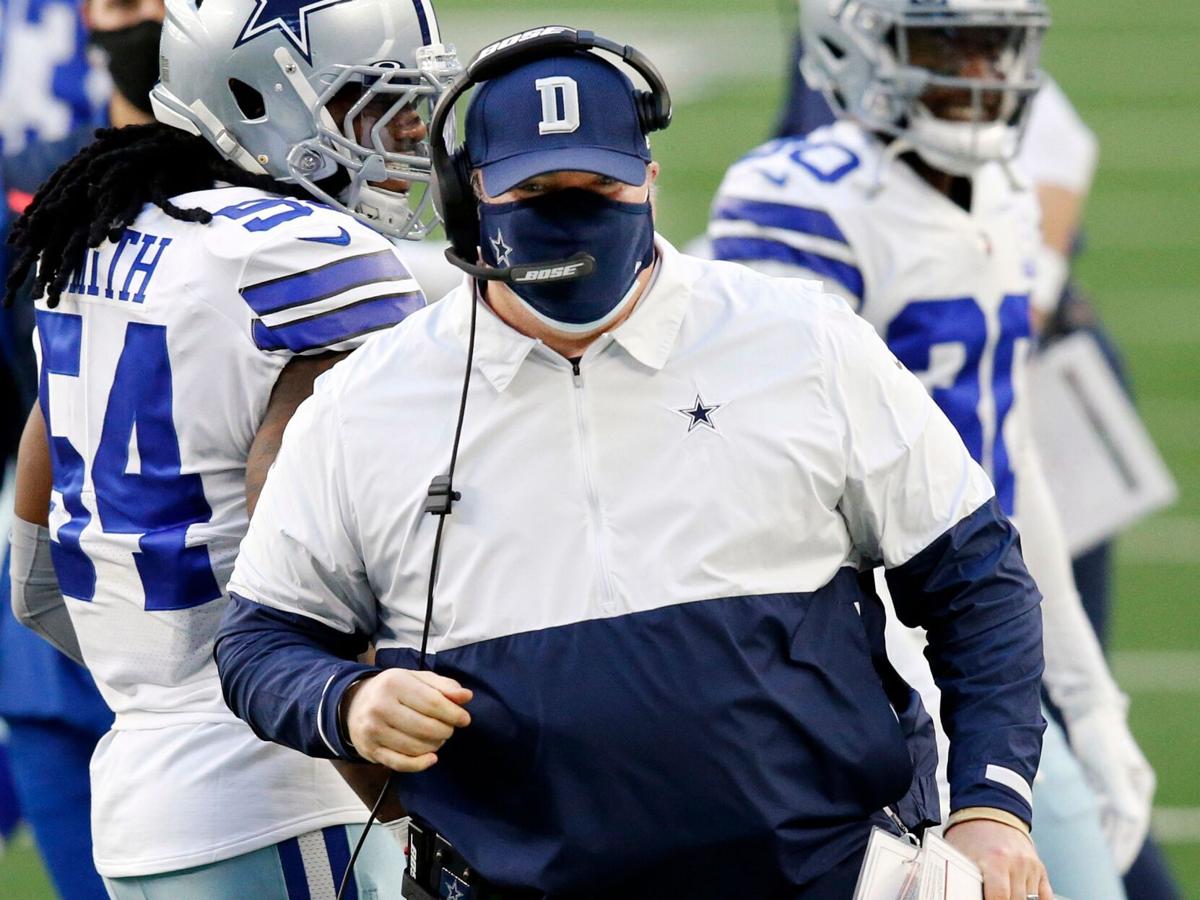 From a cat video on Zoom to cartwheels in the sand, it's safe to say that Dallas Cowboys coach Mike McCarthy was flipping excited when the team signed quarterback Dak Prescott to a record four-year, $160 million contract earlier this month.
The second-year Cowboys coach was so happy to secure the long-term future of the quarterback position with the man he called "the keystone" of the football team that he said he did a cartwheel on the beach in Florida.
He was equally ecstatic that the suspense and talk surrounding Prescott's status is finally over, and suggested that the team felt the same way.
In fact, during a press conference with media Thursday the coach suggested that the team was so over having to watch talking heads debate their quarterback's future that at one point they preferred to watch the viral video of an attorney's cat filter fail while on a Zoom call with a judge.
"The best example was one morning in the training room, there were two TVs on," McCarthy said. "One TV was all about Dak Prescott and the other TV was four squares and a Zoom call with a cat. Everybody was watching the cat because they were tired of watching the other TV."
Asked what he thought of the video, McCarthy was admittedly flummoxed by it all. "I didn't stick around to find out," he said. "I didn't understand what was going on. I just kept moving."
Moving is nice way of explaining McCarthy's reaction to Prescott contract.
He didn't make the March 10 press conference at The Star because he was on spring break with his family in Florida. But he certainly was moving on the beach.
"It's a lot easier to do cartwheels on the sand. I'll say that," McCarthy said with a smile. "I was obviously very excited. He is definitely a keystone of moving forward as a football team. I was very excited about that."
McCarthy is looking forward to not only having a full season with Prescott but also a full offseason.
The quarterback was not around the facility early on in McCarthy's first season because of the contract dispute. Prescott signed his franchise tag shortly before the start of training camp.
But he got off to a record-setting start to the season, throwing for more yards through the first five games than any quarterback in NFL history. Prescott was on pace to shatter the NFL record for yards in a season before sustaining a season-ending fractured ankle.
"I'm excited about year two of the offense because, frankly, in a lot of ways, we feel like we really didn't get to have year one," McCarthy said. "We're excited about what we can do this year with a healthy offense."
McCarthy noted that Prescott had just finished a workout before the press conference and the coach said he is on course with his rehab to be ready for the 2021 season.
The NFL has yet to decide if teams will go back to a traditional offseason with on-field workouts, OTAs and minicamps or whether they'll stick with the virtual plan they adopted last season due to the COVID-19 pandemic.
McCarthy is just happy to have Prescott around.
"Dak lives here. He's here every day. We need interaction," McCarthy said. "Everybody keeps saying, 'Hey coach, what do you need?' We need time with our players. And our players want time with the coaches. We have a great vibe going on. I love the way the locker room is put together."
"Dak, he's the keystone of this football team. That's the way I view it. That's the way we're going to push forward with it, too. The quarterback touches the ball every play. But also, his presence and his natural leadership ability is something that will continue to grow. I think you'll see that in the locker room."
Just no more cat videos. And no cartwheels.
Catch three rounds of picks in the latest 2021 NFL mock draft
Catch three rounds of picks in the latest 2021 NFL mock draft
6. Philadelphia (4-11-1) — Jaylen Waddle, WR, Alabama, Jr.
Is it me or does it seem like the Eagles are always in need of help at receiver? I don't suspect Waddle's broken ankle will impact his draft stock much. He's already healed and was off to an incredible start — 25 receptions, 557 yards and four touchdowns in four games — after showing promise as a sophomore receiver and return man. A healthy Waddle is the most explosive all-around athlete at receiver in this class. Top needs: WR, CB, LB
7. Detroit (5-11) — Micah Parsons, LB, Penn St., Jr.
New head coach Dan Campbell is going to find the cupboard completely bare at linebacker. Parsons is another elite prospect who opted out of the 2020 season, citing "the potential risk to the health and well-being" of his young son. I haven't come across any bitten knee caps in studying Parsons, but I know he makes plays all over the field, tackles anybody within reach and occasionally some who aren't. Top needs: WR, LB, Edge
9. Denver (5-11) — Patrick Surtain II, CB, Alabama, Jr.
Most cornerbacks on the Broncos roster will be free agents after this season. Surtain, a former five-star recruit, has NFL DNA (father was an All-Pro corner who played 11 seasons) and prototypical traits. He isn't a burner, but that's picking nits when we're discussing the SEC Defensive Player of the Year. Top needs: CB, Edge, OT
10. Dallas (6-10) — Christian Darrisaw, OT, Virginia Tech, Sr.
Injuries and age are starting to erode what was once the Cowboys greatest strength, it's offensive line. Darrisaw could definitely find his way into the top 10 if he tests as well as I believe he will during the draft process. Top needs: OL, DB, DT
12. San Francisco (6-10) — Rashawn Slater, OL, Northwestern, Sr.
Regardless of who the quarterback is, the interior offensive line needs to be upgraded. Slater opted out this season due to COVID, but handled the mighty Chase Young as a junior while playing left tackle and didn't allow a single sack the entire season. He's versatile and talented enough to play all five offensive line positions. Top needs: OL, DB, DT
13. L.A. Chargers (7-9) — Kyle Pitts, TE, Florida, Jr.
Pitts could prove to hard to pass on if he's available, especially if resigning Hunter Henry proves too difficult. The Mackey Award winner is a matchup nightmare. He's definitely more receiver than complete tight end, but he's a valuable chess piece either way — his 17.9 yards per reception and 12 touchdowns in only eight games are indicative of that. Top needs: OL, CB, Edge
14. Minnesota (7-9) — Kwity Paye, Edge, Michigan, Sr.
Coach Mike Zimmer didn't hold back when he called his defense the "worst one I've ever had." Paye is already an impressive run defender against the spread offense, which is becoming increasingly important in the NFL, and there are athletic indicators he will continue to improve as a pass rusher. Top needs: DL, S, G
15. New England (7-9) — Christian Barmore, DL, Alabama, So.
This could certainly be a quarterback, but I believe the Patriots would prefer a veteran and they have plenty of cap space to address their lack of offensive weapons. Deatrich Wise Jr. and Lawrence Guy are both free agents with not much depth behind them. Most analysts considered Barmore a potential first-rounder on upside alone. He gave everyone a glimpse of that high ceiling by dominating Notre Dame and Ohio State — two of the best offensive lines in the nation — in the College Football Playoffs. Top needs: QB, WR, DT
17. Las Vegas (8-8) — Trevon Moehrig, S, TCU, Jr.
For as much draft capital as the Raiders have spent recently on their defense, you'd expect better results by now. There have been flashes, but nothing concrete yet. The secondary, especially, has been atrocious. Moehrig's skillset is scheme-proof. He's a hard hitter who led all safeties in pass breakups in each of the past two seasons. Top needs: DT, G, CB
18. Miami (10-6) — Jeremiah Owusu-Koramoah, LB, Notre Dame, Sr.
Jerome Baker needs a running mate at linebacker to help the Dolphins defense become an elite unit. Owusu-Koramoah is an explosive athlete who can make plays from sideline-to-sideline. The ACC Defensive Player of the Year also won the Butkus Award (nation's top linebacker) and was a consensus All-American. Top needs: WR, OL, LB
19. Washington (7-9) — Trey Lance, QB, North Dakota St., So.
I'm going to go out on a limb here and say Taylor Heinicke isn't the quarterback of the future for the Football Team. A showcase game against Central Arkansas didn't really do Lance's draft stock any favors, but there's too much arm talent and playmaking ability to deny here. The measurables check every box. It wouldn't be shocking if he is selected much higher. Top needs: QB, WR, LB
21. Indianapolis (11-5) — Gregory Rousseau, Edge, Miami, So.
I expected the Colts to be aggressive seeking their next quarterback in the trade market and they didn't disappoint. The next biggest priority is to continue building their pass rush. It's been almost two decades since a Hurricane defensive end was taken in the first round (Jerome McDougle in 2003). Rousseau finished with 15.5 sacks in 13 games as a redshirt freshman, but opted out of the 2020 season due to COVID-19 concerns. Top needs: Edge, WR, CB
22. Tennessee (11-5) — Jaelan Phillips, Edge, Miami, Jr.
The Titans finished with only 19 sacks this season — only the Bengals and Jaguars had fewer. Phillips stepped up in Rousseau's absence after transferring from UCLA. The former highly-touted recruit is a relentless pass rusher who produced eight sacks and 15.5 tackles for loss in 10 games as a Hurricane. Top needs: DL, CB, WR
23. N.Y. Jets from Seattle (12-4) — Azeez Ojulari, Edge, Georgia, So.
If past is prologue, once head coach Robert Saleh has his quarterback situation figured out, he'll focus on building a pass rush. Ojulari was a semifinalist for the Chuck Bednarik Award (the nation's top defensive player) with 8.5 sacks, 12.5 tackles for loss, four forced fumbles and 25 quarterback hurries. He's only scratching the surface of his talent. Top needs: QB, Edge, DB
25. Jacksonville from L.A. Rams (10-6) — Samuel Cosmi, OT, Texas, Jr.
Cam Robinson is a free agent and Cosmi is likely an upgrade anyways. You can't develop a young quarterback if you don't have a decent offensive line. It's science. Cosmi dominated in 26 games at right tackle as a sophomore. He did the same at left tackle this season. Top needs: QB, OT, CB
26. Cleveland (11-5) — Zaven Collins, LB, Tulsa, Jr.
The Browns need to upgrade their pass rush outside of Myles Garrett, but they also need to improve their linebacker corps. Collins has the size (6-4, 260), athleticism and positional flexibility that will cause most defensive coordinators to drool. He received the Bronko Nagurski Trophy, awarded by the Football Writers Association of America to the top defensive player in college football. Top needs: LB, S, DT
27. Baltimore (11-5) — Jayson Oweh, Edge, Penn St., So.
Yannick Ngakoue and Matt Judon will be free agents in a few weeks. Oweh is raw, but explosive and talented enough to be a designated pass rusher on day one. Top needs: Edge, WR, OL
28. New Orleans (12-4) — Mac Jones, QB, Alabama, Jr.
The verdict is still out on if Drew Brees' successor is currently on the roster with Taysom Hill showing his upside against Atlanta, but regressing against Denver and losing to Philadelphia. Jameis Winston is also a possibility, but Jones fits Sean Payton's system perfectly. He certainly benefitted from a great supporting cast in Tuscaloosa, but he's an accurate, decisive passer who finished third in the Heisman Trophy race and earned positive reviews for his week of practices at the Senior Bowl. Top needs: QB, DB, WR
30. Buffalo (13-3) — Joseph Ossai, Edge, Texas, Jr.
Trent Murphy is a free agent and Mario Addison may end up a cap casualty — cutting Addison would save the Bills $8.2 million if he's released after June 1. Ossai is the best of both worlds. He's a relentless pass rusher, but is also capable of being impactful against the run and in pass coverage. Top needs: DL, G, CB
31. Kansas City (14-2) — Alijah Vera-Tucker, OL, USC, Jr.
The greatness of Patrick Mahomes has made up for the mediocrity of his offensive line since he became the starter. Vera-Tucker was one of the best offensive tackles in the country, but could also shine on the interior in the NFL. Top needs: OL, Edge, LB