Who says a father can't spin out his son on the track at Bowman Gray Stadium. That's called good, clean fun at "The Madhouse."
And so it was last Saturday after Billy Gregg playfully spun out his son, Nate, after Nate won a Street Stock race.
What helped make it easy was Billy finished second. So, after the checkered flag was waved, the father had a little fun with his son. Because Nate was celebrating a birthday on Sunday his father gave him an early present.
"Happy birthday baby, great job Tater," Billy said on his car's radio.
Nate Gregg then proceeded to do a couple of victory donuts in his car on the straightaway before heading to Victory Lane.
There are just three weeks left in the 72nd season of Bowman Gray Stadium racing and here are four things to watch.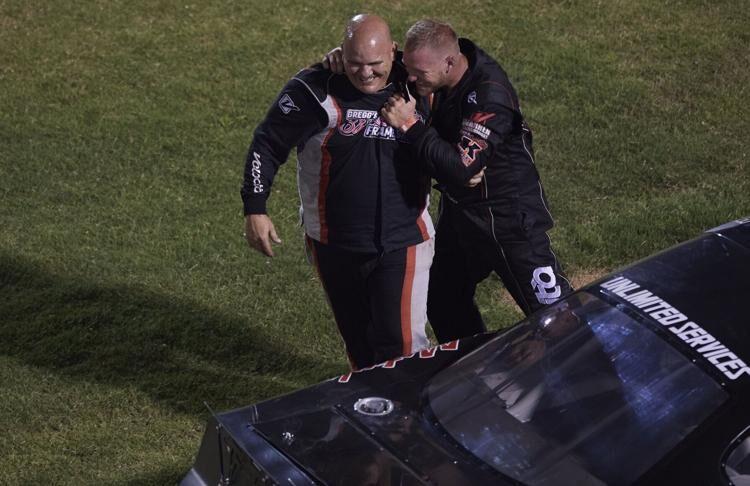 1. Burt Myers' backup car is pretty good
After Burt Myers finished third with his backup car in the first Modified race last weekend, he shrugged in the pits when asked about what he might do in the second race. It's not easy to go to a backup car under fire at the Stadium but Myers made it look easy. He wound up fourth in the second Modified race, and the four-time defending champion in that division stayed close to Tim Brown in the points race. Brown, who finished sixth and second, leads Myers by a scant six points.
2. Popular wins by Lynn and The Showstopper
Amber Lynn's victory in a Sportsman Division race last weekend was one of the more popular wins of the season. She was thankful afterwards for winning her fourth career race. As she heads into the final three weeks of the season she is third in the points and 20 behind "Tiger" Tommy Neal who has been the most consistent driver in the Sportsman this season. Another popular win was from Chris Fleming, who held off Tim Brown for a victory. Fleming, 62, said: "This means a lot to me and my family."
3. John Holleman's 'rookie' year
It's hard to call John Holleman IV a rookie at Bowman Gray Stadium since the 24-year-old has been racing at the track since he was 14. But he's doing quite well as a rookie in the Modified Division this season. He picked up his third win of the season, winning from the pole last week. During a break between the two Modified races last week, he said being consistent each week is something he's striving for. "When you can keep getting those top 5's, that's how you stay in the hunt for the points championship," he said. Heading into Saturday's 100-lap race he sits in eighth place. He's finished 20th, 16th, 11th and 10th this season, which didn't help him much in the points. After winning the first Modified from the pole on Saturday he finished 20th in the second race.
4. Bobby Labonte to race in Modified Division
NASCAR Hall of Fame driver Bobby Labonte is expected to race in Saturday night's 100-lap Modified race. Labonte is racing in part to help raise money for his foundation. He's expected to also race on Aug. 14 and Aug. 21 in the Modifieds. His foundation helps fight against Juvenile Diabetes. Labonte, 57, was the 2000 Winston Cup Series champion and won 21 races before being inducted in the NASCAR Hall of Fame in 2020.