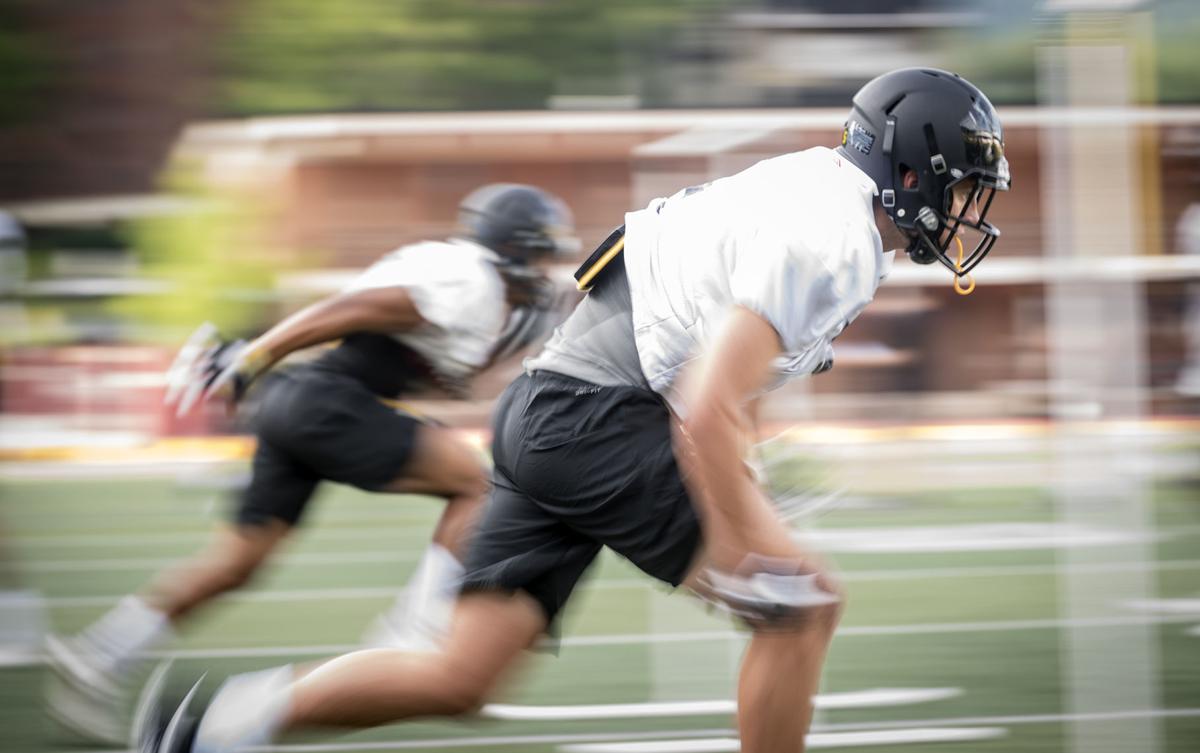 BOONE — An overtime loss to open the 2016 season put Justin Watts in a bad mood, but Appalachian State's receivers coach felt better the following night.
Watching the performance of Northwest Guilford senior Thomas Hennigan, who had committed to the Mountaineers four months earlier, gave Watts a glimpse into a potentially bright future.
Nearly a year after his dominant showing in a rivalry win against Northern Guilford removed some of the sting from what Watts had witnessed in a Thursday night loss at Tennessee, Hennigan has practically assured himself of a spot in App State's receiver rotation as a true freshman.
Listed at 6-foot-2 and 210 pounds, he has repeatedly turned heads through three-plus weeks of practices and scrimmages.
"I didn't know how soon he would be special here," Watts said, "but I believe it's going to be sooner rather than later."
Injuries have left App State without some of its most experienced receivers at different times during preseason camp, with all-league choice Shaedon Meadors returning to practice this week, and Hennigan has taken advantage of his opportunities to work as an outside or inside threat with the offensive starters.
He finished Saturday's scrimmage with six catches, including a 38-yard gain on a jump ball near one sideline, a 14-yard gain following a broken tackle near the line and a 13-yard gain to convert a third down.
Hennigan completed his prep career with more than 3,000 receiving yards, 1,500 rushing yards, 500 passing yards and 50 touchdowns. Splitting time between positions in his third game as a Northwest Guilford senior, he caught a 47-yard touchdown pass in the third quarter before adding four rushing touchdowns that contributed to a 226-yard night on the ground.
"I went and watched him play live the day after we lost to Tennessee — I was as disappointed as you could be," Watts said. "Sitting there and watching him, I called (head) coach (Scott) Satterfield from there about midway through the first quarter and said, 'This kid is really, really good.' By the end of the game, I had called coach Satterfield about 12 times. I just said, 'Coach, there's something different about this kid.'"
Whether he was excelling for Northwest Guilford's football team, catching the game-winning touchdown as a Shrine Bowl captain or showing off his hard-nosed athleticism as an all-conference basketball player for the Vikings, Hennigan validated App State's interest. And the Mountaineers weren't alone.
North Carolina was among the bigger schools that made a late push to recruit Hennigan, who had committed to App State in May 2016, and questions about the commitment increased as signing day approached.
App State lost committed players to Wake Forest, Purdue, Illinois and Kansas late in the process, but the Mountaineers received Hennigan's letter of intent at 7:58 a.m. on signing day.
"I'm here, and there's no place that I'd rather be, but I definitely went through November, December and January where there were some Power Five schools trying to offer me," Hennigan said. "It's definitely been a learning experience and a lot different from high school — up tempo, and the coaches are going to correct you right on the spot. There's definitely a lot of stuff I need to work on, and as far as performing, I'm not pleased with myself, but I've done some good things."
That statement will draw no arguments from his coaches and teammates.
Meadors and Ike Lewis are App State's outside receivers with the most productive track records, and slot receiver Darrynton Evans showed flashes of his potential as a versatile true freshman. Satterfield has said Hennigan keeps playing too well to redshirt.
He is skilled as an underneath option, but he has the size, speed and strength to stretch the field for quarterback Taylor Lamb. Several times this month, Hennigan has earned the trust of the App State passer by outfighting a defensive back for a 50-50 deep ball.
"No matter what I've done, whether it's football, basketball, really anything, I'm probably the most competitive person I'll ever meet," Hennigan said. "When the ball is in the air, I just have a mindset that I'm going to go get it."
In addition to Hennigan and true freshman Malik Williams, who has been productive enough as a slot receiver to merit consideration for immediate playing time, App State has an impressive group of newcomers working with Watts. Jake Henry is another true freshman, and Kansas State transfer Corey Sutton will be eligible to play in 2018.
Whether he becomes a standout remains to be seen, but the plan is for Hennigan to certainly play sooner rather than later.
"The thing he's done such a great job with, and it's all camp, is the contested catches," Satterfield said. "When guys are right around him, he's still going to make the catch. He's got good size, exceptional hands and good body control.
"Hennigan is going to play for us this year. He's mature enough. His body is mature enough, and, quite frankly, he's made as many plays as anybody in the wide receiver room."