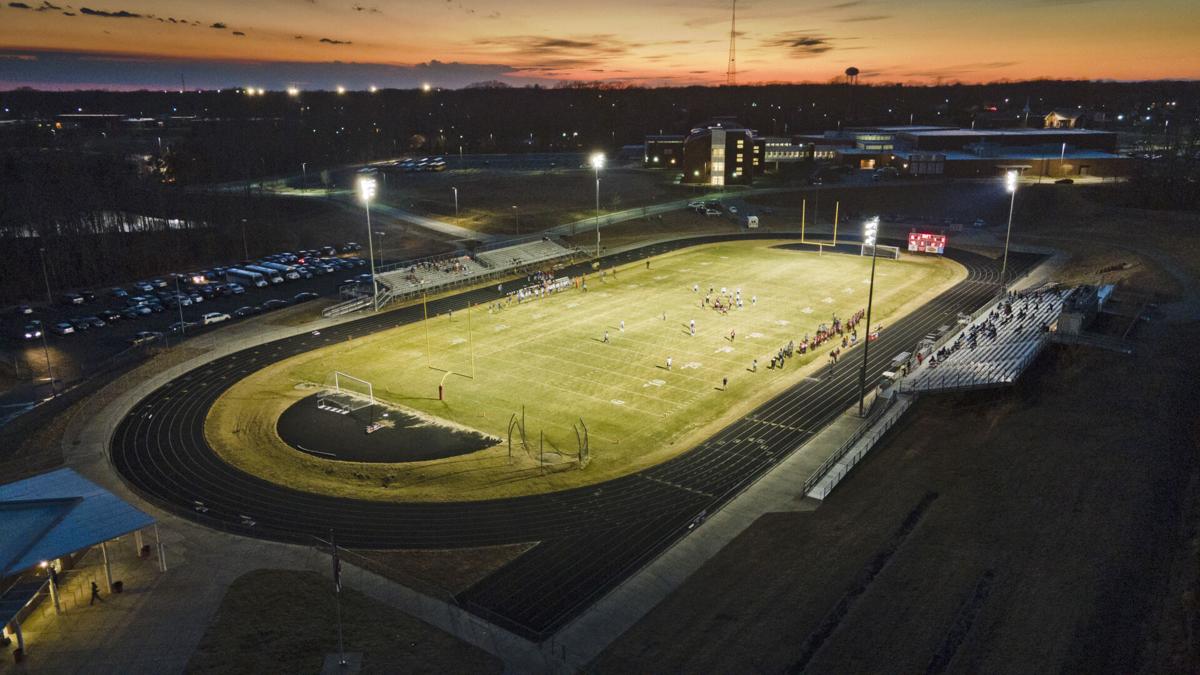 Devin Flowers' attention wandered to the sideline. Whether he knew it or not, pressure would come his way.
The Glenn senior stood on the football field as East Forsyth made a late push toward the end zone. One of his teammates picked him out.
"Devin," he shouted. "Don't let them score."
Somehow, that command worked. After back-to-back penalties helped the Eagles inch closer, Flowers capitalized. A bobbled handoff ended up on the ground and, eventually, in Flowers' hands. It helped secure an 18-0 shutout win, the Bobcats' first win against their crosstown rivals since 2017.
"The whole time, in and out, I've got their back, they've got my back," Flowers said. "So if they want me to go make a play, I've got to go make that play.
"So the pressure, it just boosts us up. We're used to it now."
Spring high school football was never going to look right. The lack of fans, the masks on the fields, the grass faded by winter — the quirks didn't jibe with our fall expectations, even though we've lived with some of these changes for nearly a year.
COVID-19 has taken away loved ones. It has taken away parts of our society while we wait for the vaccine. It has taken away moments.
On Thursday and Friday, as teams throughout the area kicked off this new experience, one thought rang clear: Players, coaches and everyone else around the games experienced something they loved again.
And it didn't matter how those moments looked. Only how they felt.
As 5 o'clock came at West Forsyth on Thursday, the shadow of the school began draping the football stadium's main entrance.
The Titans, a couple hours out from hosting Oak Grove, went through their pregame walkthrough. The rest of the school's fields bustled, too: baseball and softball players practiced on their fields, and the boys soccer team worked catty-cornered between them.
The pings of bats, the calls for passes, the band warming up as the football team exited to eat and get dressed – the unusual mix of spring sounds layered the 60-degree night while a slight wind flicked the American flag behind the far end zone.
With horns and drums echoing down the otherwise empty home bleachers, Larry Holloman started to lay out equipment on the visiting sideline. A longtime member of Wake Forest's chain crew, he would be leading a group of parents who wanted to watch their teenagers and help out in the process.
Once he retired, he stayed away from football for a year before he couldn't stand it anymore. This is his third season helping West Forsyth now. Holloman made do without the fall season with a college football schedule that filled his TV viewing almost nightly. Did he miss it? Of course.
"Not near as bad as these guys," Holloman said with a chuckle, gesturing toward the field where players returned, this time in their helmets and pads.
Avery Salerno, the Titans' long snapper, worked with his punter. His dad, Tony Salerno, took directions from Holloman and just missed watching those practice snaps. Mom Erika would be in the stands for the game as well, after she snagged a ticket donated back to the school by band parents.
The Salerno family came from Florida, moving to the area when Avery was a seventh-grader. They took a trip back to Tony's alma mater, Edgewater, during the fall to watch a high school game. Tony watched Avery struggle while missing out as he watched other high schools play. So dad noticed the uptick in his son's energy earlier in the day, before the season opener that came seven months later than it should've.
"Normally he's a mellow kid," Tony said of Avery. "But around 2 o'clock, he started pumping up a little bit."
Oak Grove's four buses pulled in at 6:13. The Grizzlies helped flood the field, too, and the look of it all, at least between the yard markers. Players danced in the end zone as they fielded punts. Hand shakes and excitement rippled through the masked players in their short warmup.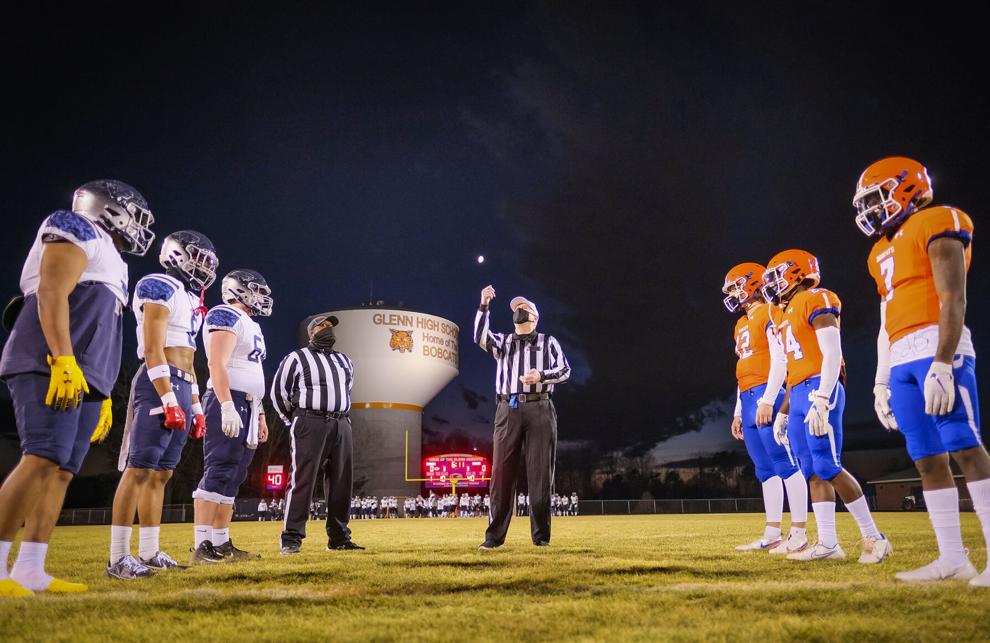 The national anthem echoed around the grounds among the smattering of fans – state guidelines allowed for 100 spectators that night – and so did the PA announcer's voice as he rattled off the names of team captains and the winner of the coin toss. West Forsyth deferred.
In their unusual settings, games across the area approached opening kickoffs. Finally, after all that time waiting, high school football returned.
A day later, Thursday's beauty couldn't have seemed further away.
The heavy rain that prompted some schools to move games up a day forced others to push theirs back.
Reynolds and Parkland opted to hold out, slogging through the sweeping storm for a Friday night matchup. Both technically playing at home – the two share Deaton-Thompson Stadium – the slick surface served as an advantage to no one in a game where the Demons pulled away quickly in a 48-6 victory. The teams traded three-and-outs, then fumbles, before Reynolds pulled away.
Roughly 20 umbrellas rose above the bleachers, and though a hundred were there to watch, they were too spread out to tell. Originally, the Demons planned to use their season opener as senior night for football, the band, the dance team and cheerleaders. But between the football team's preference to recognize seniors after basketball season, and the cold and wet weather making conditions less than ideal for band instruments, holding off became the choice.
"We've done senior night early in all of our sports so far to play it safe," Reynolds athletics director Brad Fisher said earlier in the week. "Something I told the coaches at the very beginning of the year, I was like 'the only thing that's going to be constant this year is change.'"
Fisher's comment rings more true after he found the need to adapt again. It's something he, fellow athletics directors and coaches, must be ready for so that their teams can play as many games – football or otherwise – as possible.
Alexis McCoy, Reagan's AD, dealt with her own problems this week. Her school had a water-logged field thanks to a rain-filled February, to the point she feared it unsafe. The school's soccer and lacrosse teams have had to play elsewhere lately, she said.
Set to host Mount Tabor in the football opener for both teams, Reagan found a new venue: North Forsyth. The weather, however, led to another change. The rain Reynolds and Parkland played through led to the postponement of the Mount Tabor-Reagan game at North Forsyth from Friday to Saturday.
"It's been a challenge, not going to lie," McCoy said. "But I'm doing it for the kids, for the athletes. Anything they can do – they've been through a lot."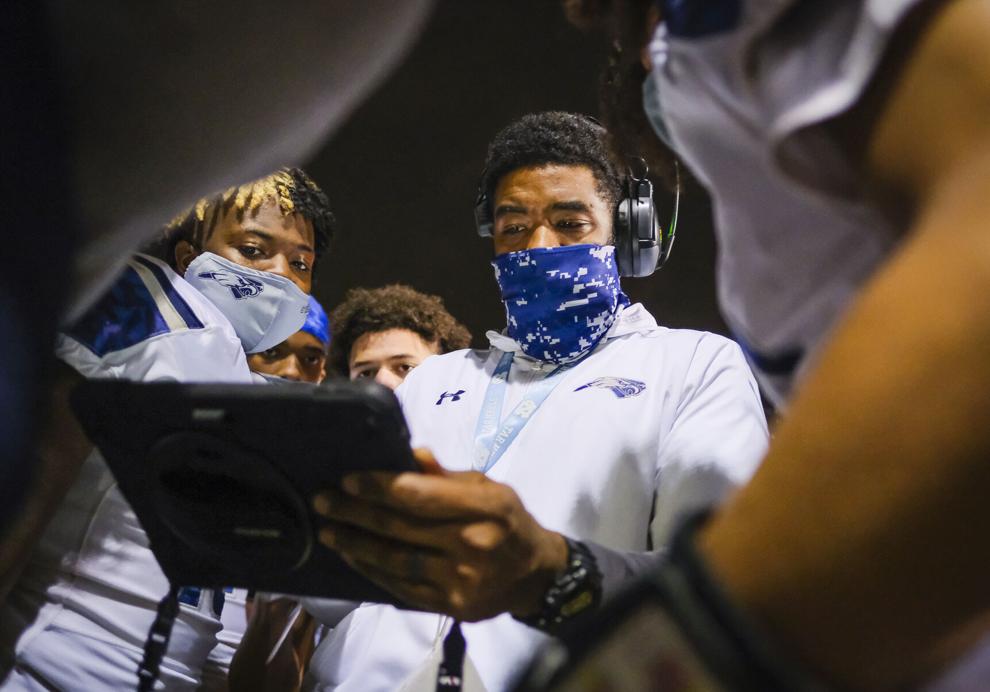 That challenge includes multiple teams using fields during a crossover of sports that has never happened. It comes with new wrinkles, like the NCHSAA rule that requires 24 hours between lacrosse games and football games for an athlete who competes for both teams.
Toss in the masks worn during competitions, the social distancing that now must be included in team meals, and new factors have to be dealt with everywhere.
Teams coached by Mark Holcomb and Tiesuan Brown both opened on the road. Holcomb led Oak Grove into that matchup with West Forsyth, and Brown would do likewise with Mount Tabor on Saturday against Reagan. Neither felt nervous about starting away from home.
The Grizzlies have avoided issues with COVID-19 for the most part. Holcomb said three assistants have quarantined in the past couple of months, as well as four or five players in a 95-person roster.
"Whether that's us doing the right thing or whether that's just luck, I don't know," Holcomb said. "We're not trying to figure that out."
Brown pointed out that his roster numbers, and many throughout the county, are down. That will contribute to safer transport to games. Normally his roster eclipses 60. This season, he said it's 35. That's in part due to some parents being worried about their children playing, and also because some students struggled with the strictly online classes and weren't academically eligible to play.
He's happy for the players he has to coach. He got to see his Spartans play in a scrimmage this month.
"I'm telling you, it was like it was Christmas," Brown said. "I couldn't even sleep the night before, and I'm sure the kids were the same way."
Imagine his excitement on Saturday as Mount Tabor's buses roll in.
Adrian Snow said while speaking about what his first game might look like: "It's going to be different."
And the West Forsyth coach was right.
Some parts of Thursday's game looked the same. After kicking off, the blocking and tackling looked like it always does. The Titans registered the game's first points with a field goal, which followed a strip sack by Chris Van Kleeck. They would grab two interceptions in the second quarter that helped set the course for their eventual 44-21 victory.
But other parts of the game did not look the same. Shortly after the opening field goal by Jaylen James, two West Forsyth players walked up to a TV screen set up on the sideline to review plays. As one tried to rewind a clip on an iPad, the other looked around and said, "Jesus Christ, it's quiet."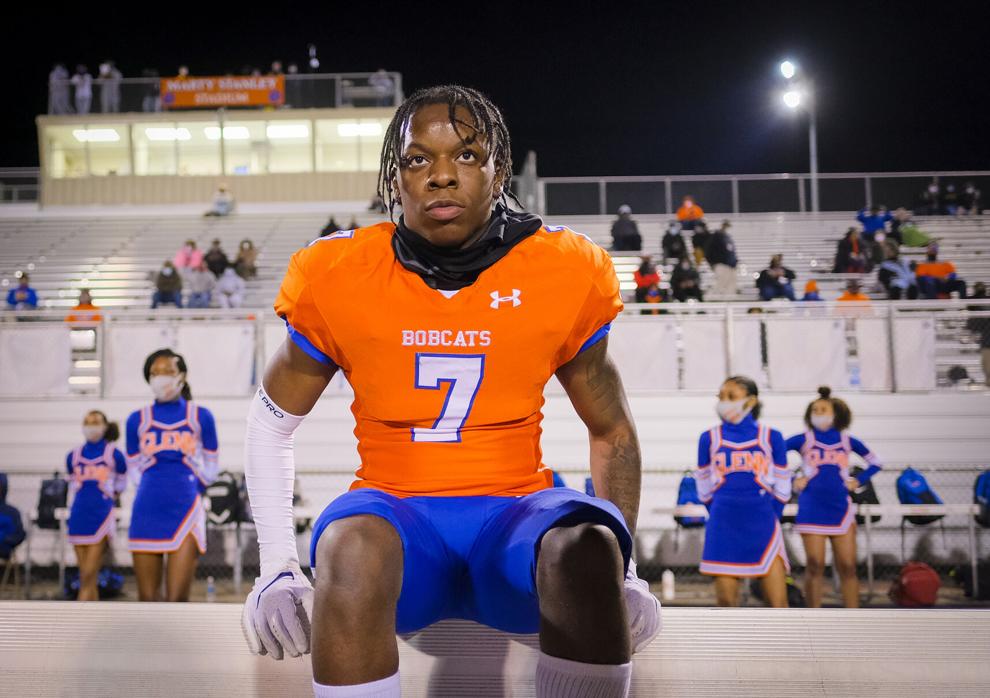 Later on, early in the second quarter, play clock confusion led to a chat between the referees on the field. Snow's boisterous voice boomed as he tried to joke with them.
"Great thing about it is we can all hear what you're saying," Snow joked, drawing a chuckle from the refs. "It's kind of nice. Y'all better start whispering."
Lori Harper stood near midfield as the game carried on. The fifth-year cheerleading coach at West Forsyth bounced between giving pointers to her students and recording them as they cheered.
Football wasn't the only program thrown into a tizzy during the last half year. Normally, the cheerleading team would've held April tryouts for the following academic year. But because everything shut down, Harper had to hold team tryouts in July. And she had to do it over Zoom. She added six new cheerleaders to a roster approaching 20.
The team didn't have usual summer workouts. It didn't get college camps, either. Until Monday, the girls couldn't work on their stunts.
Two practices later and here they danced, syncing up with the school fight song.
"We just tried to get about three things we could do and perfect them and do them tonight," Harper said. "Fight song being one of them in hopes that we're going to score – and we're going to do it a whole bunch."
Harper saw the effects the layoff had on her team, but she also dealt with the adversity first-hand. She was furloughed from her job with a cheerleading company after working for more than three decades. Harper's looking for what will come next. On Thursday, she appreciated the chance again to watch her girls go through routines in the recording screen of her smartphone.
As West Forsyth pulled away near halftime, Glenn tried to find more separation on the other side of Winston-Salem.
The Bobcats had a 6-0 lead entering the third quarter. They added two touchdowns and held on to their shutout, even with a few late-game mistakes.
Glenn coach Antwon Stevenson made his frustrations clear, through a command from the sideline or during a timeout. Bothered with some of the things he saw in the closing minute, he also realized the importance of beating the two-time reigning 4-A champions. That feeling didn't linger after the game.
"They haven't played football in 14 months," Stevenson said, somewhat bewildered by the amount of time. "Some of the penalties I expected. Of course you never want them, but I kind of expected if. I'm just happy for the guys."
Flowers stood on the sideline and then grabbed his bag. Glenn players hung their bookbags on the fence that ran along the track behind them. They scooped them up to head home. Two former teammates, Jahvaree Ritzie and Raneiria Dillworth, mixed in among them. They should be seniors with Flowers. Instead, they sidestepped the doubt of playing to enroll early at North Carolina.
Dealing with the uncertainty of every day became hard for Flowers and his teammates. He mentioned the practices canceled for rain, the days altered to avoid rain. He chuckled because he didn't really notice the lack of fans. Flowers just enjoyed his moment. It was a long time coming.
"A win is a win, of course." Flowers said. "A win in the first game is bigger than a regular win.
"But a win, first game, against the rival? You couldn't have written it any better."