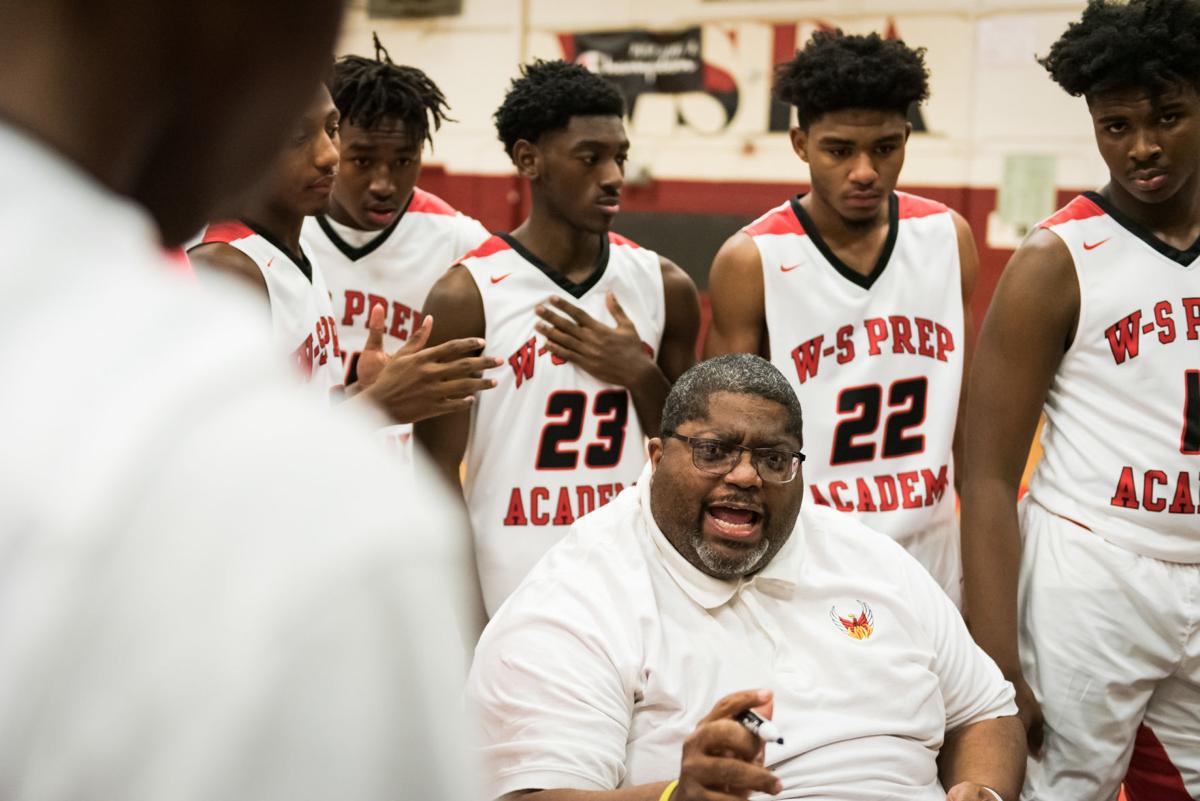 Andre Gould hearkened back to a few months ago, when the longtime coach of the Winston-Salem Prep boys basketball team "had a feeling."
This past season would be his last with the Phoenix.
Gould announced Monday night via social media — Instagram, Facebook and Twitter — that he was stepping away from the Phoenix's boys basketball program he began building in 2004 when the preparatory academy moved to the former Atkins High School site off Cameron Avenue.
He ended his final season at Winston-Salem Prep, leading the team to claim its sixth NCHSAA Class 1-A title since 2008. That occurred when the NCHSAA ruled on April 29 that 16 boys and girls basketball programs across the state would earn co-champion status, following the cancellation of state title games because of the coronavirus.
But Gould didn't offer details on his next career move. "When and if," he said during a phone call after his announcement. He added that it was time to step out on faith.
"Sometimes you just know when it's your time," Gould said on the decision to part ways with the program. "And we just got to the point where, for me, I just felt like it was my time — that I've done all I could possibly do at Winston-Salem Prep."
Gould, a 1986 graduate of North Forsyth, forged the Phoenix's basketball program under former athletics director Ricky Holt, who retired in 2016. Winston-Salem Prep claimed its first state title four years later, defeating Pamlico County 73-42. Reggie Johnson, then a 6-foot-9 senior committed to Miami, scored 25 points and 21 rebounds and was named the MVP of the championship that season.
It was the first of what would become eight championship appearances for the Phoenix — and three straight titles claimed from 2012 to 2014. Winston-Salem Prep went on to fall just short in championships the next two seasons. Its fifth title came in 2018 at Reynolds Coliseum .
Gould said he was "already half-way out the door last year." The Phoenix ended the season short of a state title run in a third-round loss during the Class 1-A playoffs.
"You know, I made a commitment to special kids and a special team that I would come back and see them through," Gould said. "We did what we did.
"I knew last year, but I didn't want to leave those kids behind, so I made it a point to come back and finish what we started. I made a promise to them."
That included Stephen Minor, the team's captain who was one of three standouts averaging double figures on their way to a championship. He was one of two seniors, along with D'Angelo Lavalais. Among returners was T.J. Mills, following a dislocated elbow during the Northwest 1-A tournament in 2018-19.
"I'll tell you what," Gould said. "This last journey was a doozy, boy. But I wouldn't change this last year for anything in the world."
Get in the game with our Prep Sports Newsletter
Sent weekly directly to your inbox!