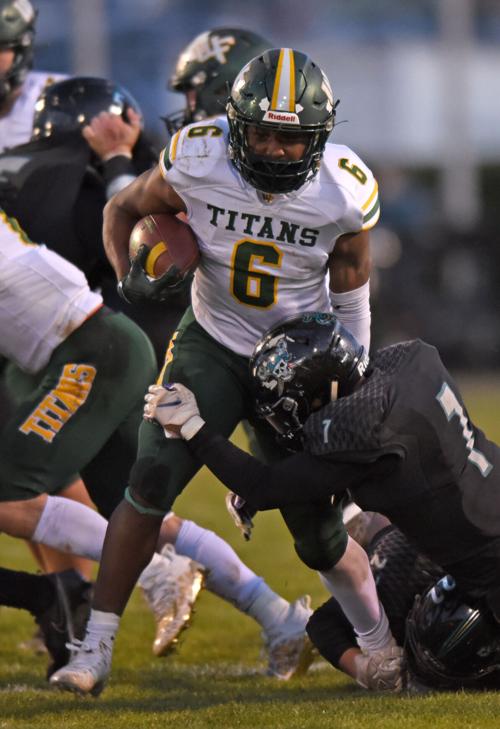 Survive and Advance is usually a term used to describe the NCAA Basketball Tournament, but it seemed appropriate for West Forsyth and Reagan in a Central Piedmont 4-A clash on Friday night in Pfafftown.
Jevante Long's 10-yard touchdown run in the second overtime propelled the Titans past the Raiders 28-25 in a thriller, keeping West alive in the race for the conference championship and automatic state playoff bid with one game left in the regular season.
West led 14-7 at halftime and late into the fourth quarter and was driving until Nasion Johnson lost a fumble with less than three minutes to play. The ball was scooped up by Reagan's Jalill Rogers and returned for 48 yards for a touchdown. Rocco Gigliotti's extra point tied the game at 14 as the teams went to overtime.
West (4-0, 2-0 CPC 4A) struck first in overtime, with Long scoring from 7 yards out. After a penalty on Reagan moved the ball to the 1-yard line for the extra point, the Titans used a direct snap to Long to take a 22-14 lead.
Reagan responded with a touchdown of its own that came in thrilling fashion. Down to fourth down from the 11-yard line, Kam Hill lofted a perfect fade into the right corner of the end zone that Chris Joines hauled in to pull the Raiders to within 22-20. Tazhae Woods added the conversion run to tie the game at 22, but Reagan quarterback Kam Hill was ejected on the touchdown throw for unsportsmanlike conduct.
Reagan started its next series at the 25 instead of the 10 and with backup quarterback Makhi Purvis. The Raiders managed a 31-yard field goal by Gigliotti for a 25-22 lead.
It took the Titans all of one play to pull out the win after they got the ball in the second overtime.
Long's 10-yard run to close the game was his second touchdown run of the game. He finished with 97 yards rushing on 19 carries and two touchdowns, both of which came in the overtime periods.
Long's teammate Johnson led the way for the Titans with 170 yards rushing on 18 carries and two touchdowns — 62 and 8 yards, both of which came in the first half.
Mistakes were costly for both teams in a game that was sometimes sloppy. West had 14 penalties for 140 yards, while Reagan had four bad snaps that went over their quarterbacks head that helped killed drives.
Records
West Forsyth 4-0, 2-0 Central Piedmont 4-A
Up next