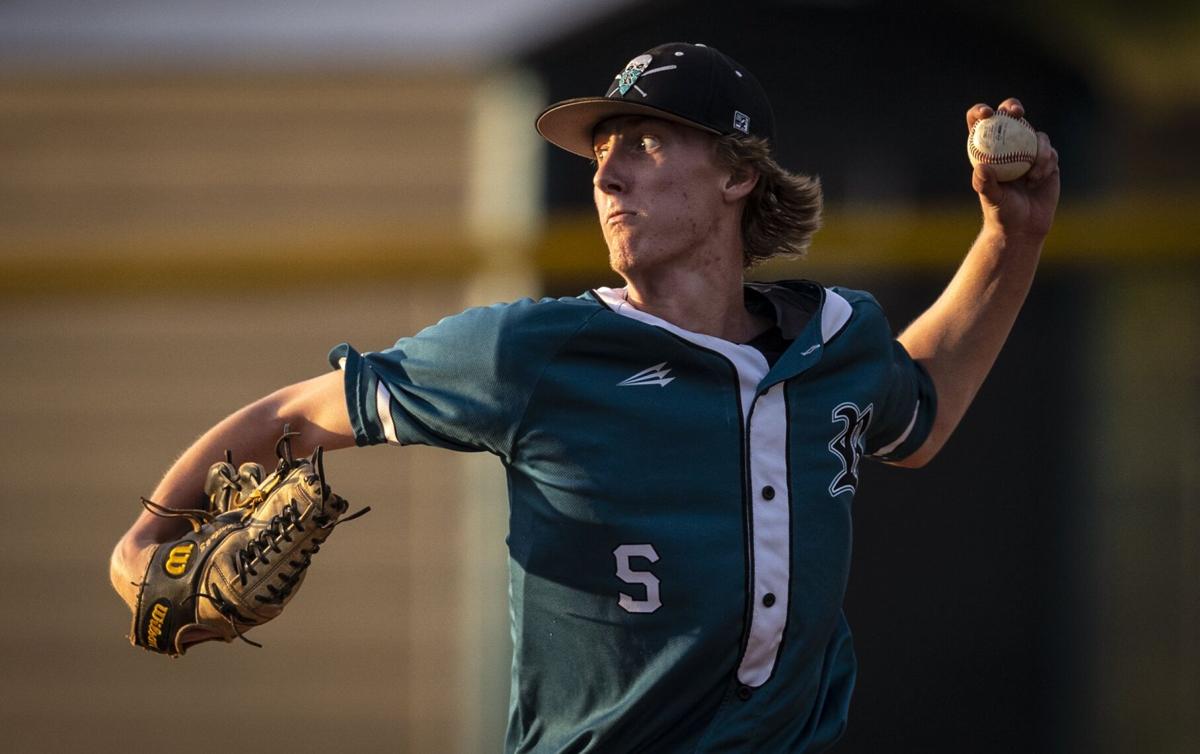 Josh Hartle, who has enrolled at summer school at Wake Forest, has taken himself out of the Major League Draft.
Hartle, a Reagan graduate who is projected as a late first round pick or a high second-round pick, is a left-handed pitcher who was 9-0 last season for the Raiders.
In a text message on Saturday afternoon, Hartle confirmed that he sent a letter to Major League Baseball saying he did not want to be drafted and is content on staying in school at Wake Forest.
Hartle, who is from King, would not be eligible for the draft again until after his junior season at Wake Forest.
Hartle enrolled at Wake Forest for a summer school session last week and attended his first class on Thursday.
Even though Hartle could be drafted and would have until Aug. 15 to decide if he wants to stay in school or sign with a Major League team that drafted him, he said he has every intention of staying in school to play for the Deacons.
Hartle, who is 6-foot-5 and 215 pounds, was slotted in ESPN.com's final mock draft as the No. 34 pick.
"Big, lanky lefty throws mostly 88-91 mph sinkers from a low slot while scouts love the projection, feel and competitiveness," ESPN.com analyst Kiley McDaniel wrote.
McDaniel also said that Hartle's arm speed is fourth among Ryan Cusick of Wake Forest, Chase Petty and Jack Leiter.
"The arm speed maps well to his velocity (and sharpness of his breaking stuff) improving," McDaniel wrote, "and the stride helps it get on the hitter faster and come in flatter to the plate, which usually helps induce more whiffs."
A low first-round pick could receive a signing bonus of $2.4 million to nearly $3 million. Picks in the seven-team Round A figure to earn about $2 million to $2.3 million. Second-round selections could earn bonuses of $1 million to $2 million.
Hartle, who had a 3.6 grade-point average at Reagan, said during the regular season he was committed to Wake Forest and would stand by that decision.
During his senior season, nearly 20 MLB scouts would watch him pitch for the Raiders. In the Raiders' final regular-season game, a 1-0 win over Davie County, Hartle tossed a three-hit shutout using just 74 pitches.
"It starts with the frame," said a 15-year MLB scout, who asked to not be identified, after the game. "He's got good size and arm strength, and we saw velocity today in the low 90s. I thought he pitched very well and threw a ton of strikes and had great command, so he was impressive today."
Hartle went 23-5 as a starting pitcher during his four seasons at Reagan. He helped lead the Raiders to the Class 4-A state championship series but did not pitch in the three games against Fuquay-Varina.
Hartle also pitched a perfect game against Glenn during the regular season, the second no-hitter of his career.
Hartle pitched 53⅔ innings in 2021 with a 0.51 ERA, allowing just 15 hits and eight walks this season. He also had 88 strikeouts and was the state Gatorade Player of the Year.
He pitched 162 innings in his caeer at Reagan and allowed 97 hits with 256 strikeouts. He also had just 28 walks and a career ERA of 1.20.