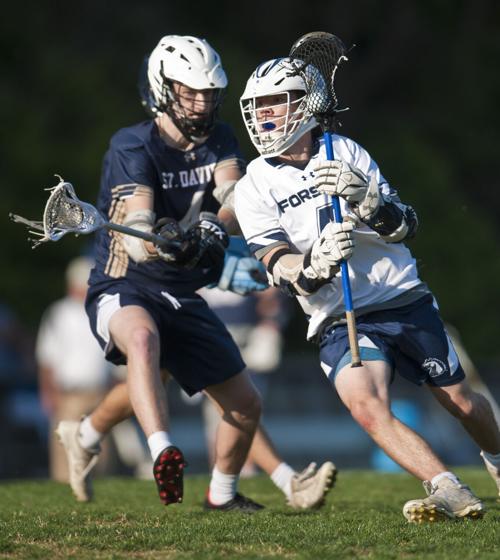 Forsyth Country Day School will continue filling its gym on its sprawling campus in Lewisville thanks to a few more state championship banners that need to be ordered.
The Furies athletics program churned out four more NCISAA championships during the weekend.
Athletics director Doug Esleeck said the past few days were unprecedented.
"The thing that comes to mind for me is in all my time in athletics championships are not only won by the teams but it's the support structure around them," said Esleeck, who is also the boys varsity basketball coach and has been at FCDS since July. "With all the logistics the teams had to go through and the COVID protocols, it's amazing how it all came to pass. These state championships mean more I think because of what the kids, their parents and the coaches all had to go through."
Girls and boys track and field
The girls and boys track teams each won titles for Coach Joe Scott. There were 30 athletes which scored points for the Furies in the 16-team championship meet. JahQueen McClellan (200 and 400 meters), Jeree Legins (discus) and the 4x400 relay team of Josie Kilborn, Katelyn Skinner, Sarah Grace Clifton and McClellan won girls championships.
The boys state championship individual winners were Jay Mitchell (triple and high jumps), Landon Williams (110 hurdles) and Will Scott (3,200 run).
Girls softball
Coach Jay Ely's team finished 15-3 and beat High Point Christian twice, 14-2 and 6-5, to win the state title. Starting pitcher Emily Humphrey won both games and struck out a combined 14 batters, and Laura Bean totaled five hits and six runs scored.
Jaree Legins and Maureen Cavanaugh helped the softball team win Saturday a day after the track and field championship.
Boys lacrosse
The Furies, coached by Marc Winbush, went 13-1 and beat Cape Fear Academy 11-9 for the championship. Mason Ickes scored four goals, while Andre Smith and Ian Kennedy added two, and goalkeeper Noble Smith made 16 saves.
The spring championships give Forsyth Country Day five after the girls swimming team's second straight state championship win during the winter. Four swimmers for coaches Rachel Baker and Sawyer Hubbard earned all-state: Carstyn Klosterman, Lexie Breitling, Saanvi Pawa and Eva Hollar.
The five team state titles in an academic year is a school record, putting the school near 60, and they just missed earning more. The boys tennis and girls soccer teams each lost in state championship games.
"To have five in one year is something that's never happened here," he said.
As for the space for the championship banners?
"It's a good problem to have," he said, "but we'll find the room for the banners."