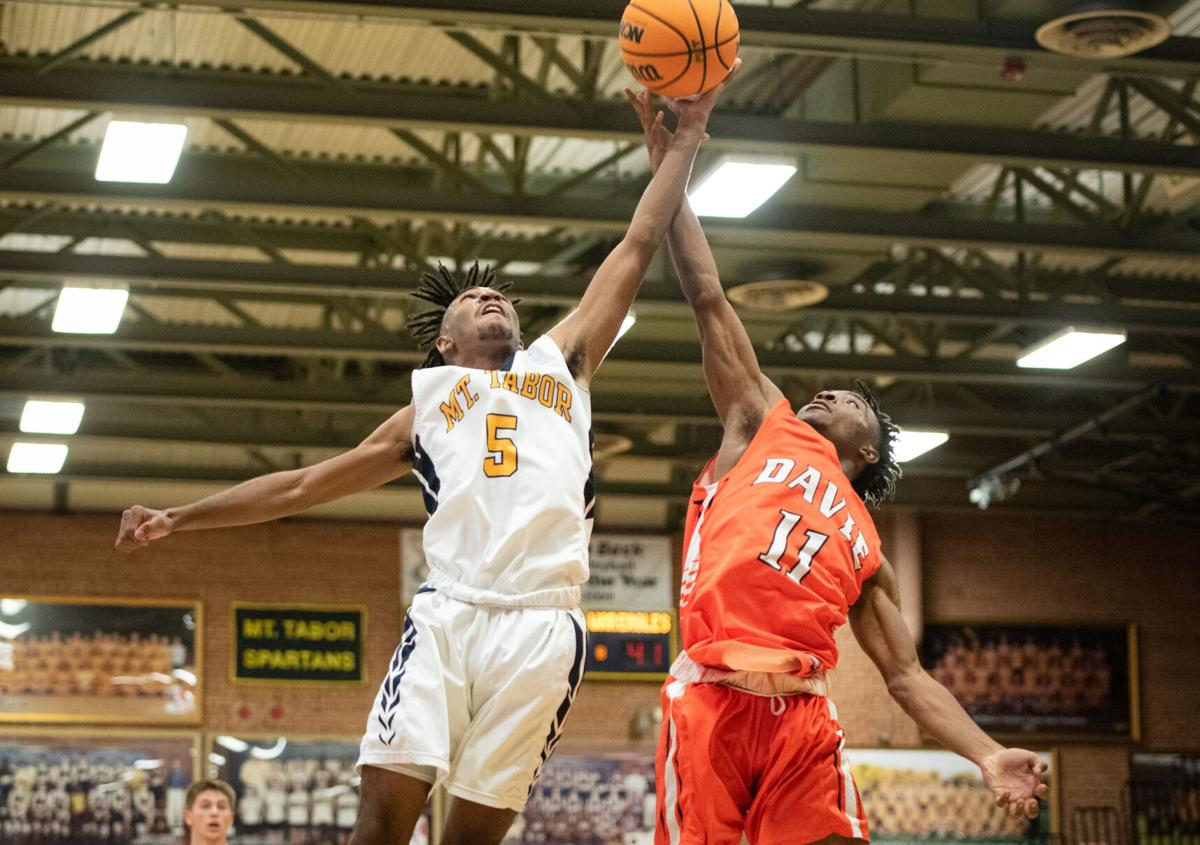 Slow-starting Mount Tabor took control in the third quarter and hung on to defeat visiting Davie County 52-45 in a Central Piedmont 4-A Conference boys basketball game Tuesday night.
The Spartans, who went scoreless during the first three minutes and missed six consecutive foul shots during one stretch of the first half, got a big lift in the third period from J.P. and Snook Peterkin. J.P had eight points in the quarter and Snook six to account for 14 of Mount Tabor's 16 points.
The game was the first for both teams since the Christmas break.
Why the Spartans won
Mount Tabor won this one with its defense, forcing Davie into numerous turnovers, dominating the boards and forcing the War Eagles into taking low-percentage shots from the outside.
Why the War Eagles lost
Davie had long stretches in the second half where it seemingly couldn't buy a basket. And when Davie tried to run with Mount Tabor, it was clearly an advantage for the quicker and more athletic Spartans.
Notable
• Senior guard Finley Simmons of Mount Tabor saw his first action since suffering a knee injury on Dec. 14 against Reynolds. He played less than two minutes but scored three points and was credited with an assist. He scored his only field goal with one second remaining in the first half to give the Spartans a 24-22 halftime lead.
• Tate Carney, a football star for the War Eagles and a Wake Forest signee, started but did not score.
• The Spartans took the lead for good at 28-27 on a driving layup by J.P. Peterkin and he followed up with a long three-pointer. Snook Peterkin scored Mount Tabor's next three field goals on a pair of fast-break layups and a mid-range jumper.
• Davie dominated the first quarter, jumping to a quick 11-5 lead as the Spartans committed numerous turnovers and struggled to find their shooting range early.
What they're saying
• "When you come out and get seven points in the first quarter, you have to rely on your defense. And defensively we brought it tonight. When you hold a team like them to 45 points, that's a great team effort. And Maddox and Hudson combined for 23 (points) but they had been combining for about 40. We did a good job when we hit our free throws at the end. We hit our free throws in the second half that we didn't hit in the first half." – Mount Tabor coach Andy Muse.
• "When he got out there he helped our team. We're happy to have him back. Hopefully we will get some practice with him before Friday's game. We've got to make sure his leg is healthy. So it will be a day-by-day decision. But he is going to play a lot for us (eventually). He is a leader and an unselfish player." – Muse on Simmons.
Records
Davie County: 1-3 Central Piedmont 4-A, 7-5 overall.
Up next
Davie County: West Forsyth, 7:30 p.m. Friday.
Mount Tabor: Glenn, 7:30 p.m. Friday.
Scoring summary
| | | | | | | |
| --- | --- | --- | --- | --- | --- | --- |
| Davie County  | 11  | 11  | 12  | 11  | –  | 45  |
| Mount Tabor  | 7  | 14  | 16  | 12  | –  | 52  |
Davie County: Za'Haree Maddox 10, Zymere Hudson 13, Jake Powers 7, Jackson Powers 11, Walser 4.
Mount Tabor: Fernaders 9, J.P. Peterkin 18, Scurry 5, Simmons 3, Peral 6, Snook Peterkin 11.