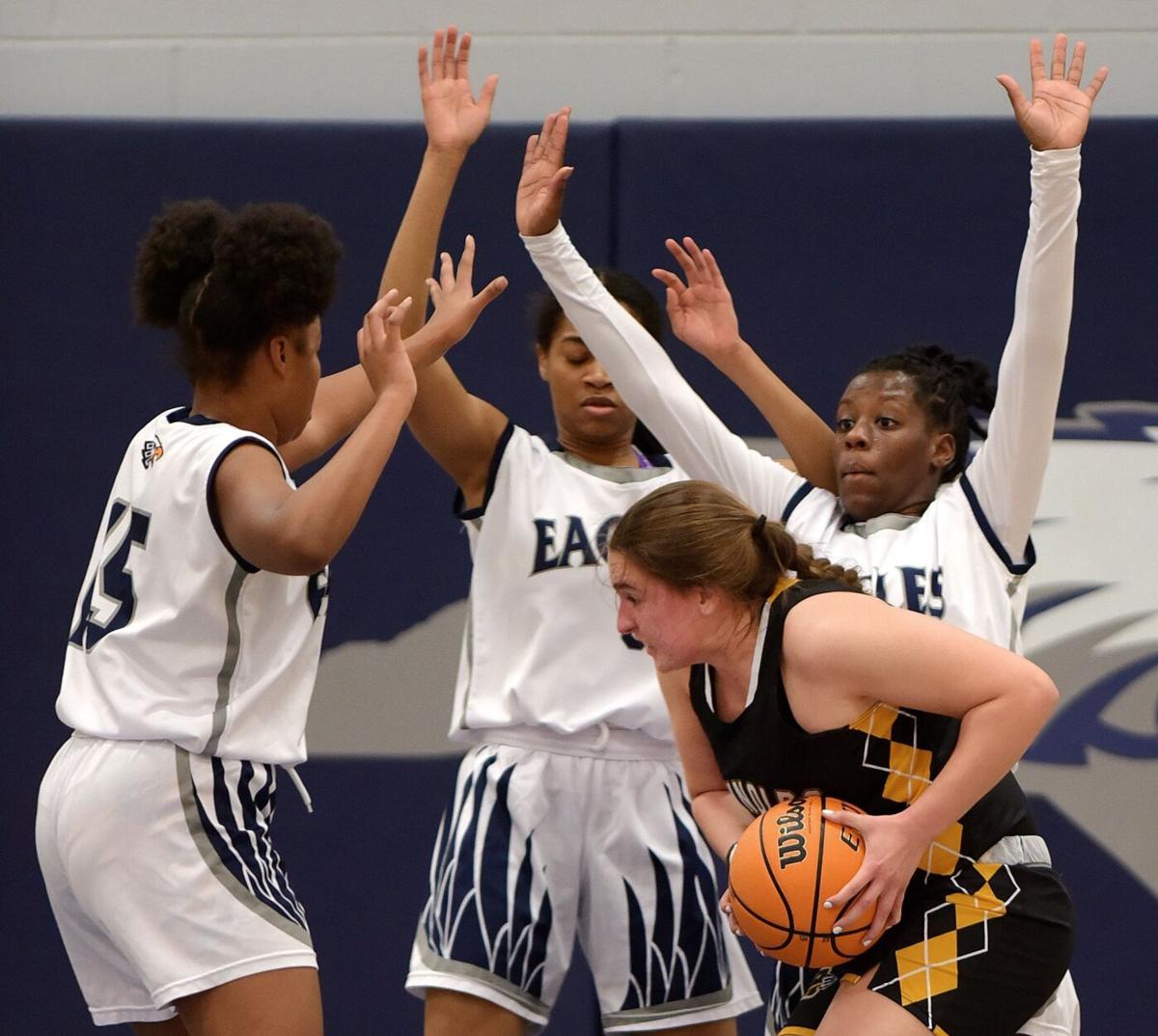 KERNERSVILLE — The much-anticipated battle for first place in the Central Piedmont 4-A Conference was strictly no contest.
East Forsyth used a dominating third quarter and shut-down defense throughout to roll past Reynolds 49-30 in a girls basketball game Friday night.
Both teams went into the game unbeaten in league play.
Why the Eagles won
East Forsyth had two big spurts, at the start of the game and the third quarter. The Eagles used an 11-0 surge to grab a quick 11-2 lead to open the game. Three of their four field goals came on 3-pointers, two of them by Natalie Axtell. The Eagles used a 9-0 run in the third quarter to grab a 39-19 lead.
Why the Demons lost
After trailing 28-17 at halftime, Reynolds needed a third-quarter rally to get back into the game. It never materialized as the Eagles outscored the Demons 14-5 in the period. Reynolds was also lacking a go-to player. The Demons did not have a player finish in double figures.
Stars
Tovia Rooks of East led all scorers with 15 points and teammate La'Niya Simes added 14. Four of Simes' field goals came on rebound baskets. Destiny Thompson and Raniyah Hocutt were the leading scorers for Reynolds with 7 points each.
Notable
The Eagles have a short turnaround before their next game Saturday against top-ranked and unbeaten Charlotte Catholic at 1 p.m. at High Point Andrews. The players will meet at the East Gym at 10 a.m. for a shootaround.
The boys game was postponed because of COVID-19 problems within the Reynolds program. The game has been rescheduled for Jan 19 at East Forsyth.
Neither team got into the one-and-one during the first half as fouls were at a minimum. The two teams were whistled for 10 total fouls in the first two quarters, five on each team.
The fourth quarter, which saw both teams score 8 points each, was strictly a formality. After three quarters East held a 41-22 lead.
What they're saying
"We were able to make stops and took advantage of turnovers. At halftime I told the team they needed to step up. We have to come out with a little more firepower and play better defense, rebound, box out. We wanted to improve on those things in the second half and it worked to our advantage." – East Forsyth coach Aaron Grier.
"It's not really that bad, you just have to make sure you take care of your body. You have to get enough rest and stay hydrated and put the right stuff in your body. We just have to make sure we have enough energy." – Simes on East Forsyth having to play Charlotte Catholic on Saturday in back-to-back games.
"East is a very unique defensive team, they are very long, they are very athletic. But the truth is, if you reverse the shooting percentages we win the game by the same margin. We're going to look at rebounds, offensive rebounds, all the numbers. I am not too disappointed with the effort. A lot of our shots didn't fall, especially at key moments when we needed to get back into the game." – Reynolds coach T.J. Eggers.
Records
Reynolds: 3-1 Central Piedmont 4-A, 7-3 overall.
Up next
Reynolds: West Forsyth, 6 p.m. Tuesday.
East Forsyth: Glenn, 6 p.m. Tuesday.
Scoring summary
East Forsyth 14 14 13 8 – 49
Reynolds: Thompson 7, Davis 3, Kuhner 2, Burey 2, Jessup 5, Rice 4, Hocutt 7