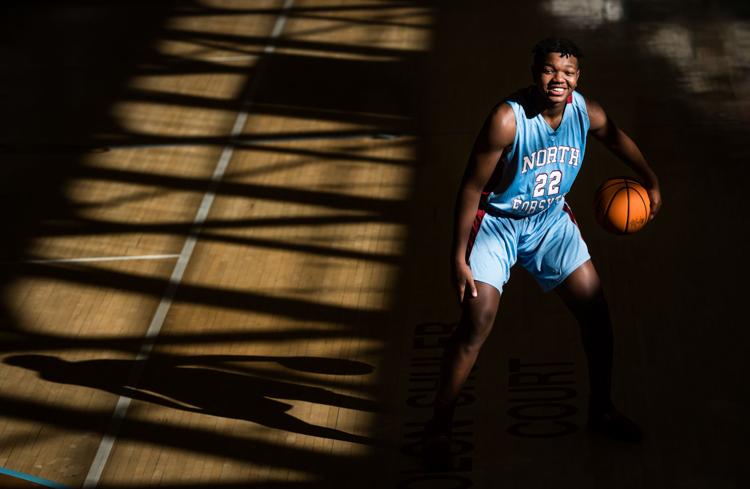 Lewis Walker was in rare company at the 45th Frank Spencer Holiday Classic. He was one of the few freshmen to ever be named the Most Valuable Player, earning that distinction in the Wake Forest Baptist Health Sports Medicine bracket.
The dominating center lead his North Forsyth Vikings to a thrilling fourth quarter comeback to win the bracket championship, 51-50 against Glenn. The Vikings, who won a record seventh Spencer title, trailed by 14 points entering the final eight minutes.
"It was a great feeling," Walker said. "A lot of people doubted us to come back from such a large deficit in the fourth quarter. There was never any doubt in my mind that we would do it."
Staring at a deficit in the fourth quarter was not unusual for North. "We've been in that situation before," Walker noted. "We were down late in the game against Walkertown and Carver."
Walker said the team followed the advice of James Wilhelmi, the Vikings' first-year head coach. "Coach W. gave us good words," he recalled. "He said keep on pushing and that's exactly what we did."
Playing the championship game at Joel Coliseum was a new experience for Walker. "It was a great feeling to play at a place like that," he said. "It was my first time playing on a college court.
"It's bigger than a high school court, and I got a little bit tired. I had the mindset that the team needed me, and I had to push through my tiredness."
Walker, an only child, said his decision to attend North was easy. Most of my family went to North Forsyth," he said. "My cousin, Marquese Walker, actually encouraged me more to go there."
Joining a team that was coming off its worst season in school history was a motivating factor for Walker. "It actually encouraged me more to go to North Forsyth," he said. "I wanted to help rebuild the team."
It didn't hurt that the Vikings had hired Wilhelmi, the former head coach at Winston-Salem State. "It was great to have a coach like that," Walker said. "He knows the game a lot because he's been coaching the game for 20- plus years at a high level. He knows what he's talking about."
Walker, who stands 6-4, said his doctor predicts he will be 6-8 or 6-9 by his senior year. He said his coordination keeping up with his growth spurts hasn't been a problem. "It's been a smooth transition," Walker said. "I've always had the height, skills and coordination."
Winning the MVP award wasn't a total surprise. "Not really," Walker said, "Overall I had a really good tournament. I showed a lot of things I could do. I just thank God because I was really happy to be a freshman and get a great award like this."
Wilhelmi, who was hired shortly before school started last fall, didn't know about Walker. And it wasn't only Walker's height that impressed him.
"After I took the job, I was told about him," he said. "It's not just about his height. He's an 'A' student. He's very good in a lot of different aspects.
"He's a skilled basketball player. He's a great passer. He's good on the perimeter. "He's a guy you can definitely trust. I learned that in a short time."
Wilhelmi wasn't shocked when Walker was named the MVP. "He had a double-double in the second (semifinal) game," recalled Wilhelmi. "He had 11 rebounds and a huge blocked shot down the stretch against Glenn."
An extensive coaching resume has taught Wilhelmi to focus on the present rather the future of a student-athlete. "The sky's the limit because he's off to such a great start," he said. "But I don't want to look to the future. I just want to enjoy now."
Passing was a topic of discussion between Walker and Wilhelmi. "Coach Wilhelmi and I talked about my passing ability," said Walker. "Most people overlook that. They don't look at that as much as my scoring.
"I'm an all-around player," he continued. "I can grab a rebound and go coast-to-coast. I can play the post. It just depends on how the other player is playing me."
Walker, who considers himself to be a gym rat, said he's not only working on skills but also endurance. "I work a lot on ball handling and skills," he said. "I work a lot on conditioning. I know I've got to get up and down the floor quicker. I've got to do more running drills to get in better shape."
He said his mother (Teresa) and cousin are two of his biggest critics. "She tells me I have to be more aggressive," Walker said. "After games she tells me what I did wrong and what I need to work on. My cousin tells me I've got to rebound more. Sometimes they get on my nerves, but I know it's to help."