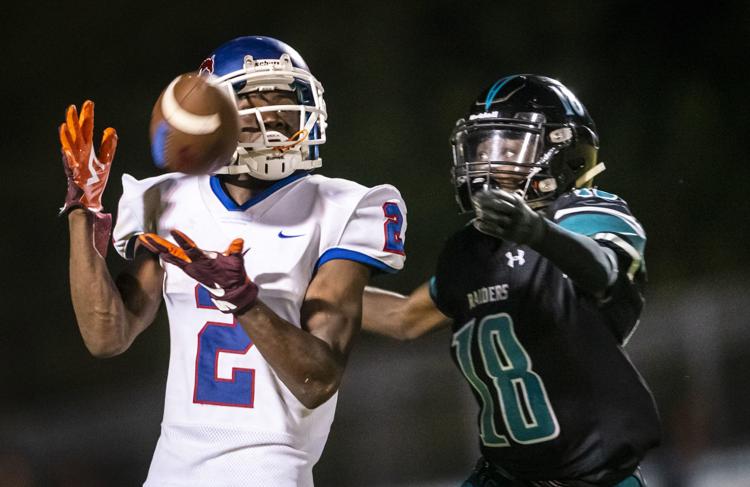 It's the final week of the regular season — one last chance to shake up the conference standings. And plenty of rivalry games will kick off Friday night across the Northwest.
Mount Airy and East Surry will play in Pilot Mountain for the Northwest 1-A championship.
In just its second season as a varsity program, Oak Grove can win the Central Carolina 2-A outright in a win over East Davidson.
In the Piedmont Triad 3-A, three teams are tied for first place heading into Friday's games. 
Here are six games to watch across the area:
Mount Tabor (6-4, 3-1) at Southwest Guilford (6-4, 2-2)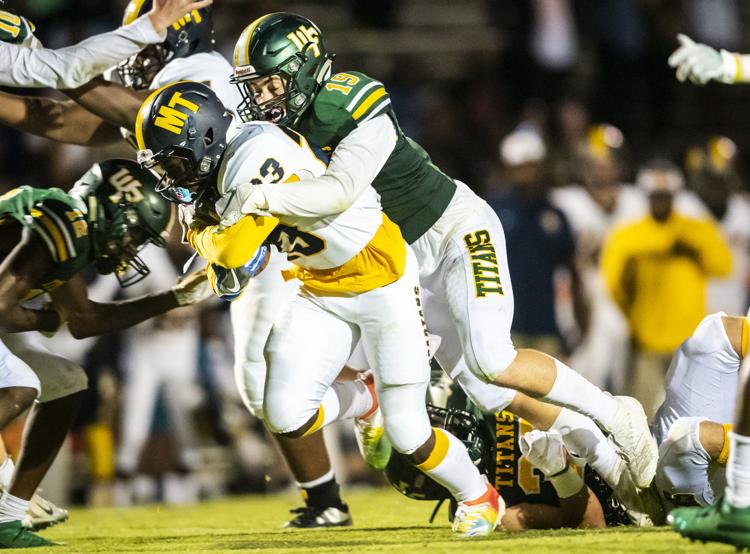 Mount Tabor travels to High Point to face Southwest Guilford. Coming into this game, the Spartans are in a three-way tie with rival Parkland and Greensboro Dudley for first place in the Piedmont Triad 3-A. The Mustangs play Greensboro Smith, and the Panthers face Western Guilford.
Brian McIntyre has run for 742 yards and scored five rushing touchdowns with the Spartans this season. In three games this season, he has recorded more than 100 rushing yards — the most recent of those performances came Nov. 1 in a 6-0 loss against Parkland.
Southwest Guilford, led by first-year coach Chuck Doak, is coming off a loss to Dudley last week. Quantez Poche, a junior, had 50 yards receiving and a touchdown in the 49-6 rout.
Parkland (6-3, 3-1) at Greensboro Smith (1-9, 0-4)
Parkland has seen success this season under Coach Laymarr Marshall — even as recent as last week. A road trip to Greensboro Smith on Friday marks the team's final regular-season matchup.
The Mustangs defeated Mount Tabor on Nov. 1, which was the result of a 38-yard interception for a touchdown made by Denoris Wardlow, a senior defensive back. It was the first time since 2007 that Parkland had topped Mount Tabor.
Smith has just one win as the regular season comes to an end — that was a 35-0 nonconference shutout against High Point Andrews on Sept. 7. Nkosi Alston leads the Golden Eagles with 845 rushing yards and five touchdowns.
Mount Airy (8-2, 4-0) at East Surry (10-0, 4-0)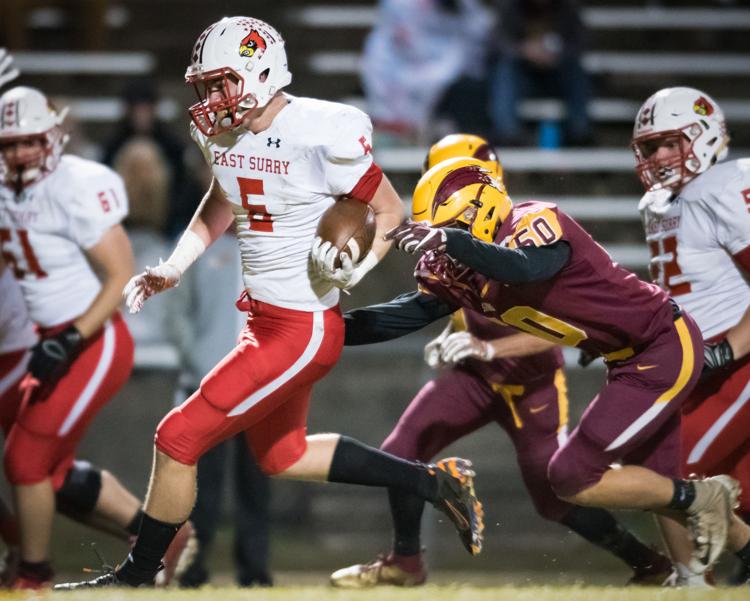 The Northwest 1-A championship will be decided in Pilot Mountain. Undefeated East Surry takes on Mount Airy at David H. Diamont Stadium.
It's the third straight year a conference champion will be decided between the Surry County rivals. The Granite Bears defeated the Cardinals in 2017 and 2018.
East Surry quarterback Jefferson Boaz, a senior committed to North Carolina, has passed for 3,261 yards and 48 touchdowns. He threw seven touchdown passes last week in a 63-14 win over South Stokes. Isaac Washington, a junior defensive lineman, leads the team in tackles with 68, including 20 for losses.
After losing nonconference games against Starmount and Reidsville, the Granite Bears have won four straight games. Mount Airy has outscored its opponents 221-20 through four conference games — three of its wins being shutouts.
Running back Johnathon Smith has rushed for 1,653 yards and 24 touchdowns this season. In a 50-20 win against Winston-Salem Prep on Oct. 25, the senior recorded 364 yards and seven touchdowns on the ground.
Forbush (7-3, 4-2) at West Stokes (7-3, 6-0)
Forbush travels to Wildcat Stadium to face West Stokes. The Wildcats, who are undefeated in conference play, can win the Western Piedmont Athletic 2-A championship outright with a victory against the Falcons.
West Stokes won the conference championship last season by defeating Forbush 38-8 in the regular-season finale. In six conference games this season, the Wildcats have outscored opponents 302-39.
West Stokes clinched a share of the conference championship on Nov. 1, defeating North Forsyth 8-6 with quarterback Amon Conrad throwing for 127 yards and an interception. The senior scored the Wildcats' lone touchdown on a 7-yard carry. Conrad has passed for 1,815 and 17 touchdowns this season.
Jacob Lounds, a nose tackle who took over at quarterback for the Falcons after starter Casey Graham was injured on Sept. 13 in a loss to Starmount, has passed for 703 yards and seven touchdowns this season. Brody Cagna's 268 rushing yards lead Forbush, and he has scored six rushing touchdowns.
East Davidson (1-9, 1-7) at Oak Grove (9-1, 7-1)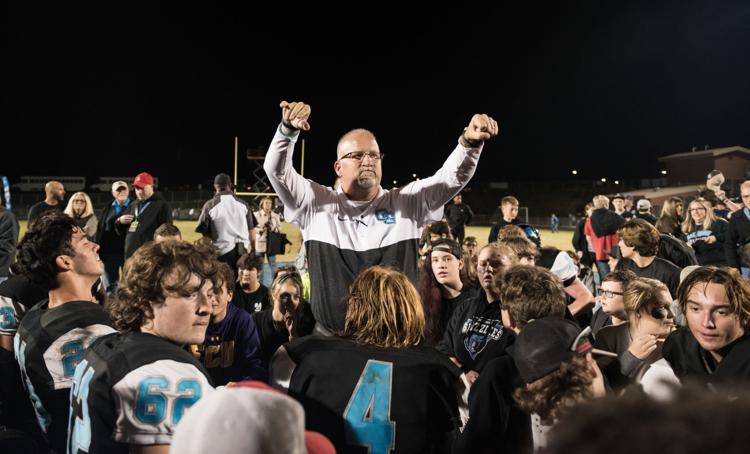 Oak Grove has a chance to win the Central Carolina 2-A championship on its home field against East Davidson. The Grizzlies are coming off their first loss of the season.
Oak Grove has a strong ground game. Running backs Aiden Shewcow and Seth Blair have combined for more than 2,000 rushing yards and have run for 26 combined touchdowns. Ian McGlamery has passed for 1,041 yards and 15 touchdowns as well.
East Davidson has combined for three wins in the past two seasons under Vance Hanner, who previously coached the Golden Eagles from 2013 to 2016.
The team's lone win this year came in a 17-14 rally against Lexington on Oct. 11. Quarterback Spencer Leonard, a 6-foot-3 senior, connected with Mason Albertson for a 6-yard touchdown pass with four minutes left to seal it.
North Davidson (6-4, 6-2) at Ledford (6-4, 6-2)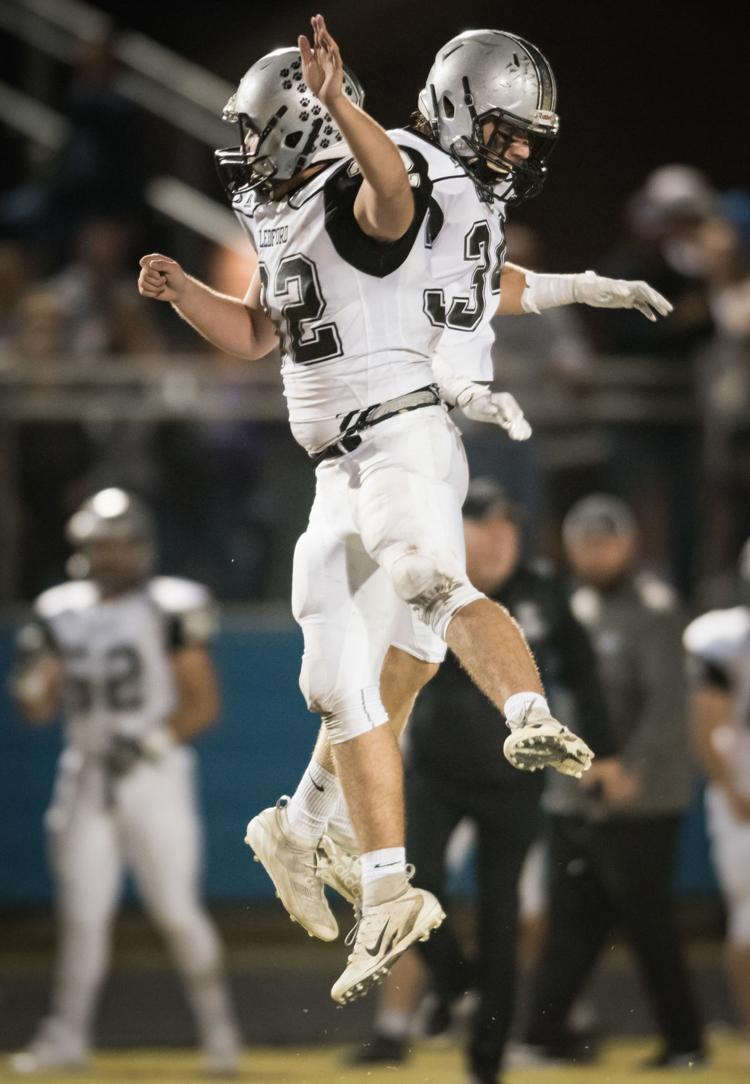 A rivalry game kicks off at Panther Stadium in Wallburg as Ledford faces North Davidson. With just one conference game remaining, both teams are tied with Salisbury and Thomasville for second place in the Central Carolina 2-A.
Of course, that could change. If East Davidson defeats Oak Grove, there is potential for four teams to share the conference championship; Thomasville plays at Lexington, and South Rowan travels to Salisbury.
Ledford won the conference title last season with a 9-7 win against North Davidson in the final week of the regular season. Quarterback Walker Lackey has rushed for 835 yards and 12 touchdowns this season, and he has passed for 489 yards.
Tedric Jenkins, the Black Knights' junior who replaced Landon Moore at quarterback following an ACL tear in a loss to Oak Grove on Sept. 13, has passed for 1,372 yards and 16 touchdowns this season. Jamarien Dalton leads the team in receiving yards with 950 and 13 touchdown catches.