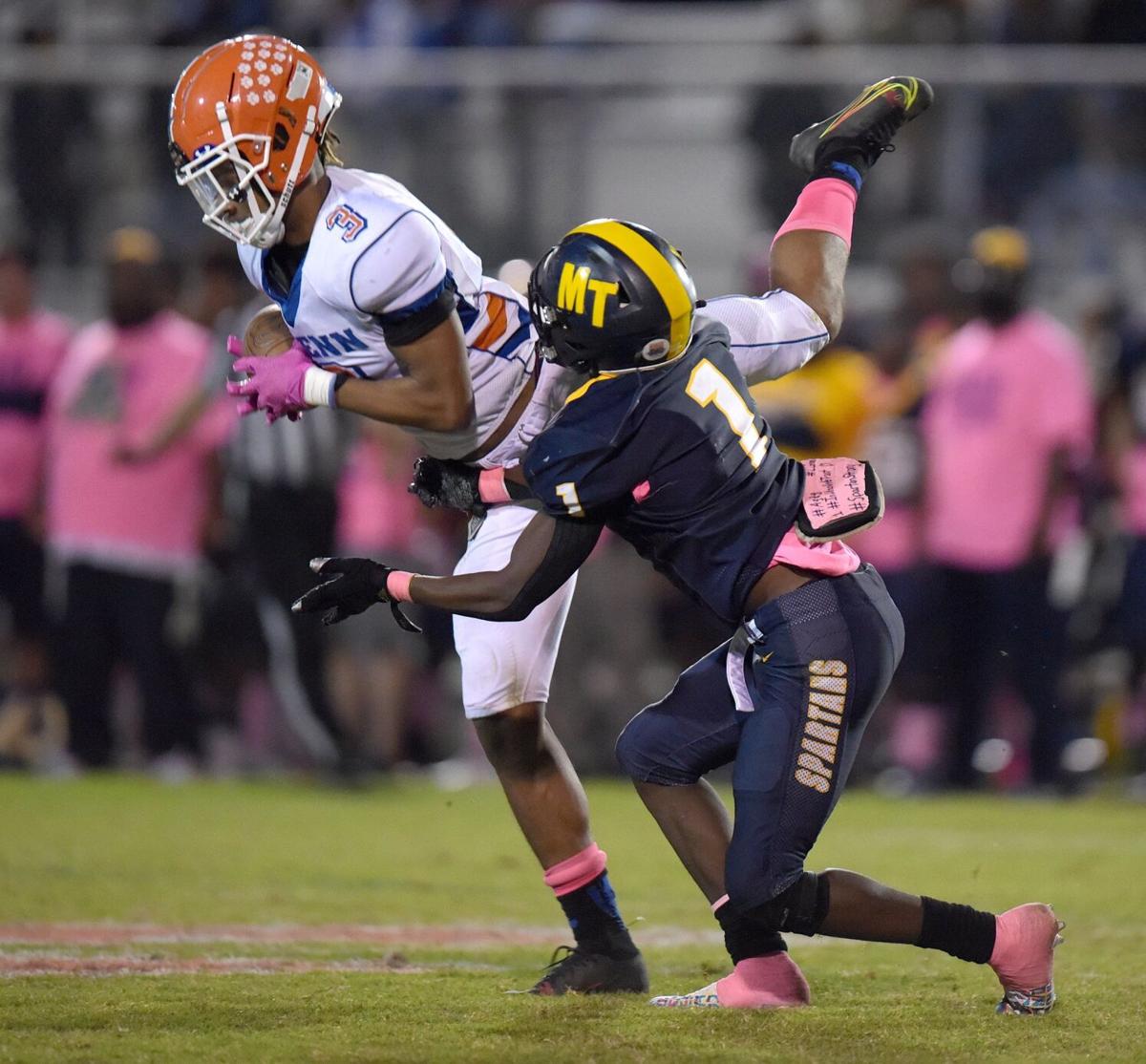 Top-ranked Glenn used a dominating fourth quarter to roar past No. 6 Mount Tabor 48-25 and remain unbeaten in the Central Piedmont 4-A Conference on Friday night.
The teams were tied at 25 after three quarters, but the Bobcats outscored the Spartans 23-0 the rest of the way. It was a disappointing senior night for Mount Tabor at Bob Sapp Field.
A recap
Why the Bobcats won: Glenn used a balanced attack, moving the ball on the ground and through the air with ease against the Mount Tabor defense.
Why the Spartans lost: Mount Tabor had trouble running the football, and the Spartans seemed to run out of gas in the fourth quarter.
Stars
Glenn: Quarterback Camden Coleman was 13 of 22 for 234 yards and three touchdowns.
Mount Tabor: Quarterback Semaj Reaves-Smith was 14 of 22 for 166 yards and a touchdown.
The big plays
Chris Welborn of Mount Tabor intercepted a pass early in the first quarter, setting up a 39-yard field goal by Elliott Trinh. It was the only lead of the night for the Spartans.
On fourth-and-10 early in the fourth quarter, Coleman hit Gerald Hardy Jr. with an 18-yard touchdown pass.
Three things we learned
1. Next week's game between rivals Glenn and East Forsyth will be the game of the year in the Central Piedmont 4-A Conference.
2. Coach Antwon Stevenson of Glenn is aggressive in his decision making. After the Bobcats saw their first extra-point try blocked, they went for two after their next two touchdowns, coming up short both times.
3. Penalties have been a problem for Glenn most of the season. Those problems continued Friday night, with illegal-procedure flags slowing the Bobcats' offense
What they said
"We are a resilient bunch. We work hard, conditioning is a big thing for us. We want to be the best conditioned team around." – Antwon Stevenson, Glenn coach
"The first quarter we started out rough, and the second quarter we kind of picked it up, and in the second half we just took it all the way." – Camden Coleman, Glenn senior quarterback
Records
Glenn: 5-0 Central Piedmont 4-A, 6-1 overall.
Mount Tabor: 1-3 Central Piedmont 4-A, 3-4 overall.
Up next
Glenn: At No. 2 East Forsyth, Oct. 22.
Mount Tabor: At No. 4 Reagan, Oct. 22.
Scoring summary
Mount Tabor 3 7 15 0 — 25
MT – FG Elliott Trinh, 1st, 2:32
G – Chaney Fitzgerald 5 run (kick blocked), 2nd, 7:44
G – Anthony Davis 23 pass from Camden Coleman (run failed)
MT – Lance Patterson 39 pass from Semaj Reaves-Smith (Trinh kick), 2nd, 2:35
G – Levine Smih 42 pass from Coleman (run failed), 2nd, 1:18
MT – Jamarien Peterkin 6 pass from Smith (Jayden Frazier from Smith), 3rd, 7:08
G – Gerald Hardy 18 pass from Coleman (Elisabeth Dykes kick), 3rd, 5:35
MT – Giovanni Caesar 23 pass from Smith (Trinh kick), 3rd, 2:41
G – R.J Livingston 6 run (Hardy pass from Coleman), 4th, 10:20
G – Davis 39 pass from Coleman (Brandon Sutton run), 4ht, 6:43
G – L.Smith 11 run (Dykes kick), 4th, 4:39