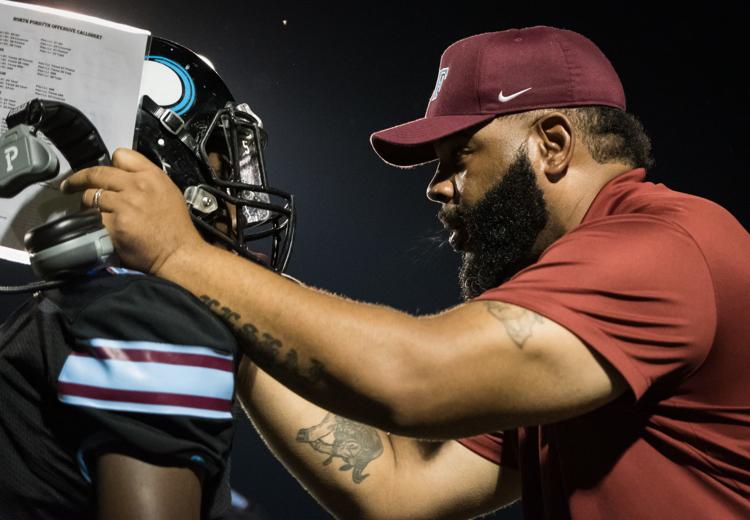 Jay Blair's dismissal as head football coach at North Forsyth High School comes than a month after he made social media posts that appear to celebrate President Donald Trump's positive diagnosis for COVID-19 and also question its validity.
Blair remains a health sciences teacher at North Forsyth, a Winston-Salem/Forsyth County Schools official said, but Bernard Williams has been named interim head football coach. The full-time position has not been posted.
Blair did not respond to texts seeking comment, and the voicemail box on his cellphone was not accepting messages Monday.
Brent Campbell, chief marketing and communications officer for WS/FCS, said he could not comment on personnel matters because of privacy laws, including offering a distinction regarding why Blair is no longer the football coach but continues to teach. North Forsyth athletics director Sean Vestal also declined to comment on Blair's removal as football coach, referring all questions to Campbell.
Blair's football tenure ended Oct. 23, about three weeks after his series of Facebook posts Oct. 2 concerning President Trump:
Trump announced positive COVID-19 diagnoses for himself and First Lady Melania Trump early Oct. 2, and the president was moved to Walter Reed Military Hospital in Bethesda, Md., that evening.
Campbell did not say whether those posts affected Blair's status as football coach at North Forsyth, but the FAQs section of the district's Social Media Guidelines for Employees document states that the guidelines can be used for disciplinary purposes if a post "violates state or federal law or WS/FCS Board Policy. We strong suggest our valued employees follow these guidelines."
The section of the guidelines labeled "Personal Social Media Sites and Personal Responsibility" states: "WS/FCS strongly encourages district employees with a personal online presence to be mindful of and responsible with the information they post. Online behavior should be indicative of and reflect a professional manner, the district core values and one's personal standards of honesty, respect and consideration. Posts should be similar to communication used in face-to-face and within work-related settings."
The guidelines also state: "While social media can be a powerful educational and valuable communication tool for the district, students, parents and employees are personally responsible for the content they publish online."
Blair's Vikings went 4-7 in his one season as head coach. He previously served as an assistant coach at Reynolds, his alma mater, and was a Business Education teacher at that school from 2015-19.
Get in the game with our Prep Sports Newsletter
Sent weekly directly to your inbox!