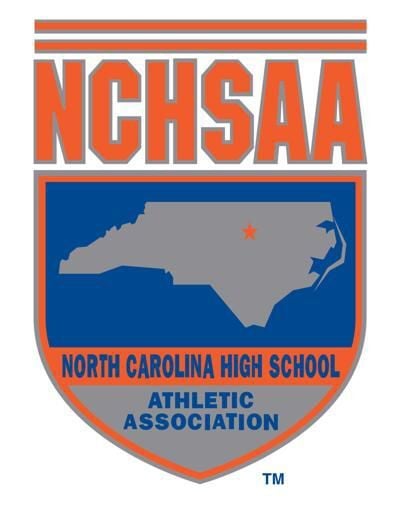 The spring 2020-21 N.C. High School Athletic Association football playoffs will be four rounds under a calendar released today.
That's one fewer round than was originally scheduled before the association moved football from the fall to the spring in response to the COVID-19 pandemic. The football playoffs would begin Friday, April 16, and conclude with state championship games Saturday, May 8. A shortened postseason means 16 teams in each classification qualify for the playoffs instead of 24 in Class 1-A/1-AA and Class 4-A/4-AA and 32 in Class 2-A/2-AA and Class 3-A/3-AA.
"I'm glad we're having playoffs," said coach Todd Willert, whose East Forsyth Eagles have won the last two Class 4-A championships. "I'd like to know the reasoning why we're only having four rounds. Maybe they should do that all the time if that's what the state thinks should be done."
Playoffs in baseball, boys and girls basketball, boys and girls lacrosse, boys and girls soccer, softball and volleyball will be reduced from six rounds to five.
The most significant change today to the NCHSAA's modified guidelines for workouts was to increase the number of people allowed in a venue from 10 to 25 persons indoors and from 25 to 50 persons outdoors. That change was in response to Gov. Roy Cooper's announcement Sept. 1 that North Carolina was moving into the next phase of reopening from the coronavirus pandemic.
NCHSAA schools have not been allowed to hold athletics competition since March 13 because of the pandemic. The association has allowed workouts at member schools since June 15, but schools must follow strict safety guidelines to limit the risk of spreading COVID-19. NCHSAA high schools in Forsyth and Rockingham counties are allowing workouts, but those in Guilford County are not.
East Forsyth's athletics director, Allen Plaster, said Winston-Salem/Forsyth County Schools will relax on some guidelines next week, but keep others in place.
"We're taking a little bit slower approach with 25-people groups outside for at least another two weeks," Plaster said. "We're going to add some things they didn't have, like some balls and cones and getting on the blocking sled. We'll get our basketball and volleyball teams inside, with 10-people groups including coaches."
The NCHSAA's announcement today follows the release Aug. 12 of its revised 2020-21 calendar. The plan called for a condensed sports year scheduled to start Nov. 4, beginning with practices for cross country and volleyball. That revised calendar included shifting the start of football practice to Feb. 8 and the first games to Feb. 26 with a seven-game regular season.
As part of the guidelines revised today, the NCHSAA will award one automatic playoff berth to a conference with six or fewer teams and two automatic berths for a conference with seven or eight teams.
"You can't lose a game in your conference," said Erik Westberg, Northern Guilford's football coach. "That's the first thing that went through my mind. You lose one and you're setting yourself up for not making it. You lose a second game and it's going to be very hard to get an at-large. It makes it real. Each week is going to be a playoff week."
More sports than usual will overlap and for longer periods, with boys basketball's final regular-season games scheduled for one week before football openers. That's a major concern for Eastern Guilford's football coach, Tony Aguilar, as well as many of his colleagues with multisport athletes and multisport coaches.
"I'm sure I'm not the only one concerned about this," said Aguilar, whose starting quarterback is basketball standout Kamell Smith, "but we have some players who are also pretty good basketball players. They could miss two to four games, and we can't lose any" if we want to be sure of making the playoffs.
"It will definitely hurt some of the smaller schools, and it will definitely hurt us," Willert said. "I have a coach on staff who's the head boys lacrosse coach, and our track coach is one of my assistants."
The vast majority of sports — volleyball, basketball, soccer, golf, tennis, baseball, softball and wrestling included — are limited to 14 games or matches under a framework approved by the NCHSAA board of directors on Aug. 11. Cross country, swimming and outdoor track and field had been limited to 10 meets, but that number was increased to 14 today.
The association, in a message to member schools Aug. 14, placed a temporary moratorium on conference and non-conference scheduling. At the time, NCHSAA Commissioner Que Tucker said the moratorium would remain in place until an ad-hoc committee and board of directors evaluated specifics for each sport, which included conference and non-conference competition in addition to playoff qualifications and competition.
"We are taking some baby steps," East Forsyth's Plaster said, "but we are moving forward."
Concerned about COVID-19?
Sign up now to get the most recent coronavirus headlines and other important local and national news sent to your email inbox daily.