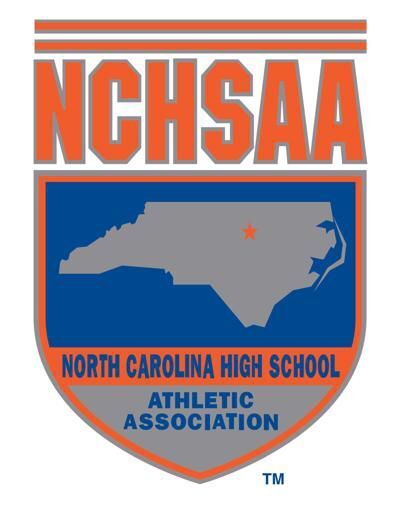 One day after saying it would not reduce the number of spectators and participants allowed at indoor games, the N.C. High School Athletic Association decided Thursday to require that volleyball players wear masks during practices and games to limit the spread of COVID-19.
The NCHSAA also will require anyone participating in indoor skill development workouts in any sport to wear a face mask at all times, the association announced in an email to schools. That requirement applies to athletes, coaches and support staff. The NCHSAA previously required athletes to wear masks unless they were actively engaged in physical activity. The requirement for volleyball must be met no later than Monday.
"We reached out for information from the doctors on the Sports Medicine Advisory Committee (SMAC), as well as requesting input from (N.C. Department of Health and Human Services) doctors," NCHSAA Commissioner Que Tucker wrote in the email. "After weighing the information, the NCHSAA Board of Directors voted to implement" the stricter policies.
The only exception is that a student "with a medical condition that would prohibit wearing a face mask during competition will need medical documentation from a physician licensed to practice medicine, nurse practitioner or physician assistant," the email said.
With volleyball season starting Monday for NCHSAA teams, that indoor sport will be the first impacted. Avery Dole, a senior setter for Northwest Guilford, said, "it's going to take some getting used to, and we're probably going to have to get in better shape in terms of conditioning. We'll have two practices before our first game (at home Wednesday) against Oak Grove and we hope that will prepare us."
Dole said she hasn't worn a mask during practice, although some of the Vikings have. For games, she plans to wear the "regular fabric facemask for N-dub volleyball so we're all matching."
Grady Sherrill and his Page boys basketball teammates began skill development workouts Monday morning and have completed three of the allowable four sessions this week. NCHSAA schools can't begin playing basketball games until Jan. 4.
Sherrill, a junior who also plays football and lacrosse for the Pirates, said he doesn't think practicing while wearing a mask "will affect us that much. It's just a mask, and you have to wear it everywhere else."
Sherrill said he wore the type of mask "doctors give out at their office" during some 7-on-7 skill development work for football, but he is "definitely going to look into getting an Under Armour or Nike mask that is meant for working out."
While Sherrill said he wasn't surprised that the NCHSAA implemented the new policy Thursday, "I didn't really think of it as a bad thing. I think it's good that they're trying to be safe and taking all of the precautions."
Despite the precautions, NCHSAA staff members have received reports of volleyball teams being quarantined, the association's email noted, which will impact their first contests next week. Dole hopes that won't happen to her team.
"Me and the other four seniors have been so excited that we're even able to play, so we'll do anything it takes to play," Dole said. "We were kind of nervous when the governor announced they would have to limit the gatherings back to 10 that we wouldn't be able to play. But then we said we're still allowed to have limited fans, and we're super-blessed about that and just excited to be back on the court."
Get in the game with our Prep Sports Newsletter
Sent weekly directly to your inbox!