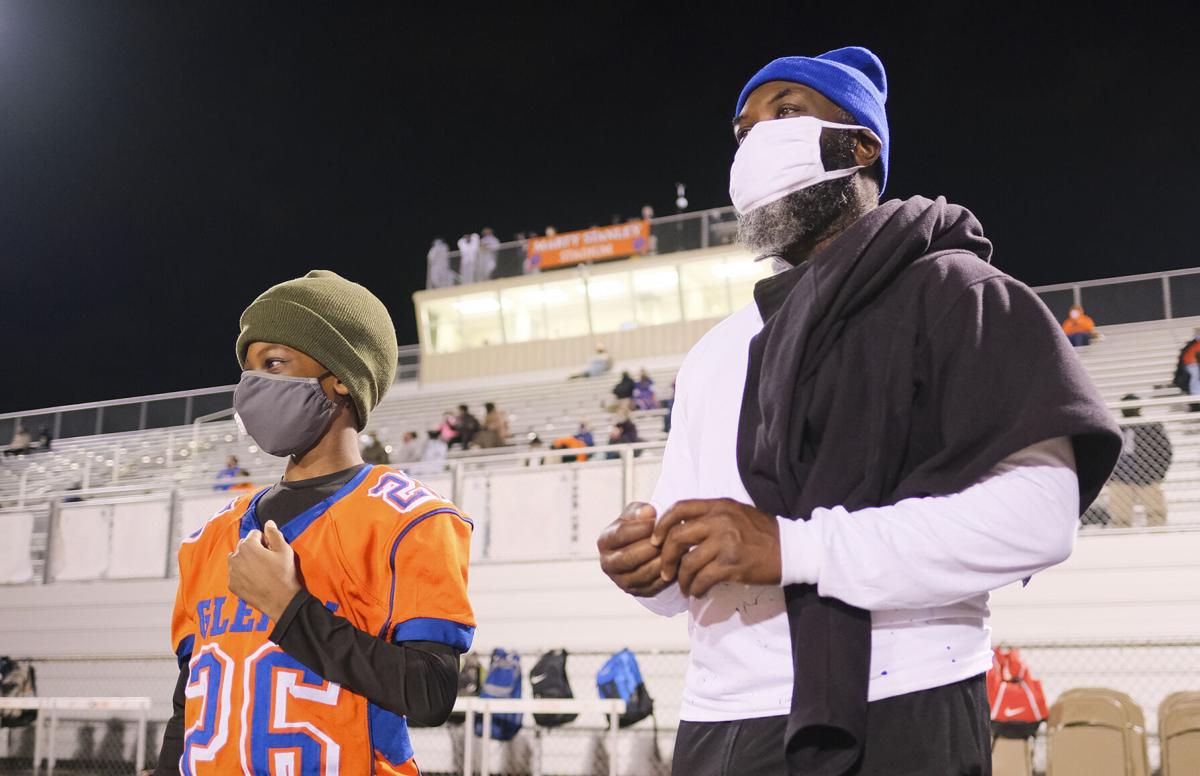 KERNERSVILLE — If he could hug his son one more time.
Tears stream down Reginald Fair's face as he thinks about his 16-year-old son, Sterling, who died of suicide in mid-January.
Sterling had built a 3.7 grade-point average and was enrolled in the Early College of Forsyth program at Forsyth Tech. Coaches from major colleges sent him letters, expressing their interest in his ability as a defensive back for Glenn High School's football team. Sterling's whole life lie ahead of him.
Reginald has trouble looking at videos and pictures on his phone. The memories are just too fresh, so he stays off his phone most days other than to answer it.
Reginald and his wife, Vonetta, and the rest of the family are living their lives as best that they can. Sterling has two younger brothers, 11-year-old Saxen and 5-year-old Soren, and an older sister, 24-year-old Ianya.
Part of that healing process for the family was attending the Glenn-East Forsyth football game on Feb. 26, the opener of this seven-game season that was delayed and is abbreviated. As a family, Reginald said they've leaned on each other a lot.
"I just miss him," Reginald said. "We were always together."
Going to the opening game
As the family made their way to their seats for Glenn's opener on a late February night, showing their support for Sterling's friends and teammates, parents of several players offered hugs and more condolences. Vonetta said it was strange to look out on the field and not see No. 26 playing on defense.
"This community has done so much for our family and we know all these kids," Vonetta said that night from the stands with about 100 spectators on the home side of the field. "We wanted to be here to show them support because they have shown us so much support."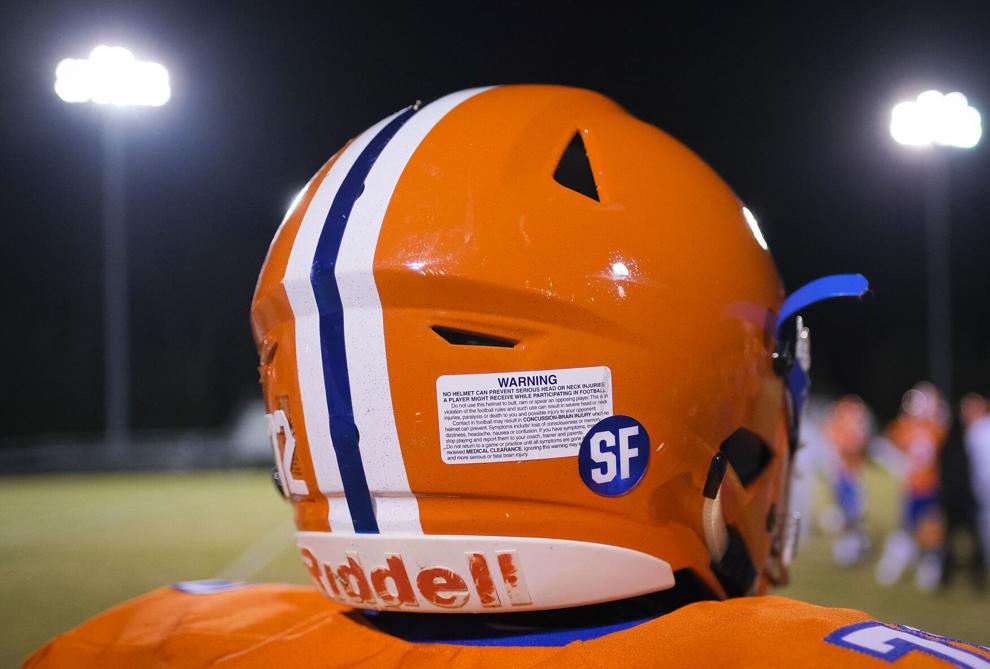 The family had no idea that the Bobcats would honor Sterling with "SF" decals on their helmets this season. Glenn athletics director Joe McCormick, who said the winter weeks had been difficult, hugged Reginald on the sideline early in the game after the father saw the stickers.
"That's a class move, and we're thankful they decided to do that," said Reginald, who stayed on the sidelines for the first half, Saxen by his side wearing Sterling's No. 26 jersey.
That jersey was given to the family by the team early in the week, and Saxen wore it with pride because it was his big brother's jersey.
As Saxen cheered on the Bobcats, he couldn't help but talk about what position he wants to play when he gets to Glenn.
"I'm going to be a running back," Saxen said proudly.
School struggles of late
Sterling, who earned straight A's through elementary and middle school, carried a strong GPA entering his junior year in the early college program, well on his way toward earning an associate's degree and gathering college credit hours.
Sterling, however, had struggled turning in assignments for his strictly online classes during the pandemic. Early college students also take a few high school credit hours, but for reasons unclear to the family, those grades slipped.
"Sterling has always done pretty decent in school but he didn't turn in any of his assignments for like the whole semester," Reginald said. "He did pretty bad in those classes and as a parent you think, 'What are you doing? So if you can't do this you can't participate in this.'"
The parents talked with Sterling about getting those grades up, especially since he had just gone through video interviews with prospective colleges.
"Every now and then kids have slipups," Reginald said. "And as a parent you take away the TV or the computer or whatever."
Reginald can't be sure that his son's grades would have been better had face-to-face classes been an option. He also didn't want to blame the pandemic, because as a family they have made things work.
It's easy for Reginald to second-guess what happened, but he did offer something he would have loved to have said to his son.
"Everything but crime and death is fixable," Reginald said. "We can fix whatever is happening or it will fix itself."
The model big brother
Reginald's eyes light up when the discussion turns to his two younger sons, who are already showing signs of being outstanding athletes. Saxen is a budding football player and track star who plays for the Little Bobcats, a pee wee football program to which Sterling belonged.
Tucked away on Reginald's phone is a video of Saxen running back a 75-yard kickoff return for a touchdown, a video that Sterling shot. Watching and hearing Sterling yell "Go Sax, go Sax, go Sax" brought a rare smile to Reginald's face.
Saxen also has a nut allergy, and Sterling always made sure his little brother wasn't exposed. Sterling didn't have a lot of hobbies besides sports, but caring for his two younger brothers was a passion.
"Saxen and him were like best friends, and Soren, who is so young, is still trying to figure it all out," Reginald said. "When Saxen and him were together and anybody offered Saxen some food, it was his big brother who made sure there no nuts in the food. That's his big brother, and he was always looking out for him."
Reginald says that it's likely they will sell their house to get a fresh start. That's not in the immediate future, though, and the family wants to stay in the area.
Saxen, who shared a room with his big brother, has moved into another bedroom.
To cope with the death of Sterling, Reginald said the family is seeing a counselor. He said it's been a big help, and for someone who hasn't ever talked about his feelings much, it's worked wonders.
Vonetta said the outpouring of support from friends and neighbors has also helped.
"It really does mean a lot to our family," Vonetta said.
Aaron Bailey, a Winston-Salem native, has been an assistant principal at Southeast Middle School for the last seven years.
"This kid was something else, and there's no way I would forget someone like Sterling," Bailey said.
Bailey says the same respectful tone used by his older brother is there with sixth-grader Saxen. During his time at Southeast Middle school Sterling also was part of the National Academic League, which was the name of the school's debate team.
Bailey remembers being on bus duty in the mornings when Sterling was an eighth-grader, and Sterling's locker wasn't far from him.
"Sterling was always greeting each teacher with a 'how are you doing?' and he was such a well-mannered kid," Bailey said. "Each of the eighth-grade teachers give out superlatives at the end of the year, and Sterling won two or three of those because he was a definite role model around here."
'The Core' started early
Thanks to Sterling's early friendship with Julius Reese Jr., the Fair family and the Reese family spent plenty of time together.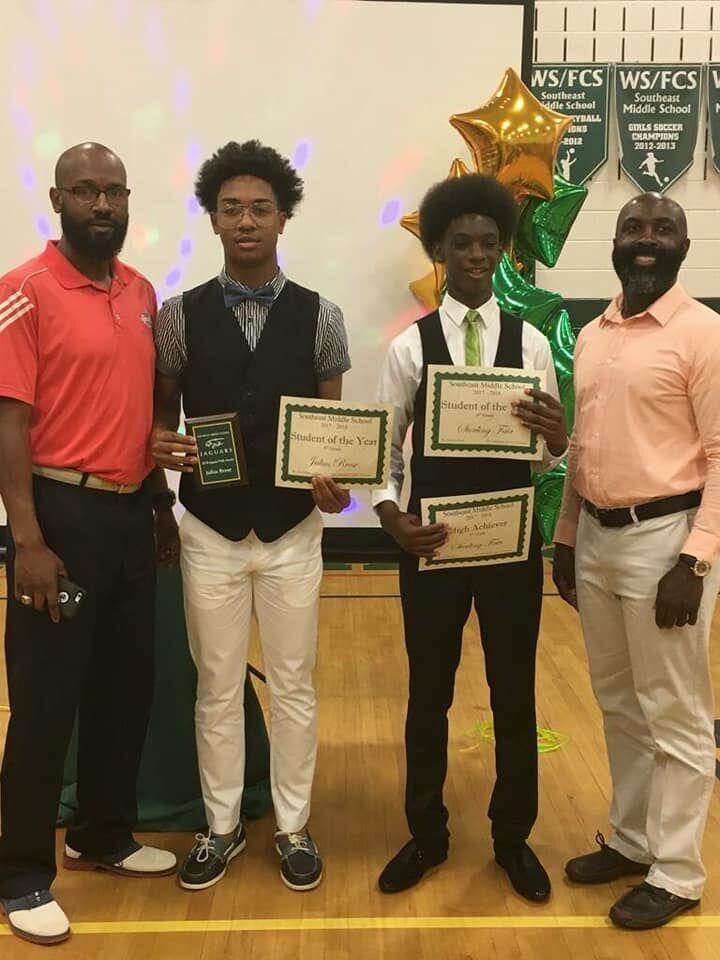 Whether it was at middle school sporting events, Glenn football games or when Sterling and Julius Jr. trained with Sterling's father, they had a bond.
"They have a group of them that I trained for years and they nicknamed themselves 'The Core,'" Reginald said. "And all of those guys were there at the funeral."
Among those in "The Core" are two current Bobcats players, Chaney Fitzgerald and Kedrick Green, as well as former player Raneiria "RaRa" Dillworth, who enrolled at North Carolina in January and will play for the Tar Heels this fall. Dillworth attended the East Forsyth game to cheer on his former teammates.
"He was good kid academically and on the field, and he was always wanting to do that extra thing to succeed," Dillworth said about Sterling. "He was the type of person who would bring you up if you were down a little bit."
The Glenn family
In the weeks after Sterling's death, Glenn coach Antwon Stevenson had trouble talking about it.
Stevenson was asked what made Sterling such a popular player.
"He was something special," Stevenson said. "I think any tragedy like this is heartfelt, but just knowing the type of kid he was I think all of us coaches and players are still trying to process what happened. It's been a month or so, but I find myself struggling with this."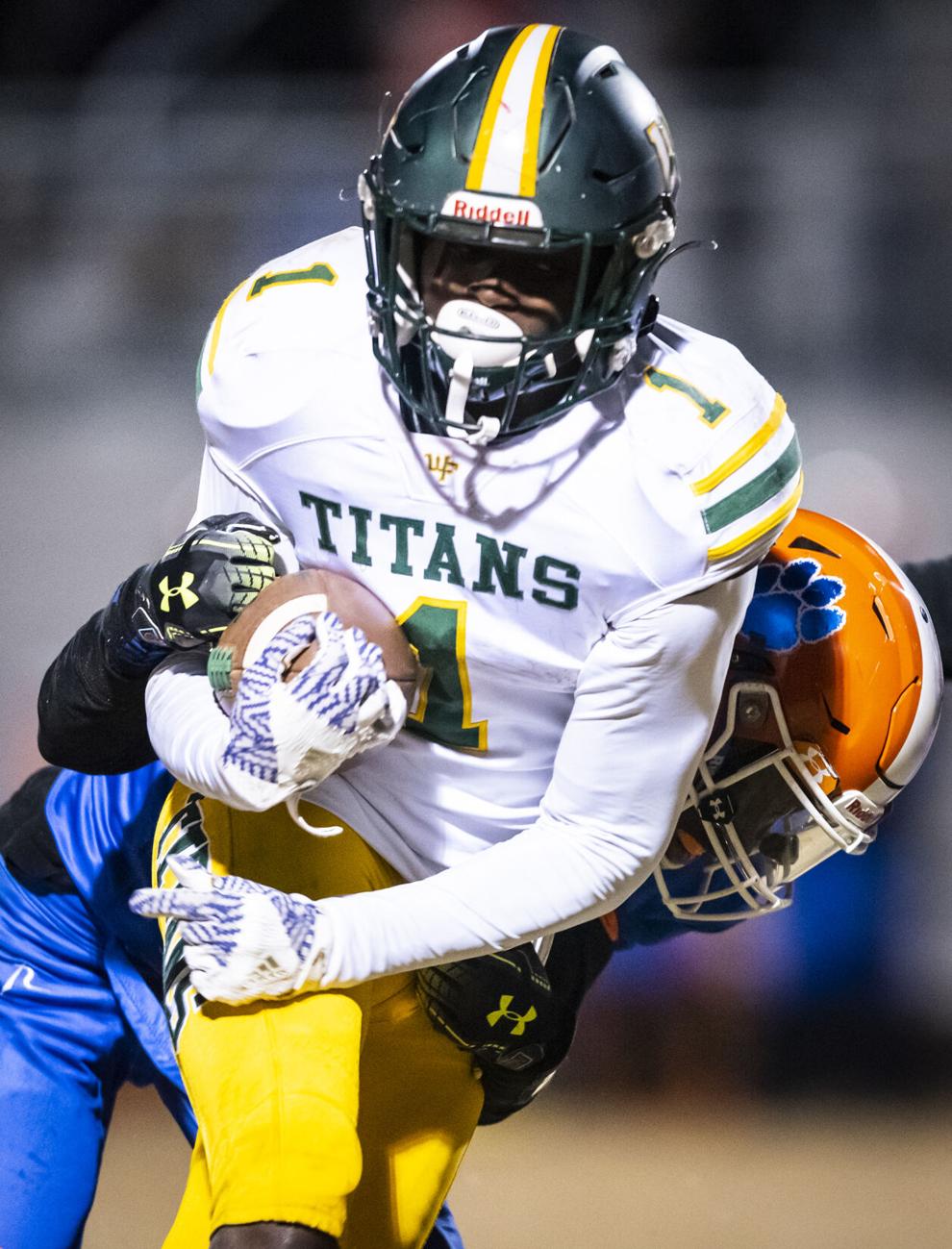 Sterling made 80 tackles and two interceptions and forced a fumble in his sophomore season in 2019 after moving up from the JV team after two games. Because of that season, and his speed as a track athlete, the college recruiting picked up in a big way.
Chaney, a wide receiver, said the Bobcats were glad to be playing football this spring but do so with heavy hearts. They had a tremendous defensive game in their 18-0 win over East Forsyth in their opener.
"We are going to play 126 percent in every game," Chaney said in referring to Sterling's No. 26. "What he's meant to me through all these years is so much because he was a happy person and is hard-working and he always did the right thing. He's missed, there's no doubt about that."
Reginald, 44, spent six years in the Army in special operations after his graduation from Mount Vernon High School in the Bronx, N.Y.
He played running back in high school, but he wasn't big enough to be recruited to play in college and chose the military. When his tour ended at Fort Bragg, he stayed in North Carolina and wound up in the High Point area in 2001.
Vonetta, a financial adviser, and Reginald settled and became entrenched in the Kernersville area.
"I grew up in New York in the city and it's so big that I never understood community until I got here," Reginald said. "The way people have just held our family up with Coach Stevenson and even the Little Bobcats they've tried to support us. Glenn has helped us so much for whatever we've needed."
Getting back to the hug
Some of the hardest parts about the funeral for his son were the hugs Reginald received from many of Sterling's friends and teammates. A lot of them were the same size as Sterling, who was a solid 6 feet 2 and 180 pounds.
"They all felt just like him," Reginald said through more tears. "I didn't want to let go of those guys because it just felt like I was hugging my son again."
One of his fondest memories, however, took place about a week before Sterling's death.
The two found themselves alone in their basement, and the father had one request.
"I remember saying to him, 'Come over here and give your dad a hug and mean it,'" Reginald said. "And he's a teenager, so you know he's rolling his eyes, but he did come over and we had a great embrace."
Reginald acknowledged that he's not about to give advice to anybody just because he and his family are going through such a tragedy. But he did offer this.
"I don't know if we as a family have a message, but the thing is I didn't get a chance to was to hug him," he said. "You have to hug your kids, and I didn't get that chance to do it one last time. Just once chance to hug him — and to feel him again."