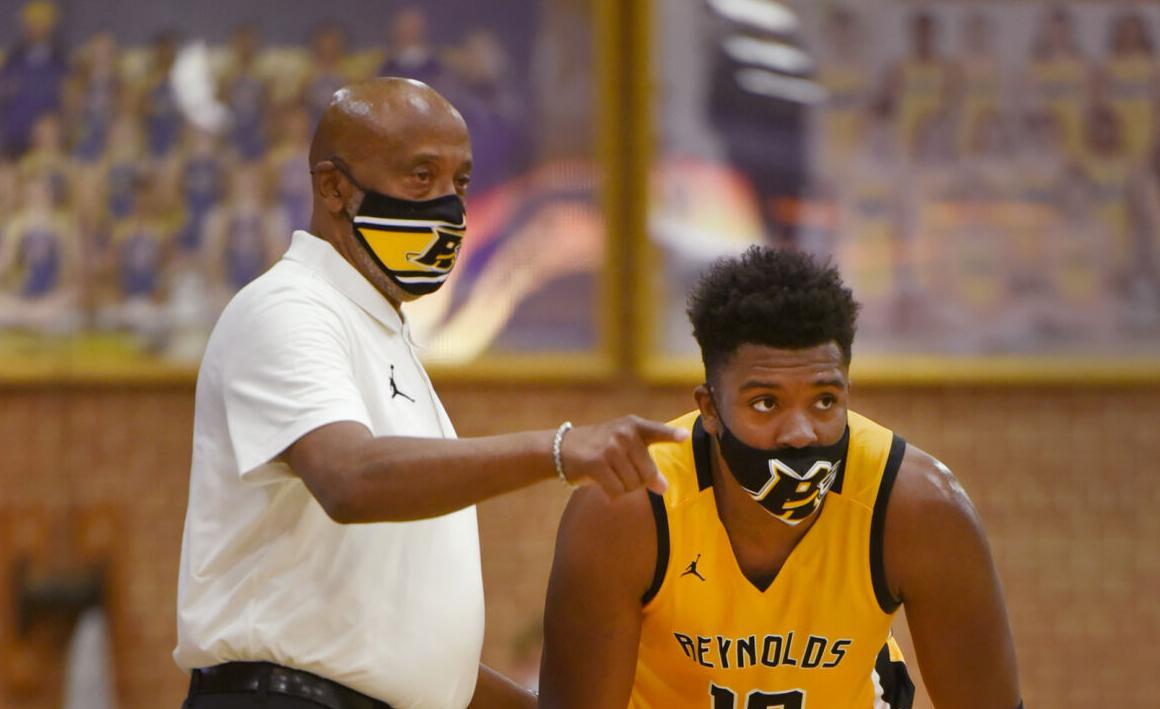 Football will have to wait a little longer for Caden Davis.
The starting quarterback for Reynolds High School's football team, Davis still has a little basketball to play before the gridiron beckons, after he scored 24 points and the Demons outlasted Charlotte Myers Park 69-61 in a first-round game in the Class 4-A state playoffs in Bryson Gym.
Davis, a senior forward, scored 13 points in the second half, including nine in the fourth quarter, as Reynolds won for the 12th time in 13 games. Had a few of the 10 free throws he made not gone in, he might be looking forward to starting in football against Parkland on Friday night in the season opener for both teams.
Instead, he's going to be back on the No. 4 Demons' homecourt on Thursday night for a second-round game against No. 5 Greensboro Page, a 53-42 winner over Glenn in another first-round game.
"It's worth it; I've got a chance to get a ring in basketball," said Davis, who will announce March 6 where he's playing college football, Fayetteville State or Winston-Salem State. "This week is strictly basketball now, but I've got better opportunities in football after this."
A 6-foot-4, 225-pounder, Davis scores in bunches on the basketball court and fires tight spirals on the football field. He decided this year that his future as a college athlete was in football, but basketball is his No. 1 concern until the Demons' season is over.
"I've been doing both sports, not every day, but as much as I can," he said. "It's been a little tough, but it's my last year. I want to go out with a bang. I've got to do as much as I can."
Davis's 24 points left him three points shy of the 1,000-point mark for his career at Reynolds; that was one of his goals on the way to averaging better than 18 points per game this season. The other goal? A state championship. The Central Piedmont 4-A championship is already in hand for the Demons (12-1).
"We were planning to go undefeated, but we slipped up that one time with Glenn," he said. "Right now, this is where we're supposed to be. We'd like to have played more games, but they gave us this season; that's all we can ask for."
What Reynolds asked for and got were points that came in spurts, with Davis and Tyreik Leach, who also scored 24 points, supplying most of the offense. The Demons led 29-19 at the half before Myers Park rallied behind strapping sophomore Elijah Strong, an aptly named forward who scored 15 of his 22 points in the second half.
The Mustangs finally caught Reynolds early in the fourth quarter and led three times, the last at 51-50 with 4:55 to play before Ahmon Lumpkins hit four straight free throws and stole the ball for a layup to put the Demons up 56-51. Reynolds wound up pulling away, outscoring Myers Park 7-2 in the final minute.
Billy Martin, the Demons' coach, said the game went about the way many of their wins have gone.
"We always make it no fun for us," he said. "That's how it's been; we get a lead, let the other team get back in it, then we bear down and build another lead. It's a good thing that the clock runs out when we've got a lead."
Martin said the shortened season, largely made up of games against conference opponents, has changed the way he had to prepare the Demons for the state playoffs.
"You can't get into a rhythm," he said. "You're always trying to find out who's going good and who's ready. It's hard, because we haven't played that many games, and all of the sudden, it's win or go home. That, mentally, is hard for these young kids."
Reynolds 69, Myers Park 61
Myers Park ;9 ;10 ;21 ;21 ;– ;61
Reynolds ;14 ;15 ;13 ;27 ;– ;69
Myers Park: T. Muhammad 2, Dalton Gardner 13, Roberts 3, Wicks 4, Ryan 3, S. Muhammad 8, Farris 2, Elijah Strong 22, Walters 4.
Reynolds: Tyreik Leach 24, Calhoun 3, Caden Davis 24, Yates 2, Harris 4, Ahmon Lumpkins 10.