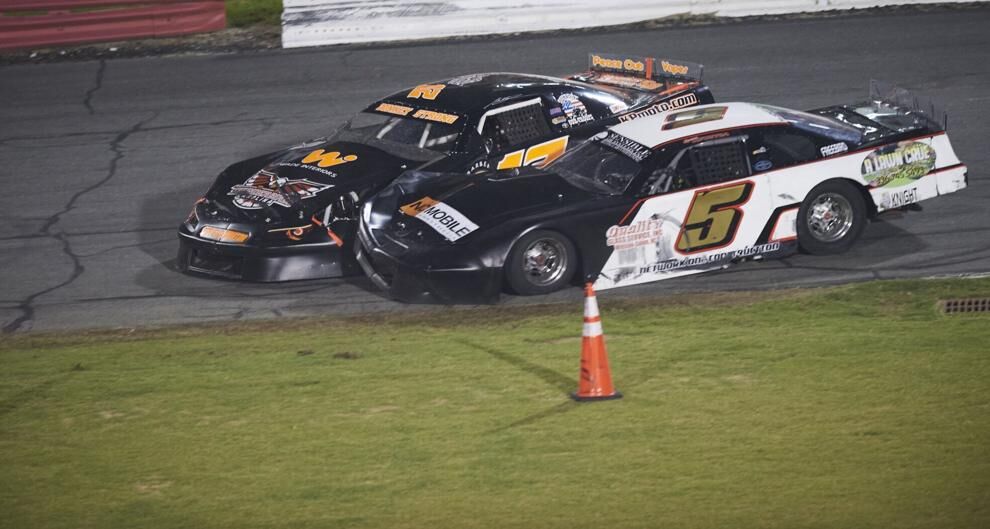 Last week's racing in the heat at Bowman Gray Stadium made for quite a show in front of around 12,000 fans.
From the caution-flag wreck involving Justin Taylor and Spencer Martin in the Sportsman 100-lapper to the rubbing of Burt Myers and John Holleman IV that took place in one of the Modified races, the action on the track was good theater.
There was also some rubbing and reactions from Billy Gregg and Gerald Robinson Jr. in last week's Street Stock race. Gregg, the defending champion, was taken out of the race late with a push from Robinson. Gregg leads in points and Robinson is third.
The reality for all the drivers in the four divisions is that there are only four weeks left in this shortened 72nd season of racing at the Stadium.
The good news for those who watch the points' races after each week is nobody has run away with the title, making every lap count for the next four weeks.
Here are four things to watch heading into Saturday's racing:
Upon further review
David Creed was the winner in a Street Stock race, and then he wasn't. Soon after his win it was ruled that he was disqualified for technical issues. But track officials reversed that decision on Wednesday. It was ruled that Creed's engine was legal and the win was put back on his resume. The 'official' win helped Creed remain in fourth place in the points standings.
Tim Brown is as hot as the weather
There's a chance that Burt Myers' run of four straight Modified Division titles could be over. Both Myers and Brown have won 10 points titles in their outstanding careers, but Brown is riding a hot streak. He won his 94th career race last week and sits atop the standings with a 10-point lead on Myers.
"We're having a great year and I'm loving it," Brown said. "I'll ride this roller coaster any time, because we've been to the bottom before. We're getting down to the end (of the season)…. We're in a better spot right now than we've been in the last few years."
Another young gun has success
Isaac Harris, a 14-year-old running his first race at the Stadium, won a Stadium Stock race last week. Harris said he used to race dirt bikes and then moved up to go-karts. He wound up winning last week with Billy Cameron Jr. second and Joel Stewart third.
What's on tap for Saturday
The Stadium Stock Division will have its longest race of the year with the Thunder Road Grill Stadium Stock 50. There will also be two Modified Division 25-lap races, two 20-lap Sportsman Division races and a 20-lap Street Stock race. There will also be a 20-lap Classic Modifieds race.