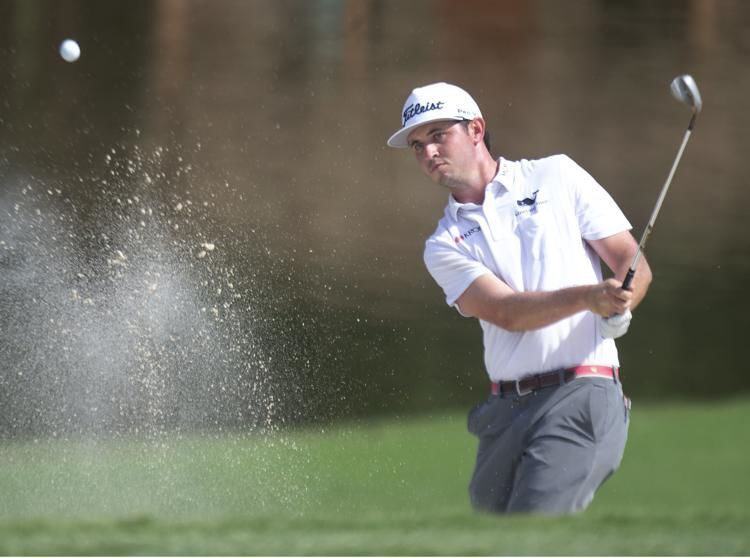 GREENSBORO – J.T. Poston doesn't quite know how he'll react next month when he arrives at the Wyndham Championship as the defending champion.
"Well, it will be my first time in that category," Poston said during a video call with journalists today, just more than three weeks before the 81st edition of one of the longest running tournaments on the PGA Tour.
Poston, a Hickory native and a Western Carolina graduate, relished the large galleries that engulfed him last year as he won his first PGA Tour tournament. He did so in his home state, in front of his home fans, some wearing the purple and gold of Western Carolina, firing a final-round 62.
If he becomes the first golfer since eight-time winner Sam Snead to repeat as champion, he'll do it without any of those fans. No spectators have been allowed at tournaments since the PGA Tour restarted its season during the coronavirus pandemic, and that will still be the case Aug. 13-16 at Sedgefield Country Club.
"When I think back during that final round on that Sunday I had a lot of family and friends and familiar faces in the crowd," Poston said. "It was just really cool to have those folks cheer me on. I definitely feed off that energy being the North Carolina kid and if that's wasn't there I don't know if it would have changed the outcome."
Poston and his caddie, Aaron Flener, rode the wave of good play and the crowds to that victory that secured Poston's job status on the PGA Tour for at least the next two seasons.
"I know (Flener) will be ready to go as well next month," Poston said.
Among those familiar faces following Poston's march toward that first PGA Tour win was his 85-year-old grandfather, Doc Cunningham, who through his association as one of the top amateur golfers in the state wound up introducing his grandson to John McNeely. It was McNeely, who was the pro at Grandfather Country Club, who met Poston when Poston was about 8 years old.
McNeely, the head at Diamond Creek Golf Club in Banner Elk, has been Poston's swing coach for years.
Right before last year's Wyndham, Poston went to visit McNeely and came away with a swing thought that helped him play Sedgefield Country Club at 22 under with no bogeys in 72 holes.
"(Cunningham) would bring J.T. up for lessons," McNeely said. "Doc was also the club champion and was a very good player who one time shot 29 on the back nine at Grandfather Mountain. That scorecard is still on display there."
Because of the way the PGA Tour schedule has been adjusted, Poston said it's doubtful he'll get to see McNeely before the Wyndham.
"I've had a great relationship with John since I was a kid," Poston said. "He and my grandfather have been good friends and he's always been a mentor to me. I'd say when I first started taking golf more serious and I was trying to get a golf scholarship, that's when John really started working with me more as a swing coach."
Poston says the swing thought he received from McNeely wasn't earth-shattering but it did the job.
"One little thing on my setup, and it was just a little more flex on my knee and it got me in a better position," Poston said. "I'm so much of a feel player, so I'm not good at thinking about positions and with the club, so he's just taught me different feels to get me to hit it the best that I can. It just clicked immediately with the first three golf balls and it was really exciting."
One of the perks for winning his first PGA Tour tournament was qualifying for the Masters, but the pandemic prompted the tournament to be moved to November.
"That will be there later on, and I'm excited for it," he said.
(336) 727-4081
@johndellWSJ
Be the first to know
Get local news delivered to your inbox!