John Holleman is running out of divisions to win races at Bowman Gray Stadium.
Holleman, 24, won for the first time in the Modified Division on Saturday in the 25-lap second race in that division in front of around 12,000 fans. Showcasing the No. 69 car that is familiar to legend Junior Miller, Holleman did his best Miller imitation by leading all 25 laps.
"This number is familiar in Victory Lane, so I like this," said Holleman, who also won a combined 20 races in the Street and Sportsman divisions earlier in his career.
Tim Brown won the first Modified Division 25-lapper from the pole with four-time defending champion Burt Myers riding Brown's bumper the whole way. It was Brown's 92nd career win as he added to his all-time lead at the history of the Stadium.
In the Madhouse Scramble after the win, Brown drew the 12th position for the second 25-lap race.
"The 92 wins sounds impressive and it's the first time I've won here in an orange race car," Brown said. "I'm just happy to be back racing in front of all these fans, so it's a great night."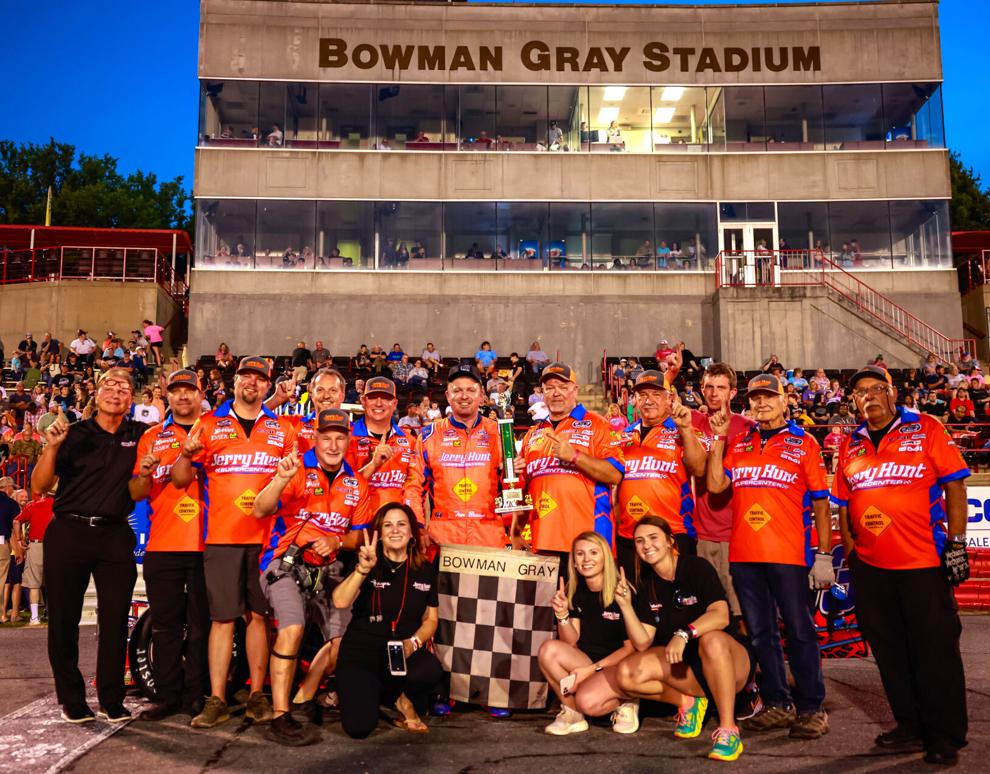 Soon after returning to the pit area, Holleman said getting that first victory in the Modified Division means a lot more.
"This puts you in the history books, so this is big for me," said Holleman, who won at the Stadium as a 14-year-old in the Street Stock Division 10 years ago. "I just tried to keep my lines and stay in front, because any slip-ups in these 25 lappers can cost you."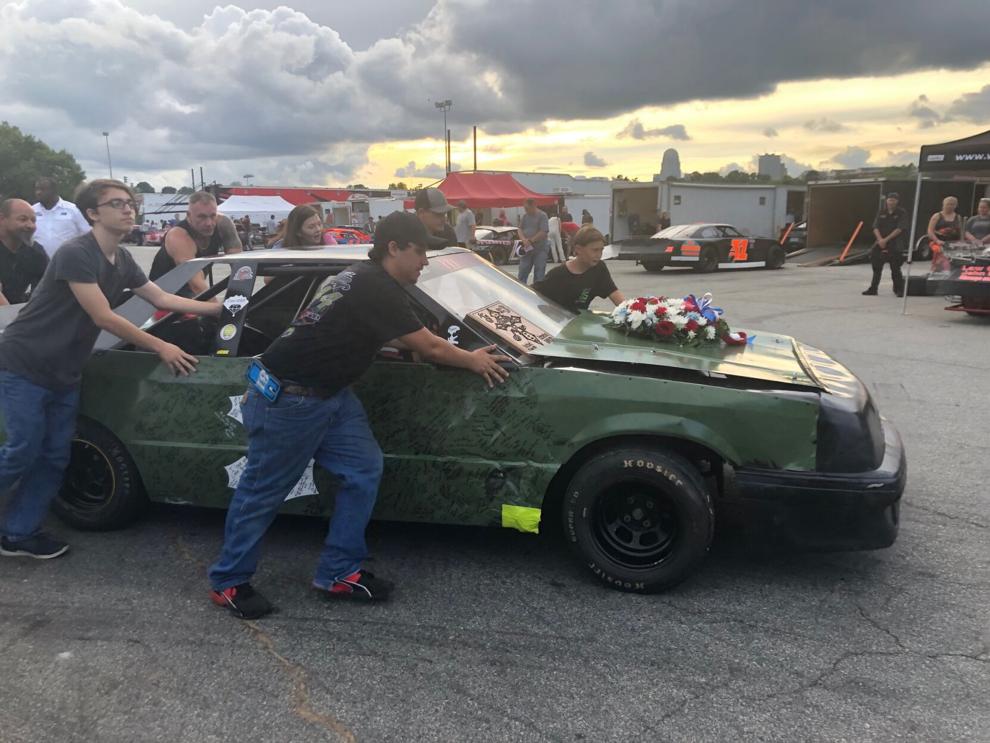 Holleman started on the front row with Jeremy Gerstner for the second race, quickly took the lead and never wavered.
He joked in Victory Lane that one of his mentors, Miller, has not retired, so there's a chance Miller could return this season.
As for getting that first win, Holleman "only" needs 73 more victories to tie Miller, who has 74 victories to rank third in Stadium history.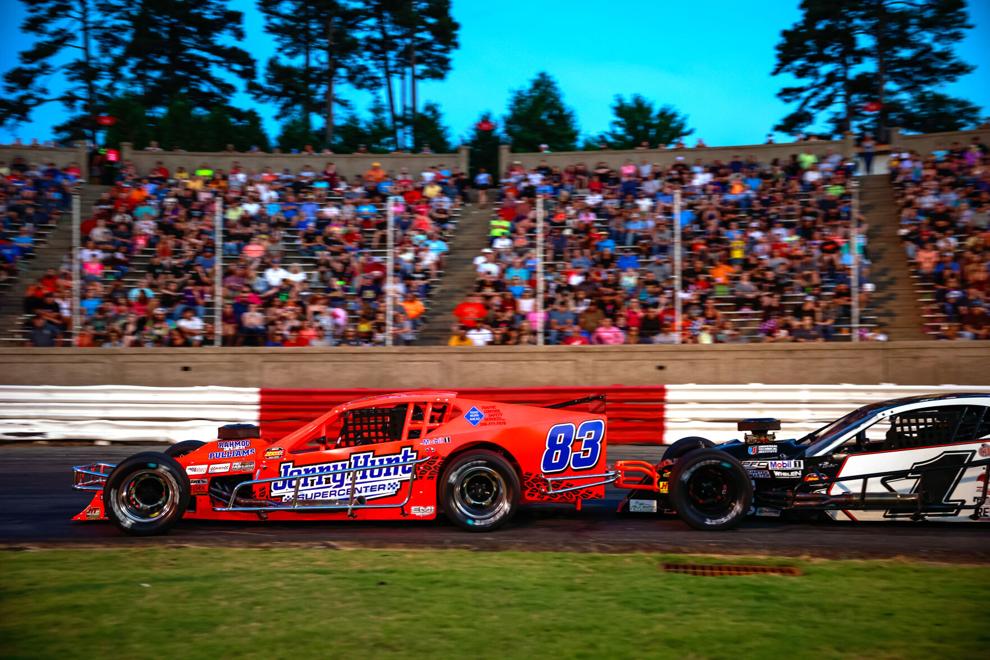 "Yeah, it sounds easy," he said laughing. "But trust me, it's not. I'm just so thankful for Junior with the help with this car, and Brian Loftin has been a mentor to me, as well. So I've been helped along the way but I'm excited about this victory."
Jacob Creed won the first Sportsman Division 20-lap race for his first career win, with "Tiger" Tommy Neal second and Amber Lynn third. Creed, who bounced out of his car and made quite a leap after his win, said: "This is the biggest win I've ever had."
In the second Sportsman Division race, which was another 20-lapper, Michael Adams slipped inside of Zack Ore on lap 19 to win his 20th career race.
Ore had the lead for most of the race, but on a restart on lap 18 after a caution, Adams got some momentum to overtake Ore, who ended up fourth. Neal wound up second.
"I think it was a curse being on win No. 19," Adams said. "Me and Zack had a heck of a race and we were biding our time and caught the caution at the right time."
In the first race of the night, Brandon Brendle won the 15-lap Stadium Stock race after working his way up from the 11th position. Brendle overtook pole-sitter Austin Cates on lap nine and held Cates off for the win.
Brendle won his 16th career race picking up where he left off in 2019, where he won four times.
Winning the featured 50-lap Stadium Stock Division race was defending champion Billy Gregg, who won for the second week in a row.
"This has to be the biggest win of my career," Gregg said about holding off Jeremy Warren.
Notes: Before the first race the late K.C. Myers, a former driver at the Stadium, was honored. Friends and family pushed his car around the track for a lap as fans stood and applauded. There was also a moment of silence for Myers, 40, who died in November of 2020. Also honored with a moment of silence was for the late Thomas "Pops" Brown, a longtime member of the track crew at the Stadium. ... Last week during the opening night of racing for the 72nd season at the Stadium the races were broad-cast live on NBC's Trackpass that is offered for a monthly fee on-line. The next time the Stadium will be on Trackpass will be July 24th. ... Next week's racing will feature the Kevin Powell Motorsports 100-lap Modified Division race which will include the double-file restarts. As part of the Modified race next week will be a $3,000 fans challenge where the fastest four qualifiers can take the option to start at the rear of the field. If they take the challenge and finish in the top four they can win an extra $3,000. ... This week's Grand Marshal for the Thunder Road Grill Street Stock 50 race was Jim O'Neill, who is Forsyth County's District Attorney.