There might not be any Carolina Thunderbirds hockey games, but that hasn't stopped the franchise's rabid fan base from cheering – and praying – for one of their star players.
Michael Bunn, 25, one of the most popular players in the three-year history of the Federal Prospects Hockey League team, has been fighting for his life in a hospital in Greensboro since April 20.
Bunn's mother, Lynn Bunn, said he suffered carbon monoxide poisoning and remains on a ventilator after he was found unconscious in his parked car early on the morning of April 20. The engine was running.
According to his mother, Bunn left her home in Raleigh early that morning so he could get to his job in Kernersville at Musten & Crutchfield Food Market, where he and teammates Jan Salak and Petr Panacek found employment after the rest of the hockey season was canceled because of the coronavirus pandemic.
When Bunn didn't show up for work around 9 a.m., his mother got a call, and she put out a missing person's report.
"He was found in a parking lot off the interstate and the car was running just before 3 p.m.," Lynn said. "He was then taken to the hospital."
According to Dwayne Church, the deputy chief of the Greensboro Fire Department, a 911 call was made at 2:46 p.m. to the Red Roof Inn's parking lot on West Meadowview Road in Greensboro, just off Interstate 40 in the Greensboro Coliseum area.
Church said the fire department arrived at 2:51 p.m. and left the scene at 3:04 p.m. when paramedics arrived.
Bunn's mother said her son was then taken to Moses Cone Hospital, where he has been since April 20. On Wednesday afternoon Bunn was improving, according to his mother.
Lynn said her son was starting to become more responsive. She said that doctors are staying positive and that Bunn's age should help him as he continues to recover.
Lynn says that she and Bunn's girlfriend, Allison Gregg, have not been permitted as visitors because of the pandemic and have conversed through phone technology.
"That's the frustrating part: He can't see his friends, teammates and family because of the COVID-19," Lynn said. "We've been FaceTiming him, thanks to the nurses but that's been it."
Bunn's popularity
Bunn's mother knew that her son was popular with the Thunderbirds, but didn't realize how popular until Bunn's hospitalization. The support from all over the country has been overwhelming. She started a Caring Bridge web page to keep everybody updated.
"We've had like 22,000 visitors, and the comments left and the prayers that people are leaving us gives us an overwhelming sense of just how much Michael means to us," Lynn said. "Our phones have been blowing up with people calling who I don't even know, but had a story to tell about Michael."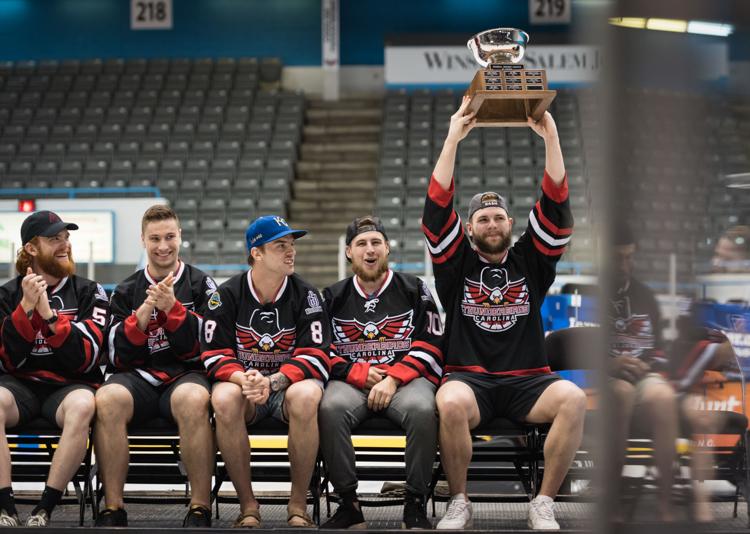 Bunn was thankful to have a job with the small food mart in Kernersville, according to his mother. Bunn's girlfriend, Gregg, has a young son, Cooper, with whom Bunn loves sharing the game of hockey.
"There's a video I love on Facebook where Cooper and Michael are playing with hockey sticks on the wood floor in the living room," Lynn said. "He adores little Cooper."
The outpouring of support on social media has been tremendous with posts on Bunn's Facebook page and a Thunderbirds fan page on Facebook.
A year ago, the Thunderbirds had won the league title and Bunn was the MVP of the playoffs.
The hockey community
Coach Andre Niec, who has coached Bunn for all three seasons, is not surprised by the outpouring of support.
"I remember when we first started Scott Brand, who was our general manager, introduced me to him and because he grew up in Raleigh we thought he would be a good addition," Niec said. "But he also showed us he wanted to play at a high level and he's done that."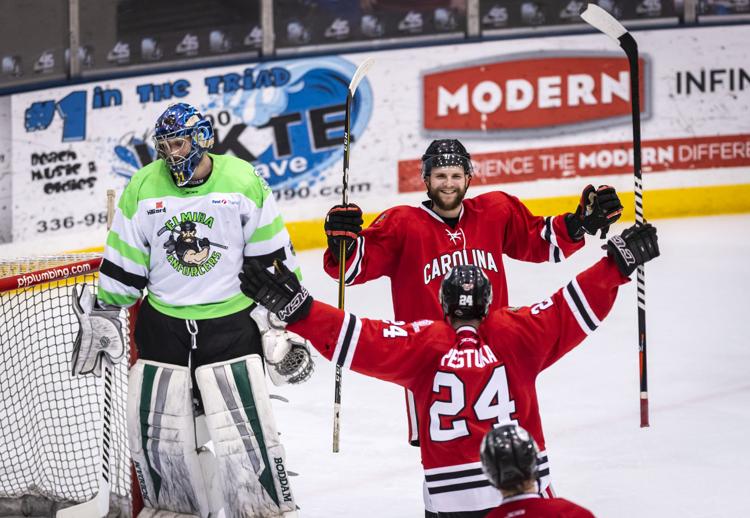 Niec said seeing all of the support reminds him of why he loves hockey in the first place.
"Look, hockey is a lifestyle and our community is something that is strong and goes beyond our team," Niec said. "I've had so many people from all over the country reach out to me about Michael, and that's what this is about. We are all praying hard for his recovery."
One of the Facebook posts that summed up the support for Bunn came from fan Peter Naughton. The Thunderbirds were in good shape to possibly win the league title again when the season was canceled.
"Today would have been the day we lift the Commissioners Cup," Naughton wrote as Bunn's recovery had just begun. "Looking for a different kind of victory now."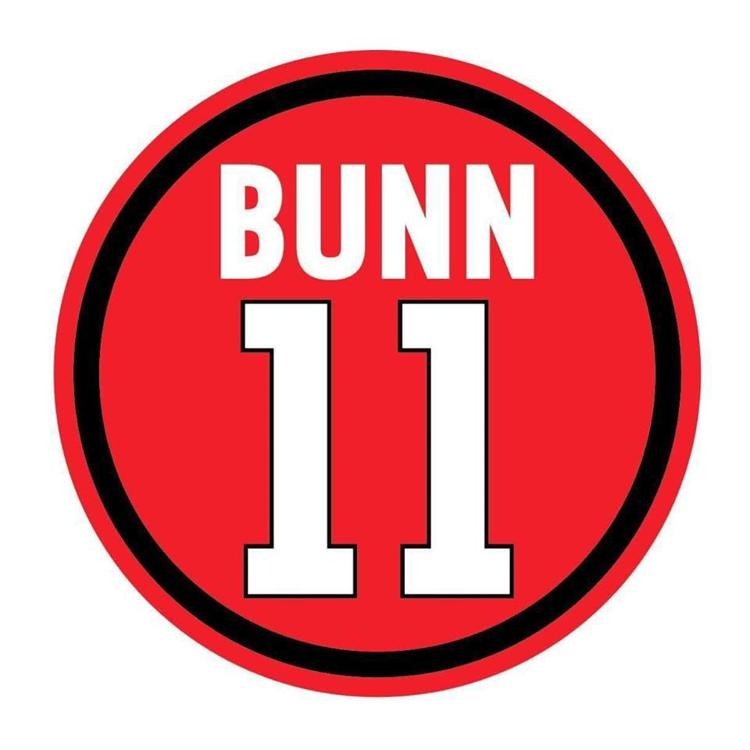 To show their appreciation for Bunn, Thunderbirds fans have put out hockey sticks on their front porches.
Damien Poole, who is the bench medic for the Thunderbirds and a captain with the Winston-Salem Fire Department, changed his Facebook profile picture to a No. 11 logo that was created. Other fans have also inserted Bunn's logo into their Facebook profiles.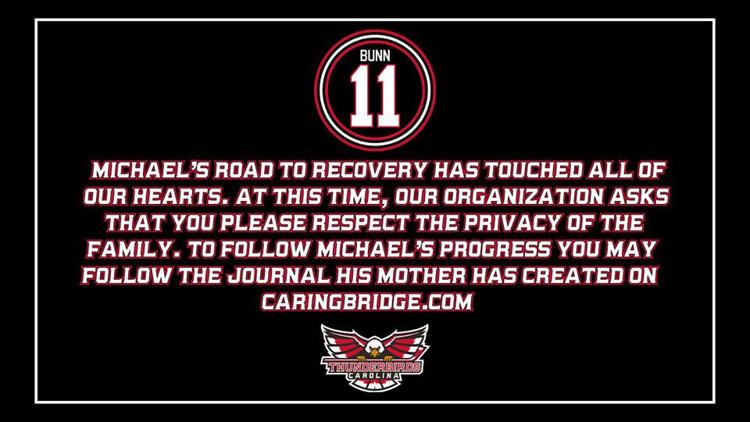 While battling a wrist injury, Bunn played in 30 games this season for the high-scoring Thunderbirds with 13 goals and 27 assists. In his three seasons, he has 63 goals and 78 assists and was always one of the last players to leave the Winston-Salem Fairgrounds Annex after signing autographs and engaging with fans.
"Michael is very popular, but is also one of our best players over these three seasons," Niec said. "He also loved going to the local schools when we had community service things going on."
Season ended too soon
After the season was canceled, Bunn posted a heartfelt message on Facebook.
"It was an absolute honor to wear a letter on my jersey this year," the post read. "And to my teammates, if I ever get the privilege to play the game with you in the future, I'll be a better leader, captain and teammate. I love you guys. I love you fans. Thanks for everything."
Lynn said the impact of her son's situation has been felt from all kinds of different angles.
"I'm in awe of it and I can't even put into words how thankful we are," she said. "To see it happen with the support and the prayers, I really think it's helped in his recovery."
She said teammates and coaches from his junior hockey days in Indiana have reached out on social media.
"And fans from other hockey teams have reached out," she said. "There were fans from Watertown and Elmira who have said they know who Michael was and saw him play and they were praying for him and our family."
Lynn says navigating it all has been tough.
"It's been more than a week now, and I wake up and think this can't be real," she said.
Still in recovery phase
Lynn said the next step would be her son breathing on his own, without the ventilator.
"It's affected part of his brain, so the neurological part of all of this is what the doctors are most fearful of," Lynn said. "He was at level 4.6 of the poisoning."
Carbon monoxide is a colorless, odorless, tasteless gas that can be produced by burning gasoline. The Centers for Disease Control and Prevention says carbon monoxide causes the most non-drug-related poisoning deaths, 500 per year, in the United States per year.
Lynn said her last conversation with her son was Sunday night, and he was looking forward to getting to his job that next morning.
"He loved hanging out there at the Food Market because everybody was so nice and even when he wasn't working he would go there to see people," Lynn said. "When I found out he didn't make it into work, I knew something was wrong."
In one of her posts on the Caring Bridge website, Lynn remained positive about her son's outlook for recovery.
"He is definitely making progress, but still has a long way to go," she posted. "The neurologist is still using words like 'optimistic' and 'hopeful.' I am still using the word 'Miraculous.'"