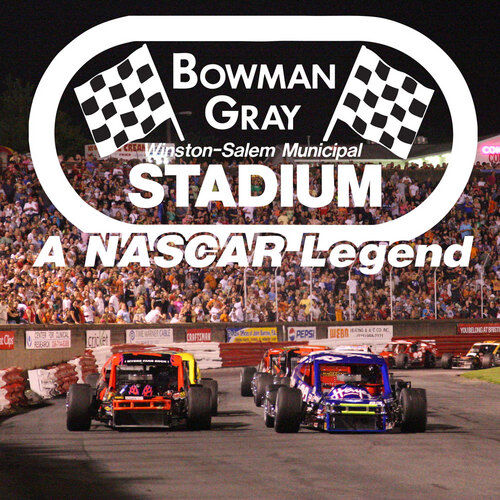 Tim Brown didn't know the answer, but it didn't matter.
Soon after his 93rd career win at Bowman Gray Stadium he told track announcer Randy Pettitt and the 10,000 or so fans that his victory was 'an ass-whipping.' When Brown was asked if ass-whipping was hyphenated, he said: "You can make that decision."
Brown, a 10-time stadium champion, dominated a race that had just four cautions as he led wire-to-wire to beat out Brandon Ward, who was second. Lee Jeffreys was third and four-time defending champion Burt Myers was fourth.
On the hottest night of the season, the asphalt track was at its fastest, and Brown's new tires were just what he needed.
"The tires showed up and made a difference," Brown said. "And I just got to thank all those guys for racing me clean… I'm just thankful and humbled by this."
Brown's had a lot of big wins through the years in his outstanding career, and he's had dominant cars before, but he took a quick look over at his orange No. 83 and made a rather pointed statement. "I think it's the best car we've ever had," he said.
With six weeks left in the season, Brown and Myers are tied for the points lead with 308. On a double-points night, it was key for Myers to stay close to the lead and he did that over the 100 laps.
Jonathan Brown is third in points with 292 and Jeffreys is fourth with 278 heading into Saturday's races.
Ward, who started the night 11th in the points, was happy with how his backup car responded.
He thought it was somewhat strange that the 100-lapper only had four cautions. On the final caution, Brown had an excellent restart on lap 82 and was never threatened the rest of the way.
"In the first half of the race and halfway through we all just kind of were biding our time," Ward said. "But we just kind of threw some things together today for this backup with a whole new set up so I'm not going to be mad at all with how we ended up."
As for trying to catch Brown, Ward said it's never easy.
"The 83 (Brown) and the 1 (Myers) have put up a lot of laps over here so it's hard to catch them when they are out front," Ward said. "We did pick up a position on that last restart to get second."
Myers said in a race where there are only four cautions in 100 laps, it's hard to make up any ground.
"The only shot you get are the restarts when it's like that," Myers said. "We were a little off tonight but we've had the best car all year. This is the fastest the track has been all year, so we had a good setup. But now we just have to come back and go at it again next week."
In the first race of the night, a 20-lap Street Stock race, David Creed got his fifth career win as he overtook pole-sitter Taylor Robbins on lap five and then led the rest of the way.
The Creed family nearly had back-to-back wins, but in the first Sportsman Division race, Jacob Creed, a son of David, was ahead until lap 19 when he got caught up in some traffic and was spun out as Zack Clifton took the lead.
Clifton then stayed in fronton the first Sportsman race not long after his father won in the Street Stock.
"(Jacob Creed) got caught up in lap car and we were right there together and he started to spin," said Clifton, who was racing for the first time this season at the Stadium.
Clifton won his 22nd career race.
"It's good to be back and it feels good to win out here again," Clifton said.
In the second Sportsman race, Zack Ore picked up the victory for his seventh career win.
Also winning in the Stadium Stock Division was Blain Curry, who got his first career win. The Lexington native had around 60 friends and family surround his car after his win.
"This is why we all do it, for this moment right here," he said.
Notes: John Holleman IV had some technical issues with his car after his qualifying lap and track officials forced him to start in the back of the field. Jason Myers moved up into the top four when Holleman's run was wiped out of the top 4. Myers accepted the challenge as he started in the back of the field next to Holleman but Myers did not get inside the top four…. On Saturday it will be Truliant Federal Credit Union night that will include two 25 lap races in the Modified Division. There will also be two 20-lap Sportsman and Street Stock division races. There will also be Skid Race and a demolition derby…. Junior Miller, 70, made his 750th career start in the Modified Division. He has 74 wins, the third most in the stadium, and he won six points titles in his career. "I just love coming out here and the fans have always been great," Miller said. In the 100-lapper Miller raced a few laps but then took his car to the pit area and finished in last place…. Billy Gregg, the defending champion in the Street Stock Division, ran with his backup car on Saturday night. He said his main car had some issues so he was going with the backup. He started Saturday night in second place by just two points to Gerald Robinson, Jr…. Tim Brown had the fastest lap of the season in Modified qualifying with in 13.441 over the quarter mile.