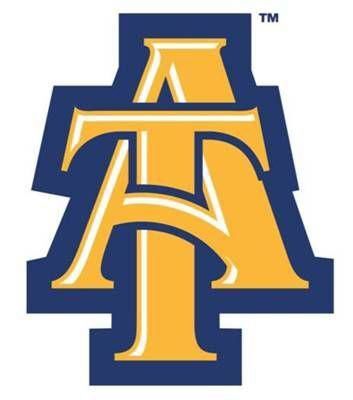 GREENSBORO — With the MEAC reduced to a three-game spring football schedule because of the COVID-19 pandemic, N.C. A&T athletics director Earl Hilton decided, "The juice is no longer worth the squeeze."
The Aggies will not play football during the 2020-21 school year, Hilton announced during a Zoom conference with media members Thursday.
"The toll, the grind, the mental, emotional and physical price that our young men have paid since July 5, to continue to march into an uncertain future does them a significant disservice," Hilton said.
That future became more uncertain because of attrition in the MEAC, with five of the nine football-playing schools opting out of the season at one point or another. Only Delaware State, Howard and S.C. State remain committed to playing this spring, according to a news release from the conference in which the MEAC announced it had suspended the season.
If A&T had played, it would have only had a three-game MEAC schedule and the NCAA is requiring that teams play at least four games to be eligible for the FCS playoffs in April and May. Finding additional opponents for the spring would have been extremely difficult with some schools starting their season as soon as Feb. 20 and many conferences prohibiting their teams from playing non-conference games. The last MEAC schedule had the Aggies opening their season at home Feb. 27 against S.C. State.
"We started with a six-game schedule, then went to a four-game schedule, then went this week to a three-game schedule," Hilton said. "I just got to a point this week where I had to make a decision about their physical welfare, their mental and emotional state and the benefits to the institution if we continued to push forward to make this happen.
"I just can't see my way forward to explain to a young man that it's OK that you got hurt, had a season-ending or career-ending injury, when we're playing games that don't necessarily lead to where we always expect to go, to a championship. I'm not going to expose them to that at this point. We're going to re-center, to build and focus on the future toward fall 2021."
A&T's players got the official word that the spring season was canceled at a 4 p.m. meeting with Coach Sam Washington and his staff, but junior quarterback Jalen Fowler said they had seen the writing on the wall when Norfolk State opted out Monday. That doesn't mean they weren't disappointed.
"From last July we were really preparing for the fall season, then it's canceled," Fowler said. "So, OK, we have the spring to look forward to and get better. We prepared for that mentally, physically. We were just ready to get back out there. It's unfortunate."
"That's the hardest part, coming to that reality that it's here," Washington said before the team meeting. "It's been in the back of our minds all the time, that it was a possibility that we would not play."
Should A&T have left the MEAC in the fall and tried to play an independent four-game schedule, as Big South Conference member Campbell did?
"It is hindsight, but as a player from a competitive standpoint I would love to play no matter who we would have played," Fowler said. "But things didn't work that way, and I support Mr. Hilton 100 percent."
Hilton said there are definitely "things where I say, 'What if …?' But I'm going to resist the temptation to try to second-guess ourselves. I think we made good decisions in the moment based on the available information and the facts before us."
Not playing a fall 2020 or spring 2021 season will mean a $300,000 to $400,000 hit to the A&T athletics budget, Hilton said, "when you factor in revenue and tickets and guarantees versus what it was going to cost in travel, hotels, meals, buses, planes." But Hilton also said that the university had already found ways to make up the shortfall in a budget that was $13.85 million in 2018, the last year for which numbers are available.
What A&T can't make up is the lost season for its football players.
The decision not to play "was certainly not unanticipated," Hilton said, "but it was disappointing and heartbreaking nonetheless. Through this whole process our young men – and young women across other sports – are the ones who continue to pay the outsized cost for the pandemic and the turmoil it has created in individual lives and across society and in our small, little world of sports. They've borne that burden for almost a year now."
The Aggies will have to bear it for a few more months before they play their next football game Sept. 4 at Furman. This was not the curtain call A&T hoped for in the 50th season of the MEAC, the conference it helped form.
"We wanted it to be our legacy that the last thing we did was we were the champs of the MEAC," Fowler said.
Hilton also "pictured this year going very differently, as you can imagine. We hoped to travel to all of our sister schools, be on their campuses and participate in a wide range of sports, celebrate, commiserate, say goodbye, win a few more championships."
That's still happening in basketball and a few other sports, but for A&T football, which won the MEAC title and played in the Celebration Bowl in four of its last five seasons in the conference, the focus now turns to the future. The most immediate question to answer is whether the Aggies can continue to practice as if this were a typical spring.
Hilton said A&T's compliance department was checking with the NCAA to see "after the latest legislation what the rules might be. He'll get with Coach Washington as soon as we have an answer on what we're allowed to do at this point."
Washington added, "It's time to go win the next thing, and that's player development. Get back into the weight room and get bigger, stronger, faster."
Will the coronavirus pandemic protocols allow A&T to do that and play a full fall schedule?
"Our slogan in here is 'Aggies do,' " Fowler said. "Whatever challenge is in front of us, regardless of what it is, we're going to be up for it. We're going to keep preparing for whenever the time arrives for us to get on the field and play."
Contact Joe Sirera at 336-373-7034, and follow @JoeSireraSports on Twitter.