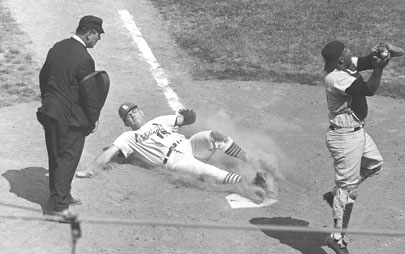 Brooks Robinson remembers it being a bit steamy the last time the All-Star game came to town.
"That was when it was about 150 degrees," recalled Robinson, a Hall of Famer and the MVP of that game 43 years ago.
Robinson was exaggerating only a little. It was a scorching 105 degrees on July 12, 1966. It was very humid, too, when the National League edged the American League 2-1 in 10 innings in 2-month-old Busch Stadium.
The weather was much more livable for last night's game, 79 degrees and overcast with a threat of showers about three hours from the first pitch. Which made those past memories sizzle even more.
Dodgers manager Joe Torre, an NL coach in this game, was with the Atlanta Braves and remembers catching seven or eight innings. And feeling miserable.
"It was really awful," Torre said. "I got up to hit one time, swung and missed and kind of lost my breath. That's how hot it was."
In a photo that accompanies an All-Star section in the Cardinals' media guide, players looked uncomfortable just lining up along the basepaths during pregame introductions. It was the only All-Star game played at that stadium, which was torn down after the 2005 season.
Tim McCarver, a Fox baseball broadcaster who was then the Cardinals' catcher, scored the winning run after subbing for Torre.
"When he came out, I said, 'How're you doing, pro?' He said, 'Only 12 salt tablets.' Back in those days, we thought salt tablets did everything. But I'd never heard of someone taking more than four."
Though accustomed to the St. Louis summers, McCarver was uncomfortable in those conditions, too.
"It was hot," McCarver said. "In retrospect, I don't know how we played in those flannel uniforms back then."
Gary Mueller, a retired St. Louis Post-Dispatch sports writer and the official scorer at last night's All-Star game, covered the '66 game for the Metro-East Journal in East St. Louis, Ill. Mueller walked about two miles from the newspaper office, crossing the Eades Bridge over the Mississippi River to the new ballpark.
"The only thing that was memorable about the game was the heat," Mueller said. "It was blazing hot. I was glad to see it end. Hard to believe it was 43 years ago."
The game was packed with star power, including 16 future Hall of Famers. Ten of them dotted the NL roster, including Willie Mays, Roberto Clemente, Hank Aaron, Willie McCovey, Sandy Koufax and Cardinals ace Bob Gibson. AL stars included Brooks and Frank Robinson, Al Kaline, Harmon Killebrew, Carl Yastrzemski and Catfish Hunter.
"Just being in that locker room with those guys was exciting," said the Dodgers' Jim Lefebvre, who was a first-time All-Star. "That was a real highlight for me and I'll remember it for the rest of my life."
Koufax started for the NL, Denny McLain for the AL, each pitching three easy innings. Brooks Robinson was the MVP in a losing cause, going 3 for 4 with a triple.
What he remembered the most, though was that it was the "hottest game I ever played in. They had people passing out. A batboy passed out."
Lefebvre played four innings and was ready to get out of the sun. He watched the Home Run Derby on Monday night on TV from his home in Scottsdale, Ariz., the heat bringing him back to that long-ago game.
"I couldn't wait to get out of there," he said. "All I know is the game just kept going on and on. It was almost like people were playing in slow motion after a while."
Luckily for the players, Busch Stadium had a grass field then. The stadium went to AstroTurf, which as they say really held the heat well, in 1970.
There wasn't much wasted movement or time wasted with dramatics in a game that lasted 2 hours, 19 minutes.
"Back then," Lefebvre said, "it was all about the game."
Attendance was announced as a sellout of 49,936, numbers Lefebvre believes were seriously padded because of thousands of no-shows. Unlike the players, paying customers didn't have the benefit of dipping their feet in buckets of ice water whenever they felt a bit faint.
"They had to put ice on top of the TV sets, they got so hot," Robinson said.
For the clincher, Torre recalls leaving the stadium for a waiting car, turning the wrong way and circling the stadium before finding his ride close to his original starting point. Players carried their own gear in those days and Torre had his equipment in one hand, his suitcase in the other and had a sport coat on.
"By the time I got to the car," Torre said, "I was totally drenched."