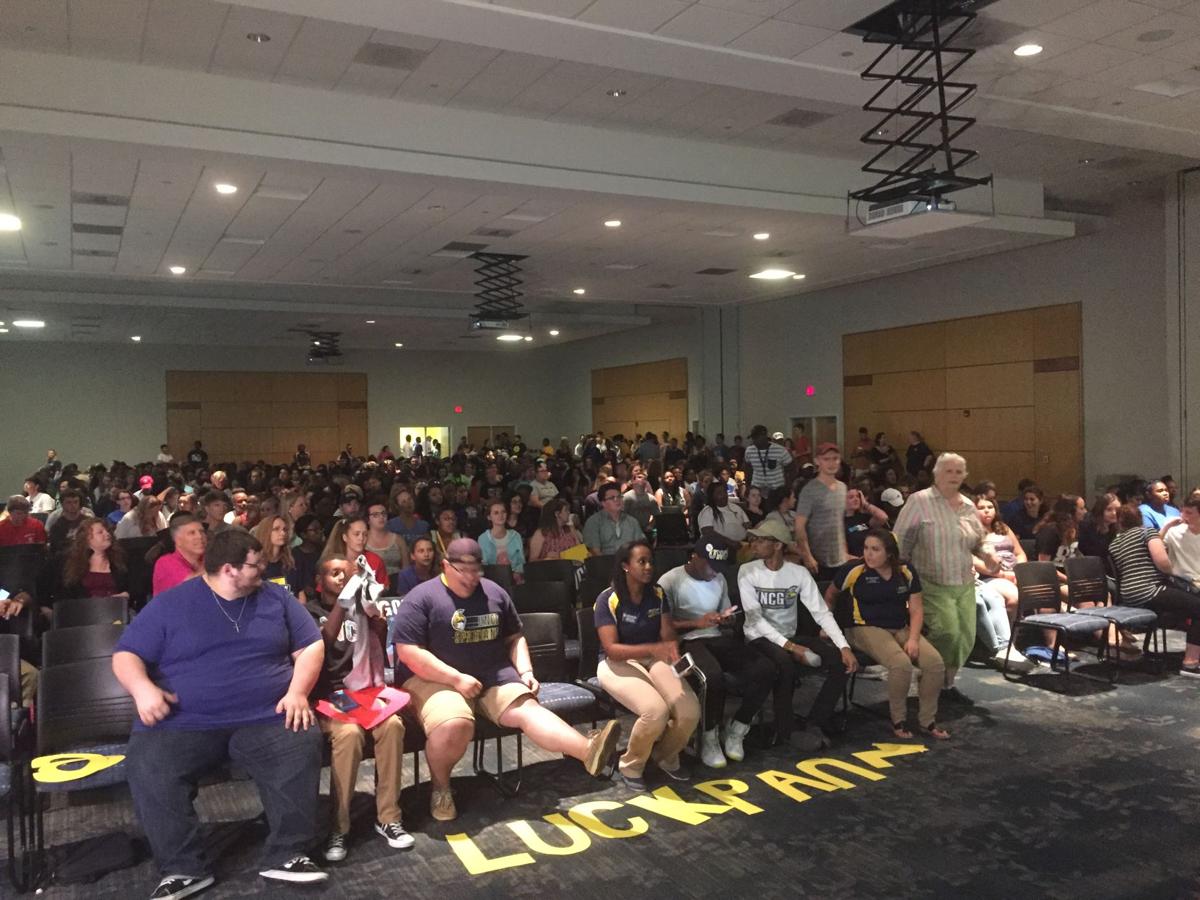 After former UNC Greensboro runner Paul Chelimo finished with the silver medal in the men's 5,000-meter final, the medal was taken away. Then it was given back.
Chelimo was disqualified from the race, which was won by Mo Farah of Britain, for stepping on the inside of the rail along the track, a violation of rule 163.3(b). Hagos Gebrhiwet of Ethiopia was given the silver, and Bernard Lagat of the United States was awarded the bronze medal.
A short time later, track and field's governing body said Chelimo did not break any rules and would get his medal. Chelimo finished the race in 13 minutes, 3.9 seconds — only .6 seconds behind Farah.
Gebrhiwet received the bronze medal. The governing body also reinstated the fourth-place finish of Canadian runner Mohammed Ahmed.
Chelimo posted the news quickly on his Facebook page:
"MY PPLE I'M BACK IN OLYMPIC SILVER MEDALLIST BABYYYYY!!!!!!!!!"
The decision means Bernard Lagat of the U.S. has been bumped from the bronze medal back to fifth place. He had been moved up after the initial disqualifications.
Farah won the race to complete his second straight Olympic long-distance double. He became the first runner in 40 years to win back-to-back long-distance doubles at the Olympics by taking gold in the men's 5,000 meters.
Farah won 13 minutes, 3.30 seconds. Chelimo finished five seconds behind Farah.
Farah already won the 10,000 meters at the Rio de Janeiro Games to go along with his two gold medals from the same events in London four years ago.
The last man to win both distance races in consecutive Olympics was Finnish great Lasse Viren at the 1972 Munich and 1976 Montreal Games.
Chelimo's former college coach Linh Nguyen praised the silver medalist.
"I thought tactically he was right on," said Nguyen, who is now at Toledo. "I thought tactically he was right on. He was perfect.
"Early on he got himself into a good position. He stayed on the rail so he didn't run extra distance. When Mo got to the front, he got in Mo's foot stream. Once the kicking starts, you've got to assume Mo Farah is going to the front.
"With 300 to go, (Chelimo) got boxed in and tripped up. Mo pushed him with 400 to go. He gave him a little shove. I really believe that if he would've been clean the last lap, he could've won the race."
All those reviews and appeals made for a strange scene as the program came to a close. Farah, Chelimo and Gebrhiwet marched to the podium to receive their medals nearly an hour after the evening's final race in front of a few thousand stragglers in the stands.
In the women's and men's 4x400 relay, Allyson Felix and LaShawn Merritt are two savvy track stars who've been around long enough to know that not everything always goes to plan.
Over the final, topsy turvy 30 minutes of running at the Olympic track on Saturday night, both Americans came away with prizes they'd been wishing for all along.
Those prizes were both gold, and the U.S. exited the final night of action at Olympic Stadium with 31 medals — the most it has taken in a non-boycotted Olympics since 1956, when the world and track were both very different places.
Felix now has six gold medals, improving her all-time record for women in Olympic track and field.
She ran a 49.66-second anchor lap in the 4x400. Over the second and third laps, Americans Natasha Hastings and Phyllis Francis held big leads, only to watch them dwindle dramatically as they legged out their final meters. Felix took the green baton about two steps ahead of Jamaica's Novelene Williams-Mills, and slowly, steadily expanded it for a total time of 3 minutes, 19.06 seconds and a 1.28-second win.
Yes, the United States may have relay problems — see, the men's 4x100, which flamed out again the night before — but this certainly isn't one of them.
This race has gone to America six straight times.
The look on Felix's face as she crossed the line and waved the green baton said what words could not: Thank goodness it's over.
Merritt looked equally relieved.
He was caught in the tail wind of South African Wayde van Nierkerk's world-record 400 run earlier in the week and settled for bronze.
Then, Merritt was a bit player in the Usain Bolt going-away party, finishing in fifth the 200.
But Bolt was long gone — having stopped by the track quickly to receive gold medal No. 9 and take a selfie with Farah — and South Africa had left the building, too.
As Felix had done minutes earlier, Merritt took a narrow lead and opened it way up.
This relay gold goes with those he took in both the relay and the 400 flat in 2008.
Information from the Associated Press was used in this report.
Be the first to know
Get local news delivered to your inbox!