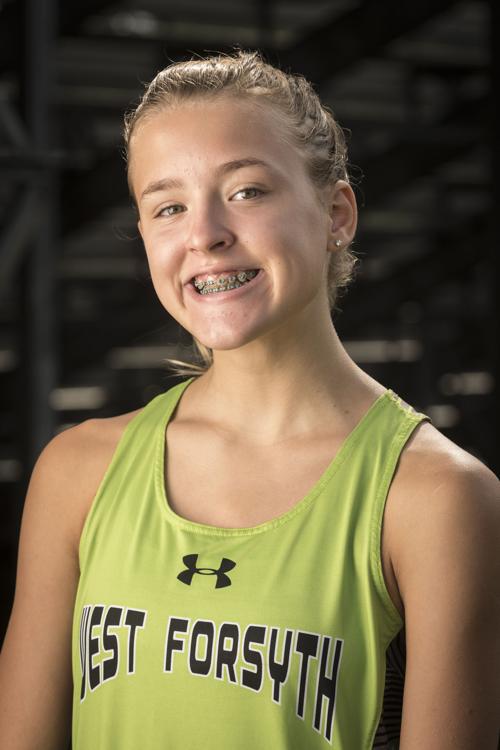 If Eliza Broce's return from a hamstring injury is any indication of how she handles adversity, Nathan Newsome, her cross country coach at West Forsyth, might cross his fingers and hope for a little tweak a week or so before every big meet.
Broce, a 14-year-old freshman who is a prominent member of a Titans' team that's ranked No. 1 among Class 4A girls, had a little issue with her right hamstring that sidelined her for several meets, including the big Wendy's Invitational on Oct. 7.
She returned to action Oct. 18 with a flourish, clocking a personal record of 18:55 in the 5K to finish second overall in the Central Piedmont 4A championship meet at Ivy Redmond Park in Kernersville — the site of tomorrow's Class 4A state championship meet.
"I think part of my run at the conference meet was just not being able to run in a while and getting a chance," Broce said.
Whatever the reason, Newsome is quietly thanking the angels that dropped Broce and another tremendous freshman, Bailey Reutinger, in his lap when he already had plenty of returning firepower.
"Every once in a while, if you coach long enough, you get a team like this," said Newsome, who knew what was on the horizon last spring when Reutinger and Broce finished one-two in the half-mile and mile in the city/county middle school track championship.
"Eliza had a nagging hamstring injury; basically, she missed three meets, and her first meet back was the conference meet," he said. "Her time was probably one of the five fastest ever at West Forsyth, and she has tons of potential."
Broce started running in the seventh grade after a trainer at the Jerry Long Family YMCA noticed her endurance and said she should consider running. She went out for track at Meadowlark Middle School the next two springs.
Then, she arrived at West Forsyth for her freshman season in cross country.
"When I decided to run in the seventh grade, I really wanted to do great, and I realized how serious it was in the eighth grade," she said. "Here, it has been really great to have really fast teammates to run with.
"I ran a 20:07 (in the 5K) before I started running here," she said. "I started running more and working harder, and it's so important that we all train together every day. I've dropped so much time already."
Broce is pointing to a time in the state championship of between 18:30 and 18:45. Her personal best in the mile has been 5:39; she feels like she should expect something in the 5:20s when outdoor track rolls around in the spring. – Newsome is on the same page; he said Broce almost broke her personal record in the mile during a workout this fall.
"We were doing mile repeats one day, and after the first mile, I got going on the second. I just wanted to get a good workout in and do my best," said Broce, whose second mile of the workout was a 5:42. "I couldn't believe it."
Newsome expects Broce to be a half-miler and miler when indoor and outdoor track rolls around.
"I expect that she'll probably be a good miler, but she loves to run fast, so I think she'll be good in the 800," he said.
Be the first to know
Get local news delivered to your inbox!