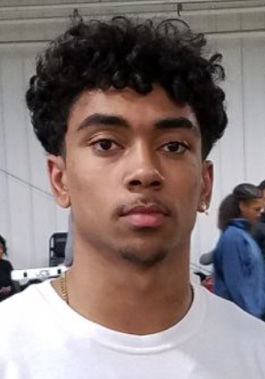 The recent holiday break as well as a spate of winter weather is likely a welcome break for junior Carlos Martin.
Martin is in the midst of his first year at Glenn high school after moving from North Dakota last August. He arrived just in time to finish the requisite amount of practices needed to play football for the Bobcats.
"I actually came four days before our first game," Martin said. I had already had four days of practice (in North Dakota) before we moved and we moved at just the right time so I could get those last four practices in. The last practice was on a Thursday, and we had a game the following game. And I played and scored a touchdown."
Martin also competes in the triple jump and long jump events for the Bobcats indoor track and field team, as well as the 55-meter dash and the 4x200-meter relay. He credits a football coach at his old high school in North Dakota for convincing him to compete in track rather than his longtime love, baseball.
"He asked me, 'What do you see in baseball?' And I said that I just enjoyed playing it for fun. He said, 'Why don't you come out for track and make you some (scholarship) money?' And that's my motive today. I'm in it for the money, to go to college and get tuition."
While Martin would prefer an athletic scholarship to the college of his choosing, he could likely get scholarship money for his academic success alone. He's got a good GPA and has finished on the honor roll the last two semesters. He would like to study architectural engineering and entrepreneurship in college, since he used to help his uncle build houses in his spare time.
In the meantime, Martin is just enjoying his new home.
"Coming to Kernersville, I thought it would be the same as North Dakota," he said." But it's a lot more atmospheric around here. A lot more people and different things to see every day."
Three questions for Martin
Q: Who is your favorite musical artist?
Q: What is your favorite restaurant?
Answer: Buffalo Wild Wings
Q: Who are your favorite athletes?
Answer: Triple jumpers Christian Taylor and Jonathan Edwards
Be the first to know
Get local news delivered to your inbox!