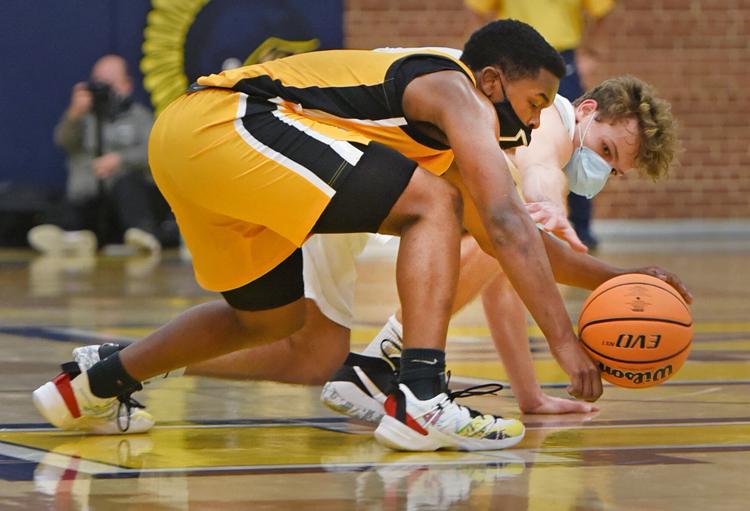 Site
Spartan Gymnasium, Winston-Salem.
Why the Demons won
The experience of seniors Caden Davis, Tyreik Leach and Ahmon Lumpkins pulled Reynolds through in the final minutes. Davis in particular was a force inside at both ends of the floor and seemed to pull down nearly every key rebound.
"Caden had a great game and did the job at both ends of the floor," said Billy Martin, Reynolds' coach. "The other guy I thought did a great job was Tyreik leading. You don't see it in the box score, but the things that he did, talking and leading us were really big."
The Demons continued to attack when they had the lead in the second half and burned Mount Tabor with a couple of long inbounds passes in the final minutes.
"A lot of times you get the lead, teams start pressing you and you play not to lose," Martin said. "I told them to stay aggressive, attack the rim and take the shot if you've got it. A lot of times when people sit back and try not to lose, that's when you do lose."
Why the Spartans lost
A Mount Tabor team that lost a huge senior class after last season more than held its own, but the Spartans just didn't make enough plays in the final seconds. "We missed a couple of free throws in the fourth quarter and we didn't get some box-outs," coach Andy Muse said. "Davis was the difference in the fourth quarter."
Three things we learned
1. Caden Davis was a man inside for Reynolds. The 6-foot-4 senior forward muscled inside, grabbed rebounds and blocked shots to lead the Demons to a season-opening victory. "This is my senior year, my last year, and there being so much uncertainty I just have to play every game as if it's my last because it could at any point," Davis said. Added Mount Tabor's Muse, "He had a heck of a game. We just couldn't keep him off the glass."
2. Daniel Fulp was almost as good as Davis. The 6-3 senior, the most experienced player for Mount Tabor, finished with 19 points and kept his team in the game.
3. This was a heck of a way to start the season for both teams. Give Muse and Martin credit for playing a tough opponent in their first game. This matchup will make both teams better in the long run because their youngsters had to grow up quickly.
What they said
"I knew this would be a tough game coming in. Tabor always brings the best out of you." — Billy Martin, Reynolds coach
"It's early in the season, both teams are going to be good in their conference and I'm excited about Mount Tabor basketball." — Andy Muse, Mount Tabor coach
"We've got a lot of young guys where it's their first time playing varsity and it definitely showed at times. But I can trust my teammates, and Tyreik and I don't have to do it all ourselves. We've got a good supporting cast." — Caden Davis, Reynolds senior
Next up
Reynolds: Friday, East Surry.
Mount Tabor: Thursday, at Winston-Salem Prep.
Reynolds                 5  20  16  13   —   54
Mount Tabor          8  16  14  13   —   51
Reynolds (1-0) — Caden Davis 20, Walker Harris 7, Tyreik Leach 6, Ahmon Lumpkins 6, Wyatt Mowery 5, Eli Calhoun 2, Antonio Yates 2, Tashawn Jeter 2, Henry Hubbard 2, Thomas White 2.
Mount Tabor (0-1) — Daniel Fulp 19, Jashawn Torrence 14, Jamarien Peterkin 6, Finley Simmons 5, Josiah Banks 4, James Viola 3.
GIRLS
Reynolds           16   8  14    6   —   44
Mount Tabor      0  13   8  14   —   35
Reynolds (1-0) — Abigail Rice 17, Murphy Andrews 13, Anna Davis 5, Chandler Welsh 4, Katie Doherty 3, Olivia Kuhner 2.
Mount Tabor (0-1) — Brook Fowler 8, Sophia Kemp 6, Na'Siah McKinney 6, Najai Young 4, Carrigan Sowell 4, Mary Claire Bevis 3, Haley Bailey 2, Samirya Bryant 2.
Contact Joe Sirera at 336-373-7034 and follow @JoeSireraSports on Twitter.