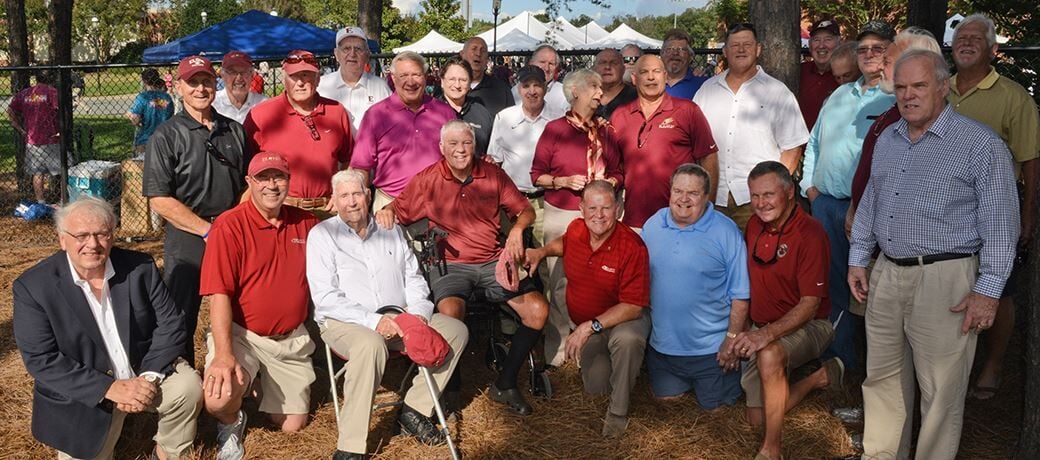 Shirley "Red" Wilson, a former football coach at Elon and Duke and at Reynolds High School, has died.
Wilson, 95, died at his home in Burlington on Friday night, according to Elon.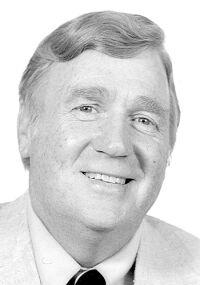 Wilson's wife, Katie, had died Dec. 26, according to Jim Correll, a former player of Wilson's at Reynolds and Elon. The Wilsons were married for 72 years.
"Red was one of the best motivators that I ever knew," Correll said. "He just had a way of getting the best out of everybody."
Red Wilson, who was born in Madison in 1925 and got his nickname because of his hair, coached Reynolds High School during one of the school's most successful eras. In 1967, he became head coach at Elon, where he compiled a 72-34-2 record in 10 seasons.
Wilson joined Mike McGee's Duke staff, then was promoted to head coach when McGee was fired after the 1978 season. Wilson coached Duke teams to a 16-27-1 record in the 1979 to '82 seasons, infamously being fired by Athletics Director Tom Butters not only after back-to-back winning seasons, but just hours after his Blue Devils had beaten North Carolina.
At Duke, Wilson hired Steve Spurrier to be his assistant coach from 1980 to 1982, and they turned the Blue Devils into a pass-first offense. Spurrier eventually returned to Duke as the head coach in the 1987 to '89 seasons, with his last team winning a share of the ACC championship. Spurrier's coaching career included a national championship at Florida in 1996.
Wilson gave Spurrier, who was 35 at the time, free reign with the Duke offense, according to a story by Sally Jenkins in the Washington Post in 2002. Spurrier called the plays and Wilson would ask, "What's the play?" And Spurrier would reply, "Touchdown, Coach."
After Wilson's coaching career ended, he worked in public relations for Duke hospitals and spent time in the Pinehurst area and worked as a starter at Pinehurst Resort. Wilson earned places in the North Carolina Sports Hall of Fame, the Elon Athletics Hall of Fame and the Winston-Salem/Forsyth County Hall of Fame. He later moved back to Burlington, and Wilson and his wife had been in and out of hospice care in the last few months, Correll said.
Wilson played football at Davidson, earning a degree before going into teaching and coaching.
After John Tandy, the Reynolds football coach from 1948 through 1956 whose teams went 80-22, became the principal, he hired Wilson as football coach for the 1957 season.
"He was a great replacement for Reynolds at that time, and he was somebody who got the most out of all of us," Correll said.
Wilson's Reynolds teams compiled a 66-13-7 record and won four conference championships in the 1957 through '64 seasons. Wilson also guided the Demons to a co-state championship in 1958 when they tied Wilson Fike 6-6 in the title game. With no overtime, the schools were proclaimed co-champions.
He also guided the Demons to the state championship in 1964, beating Durham High School in the 4-A championship game to complete an 11-1 season. That victory for the Demons was the final game of Wilson's coaching career in Winston-Salem.
The two-time N.C. Shrine Bowl coached high school teams, including Fayetteville for two seasons, to a record of 138-38-11, three undefeated regular seasons and eight conference championships.
Correll played for Wilson at Reynolds as a sophomore in 1964. After graduating from Reynolds, Correll played for Wilson again at Elon, though he had intended to go to Appalachian State.
"I got a call from Red my senior year, and he was going to be taking over the Elon program and wanted me to come there and play for him," Correll said. "Looking back on it, I was so glad I played for him in high school and in college."
According to the Burlington-Times News in 2015, Wilson was honored in Elon for his 90th birthday. He had moved to Burlington in 2015 after spending 16 years in Pinehurst.
The gathering for his 90th birthday was also a tribute to Elon's all-time wins leader.
"Words could never express how much this means to me," Wilson told the Times-News. "To get all these people together is something. They all are special to me."
Wilson is survived by his two sons, John and Steve, and a daughter, Cathy Wilson Koontz, who lives in Lexington. Wilson also leaves behind four grandchildren and one great-grandchild.